Protesters We Like: Anna, Arundhati and the doublespeak of dissent
We're a nation of convenient democrats who believe certain protests are more legitimate than others, and that the 'bad' kind of dissent poses a danger to democracy itself. Hazare is just the latest target of this double-standard.
Do ends justify the means? It's an age-old question at the core of all political action, be it of the revolutionary, democratic or fascist kind. And this is inevitably the question that looms large in the fierce debate over the Anna Hazare-led protests underway.
In his speech to the Parliament, Manmohan Singh offered an unequivocal answer: "Anna Hazare may be inspired by high ideals... However, the path he has chosen is misconceived and fraught with great consequences for our democracy." He went on to warn: "There are many forces who do not want to see India realise our place in the world. We must not play into their hands, create an environment where our economic progress is hijacked by internal dissension."
This official view finds resonance, oddly, with sections of the liberal intelligentsia whose members have long challenged the autocratic and often bloody policies of the Indian state. The kind who stood in solidarity with Medha Patkar during the anti-dam protests back in the day, or are likely to invoke the name of Irom Sharmila. Yet when it comes to Hazare, a number of these anti-government stalwarts echo Singh, describing his fast as 'blackmail' aimed at hijacking the due processes of a parliamentary democracy.
At best, they offer an inverted version of Singh's argument, as in the case of Pratap Bhanu Mehta in the Indian Express:
There is no doubt that Anna Hazare's movement powerfully expressed anger against corruption, even as its own proposed solutions border on unreasonable daftness. But it has to be said that the way in which state power is being exercised to control and squelch protest is a dangerous trend for Indian democracy... So we are now in the awkward position of worrying that though the state is right in asserting the supremacy of institutions, it is becoming dangerously arbitrary and arrogant.
The state may be in the right, but its "thuggish" methods are not. Hazare and his ilk are, however, wrong on both counts. Not only is the Jan Lokpal unreasonably daft, but they are eliding "the distinction between protest and fast-unto-death. The former is legitimate. The latter is blackmail." Mehta goes on to warn of "a dangerous moral climate being created by Manichean worldviews of good versus evil [that] will ill serve the cause of justice," arguing that "civil society should not contribute to this frenzy, lest it itself become the victim."
There are then two parts to this anti-Hazare argument: one, certain forms of protest are more legitimate than others; two, the 'bad' kind of protest is not just illegitimate but poses a danger to democracy itself. But this formulation in turn raises the bigger question: who or what determines whether a protest is 'good' or 'bad'? If we rely entirely on popular support – as we might in a democracy — then Mehta and Singh are most certainly on the losing side. Yes, the vast majority of Indians may not even know of Hazare, but most of those who do are inclined to support him over the government. Forget Hazare, how about the aam janta that is taking to the streets or going on strike, are we to condemn their actions as illegitimate, as well?
But democracy is more than just a numbers game, and more so in the matters of dissent. A democratic society must protect the right to non-violent protest, be it by 'daft' people or otherwise, or whether they espouse popular causes or not. And yet few among us seem to recognise or uphold this basic democratic right, including – oh, the irony – some of Hazare's staunchest supporters.
"Annaji is symbol of honesty, and he represents the concerns of the Indian people. I am just amazed at the government's reaction. They have not understood the mood of the nation," declared actor Anupam Kher in a television interview. In other words, the actions were "amazing" because Annaji is widely respected and his views have some measure of popular support. Would they be less amazing if the cause was unpopular, as in the case of Arundhati Roy or Syed Ali Geelani? Or how about if the arrested were no-name displaced farmers or tribals who are routinely put behind bars?
Legitimate dissent includes not just action, but also speech and ideology. As the Supreme Court pointed out in the case of Binayak Sen, being a Maoist sympathiser – or even being suspected of being one – is not sufficient grounds for arrest. And yet how many of those who stridently uphold Hazare's democratic rights today spoke out on behalf of Roy last year? At the time, Alok Tiwari noted:
The lack of outrage at the conclusion by Delhi police that there is "a fit case" to charge Kashmiri separatist leader Syed Ali Shah Geelani and author Arundhati Roy with sedition for what the two said in a seminar at Delhi is appalling. Only a few civil liberties advocates spoke out against the move. The opposition Bharatiya Janata Party openly bayed for their blood. Congress maintained a studied silence. The minor parties were just not bothered. Union Law Minister Veerappa Moily didn't come out to well when he suggested that freedom of expression couldn't be used to violate "patriotic sentiments", whatever that means.

In the end, it is not about Geelani or Roy. It is about our own idea of India. It is sad that police even in national capital cannot differentiate between an act of rebellion and a contrary opinion. It is sadder that the entire political establishment remains silent when citizens are threatened with criminal charges for voicing opinions – howsoever unpopular or offensive.
It is absurd to speak of democratic rights when you extend them only to causes you support, either for political or personal reasons. The same BJP that is up in arms over Hazare said little when Narendra Modi's police arrested and lathi-charged nearly 5000 farmers who were peacefully protesting the illegal acquisition of their land in Mahuva in February, 2010 – led by a veteran 92-year-old Gandhian, no less.
The Congress party too applies democratic principles at will, and according to political expedience. As Mehta points out, Law Minister Salman Khursheed criticised the Mayawati government's use of Section 144 in Bhatta Parsaul, saying, "If we don't have a right to protest, we don't have anything at all."
No, we don't and that 'we' includes even those we don't like, support or respect.
Slamming the elite for its valourisation of Hazare, P Sainath wrote in The Hindu of the media's affection for People Like Us:
The Indian elite play the PLU game like few others do. Entry into the club is by birth or invitation only. And getting certification from the classes that matter takes some work. Your own background can be surmounted however, even turned to advantage, if there are enough strong PLUs around you. Anna Hazare had this. Baba Ramdev did not have it. Both claimed to speak for 'civil society.' A media applying that word with reverence to those around Anna Hazare, denied it with scorn to those they saw as Ramdev's rabble.
Yet what is elided in this easy condemnation of the elite is the liberal intelligenstia's own discriminatory criteria. Would they be as harsh if Hazare was fasting on behalf of displaced tribals or army excesses in Kashmir? Clearly middle class angst over corruption doesn't qualify. We all seem to have our list of pet causes — the ones that we uphold in the name of democracy, while others, we argue, threaten the same.
The unfolding Hazare brouhaha has revealed us to be a nation of convenient democrats. On an NDTV panel last night, historian Mridula Mukherjee argued Gandhi believed fasts ought to be "used very rarely, and only when all other means failed." So fasting is okay only when it meets some Gandhian standard of probity? Sez who? Journalist Tavleen Singh accused "all this jumping around Jantar Mantar" of "reducing our democracy to a farce." But surely it is more farcical to argue dissent has to meet some subjective criteria to be deemed "appropriate."
We don't support the principle of protest, just Protesters We Like.
The idea that protest has to meet some arbitrary standard of utility or legitimacy is deeply undemocratic. In a landmark US Supreme Court case in 1977, a Jewish civil liberties lawyer, David Goldberg, successfully defended the right of neo-Nazis to hold a rally in Skokie, Illinois, where one out of every six Jewish citizens was either a Holocaust survivor, or was directly related to one. Impossible in India, perhaps, where an equivalent event would be deemed as unnecessarily inflammatory. But it's an important reminder of what democracy looks like.
"The dance of democracy unleashed by you and your team has every danger of destroying our democracy," warns Hema Raghavan in an open letter to Anna Hazare. But what is most dangerous to democracy is the argument that it is too fragile to endure dissent. That's the claim made over and again by our government, whether in attacking Arundhati Roy, lathi-charging farmers, cracking down on tribals, or arresting Anna Hazare. Our democracy has survived Partition, wars, famines, the Emergency, riots and more. It's about time we stop selling ourselves short. Gurucharan Das claims we are a "nation in our puberty." Or maybe we're a nation frozen in a state of arrested development, and it's finally time for us to grow up.
Now that the ill-advised and unnecessary detour through Tihar is behind us, let the Hazare supporters fast, hold their rallies, and make their demands. The protest will either produce some concessions or run out of steam over time. And those who disagree with his politics or his means should stage a counter-protest right by his side. Both the nation and our democracy will be stronger for it.
Sports
With Tokyo and other areas already under emergency orders until the end of May, three more regions - including northern Hokkaido, which will host the Olympic marathon - are set to join them.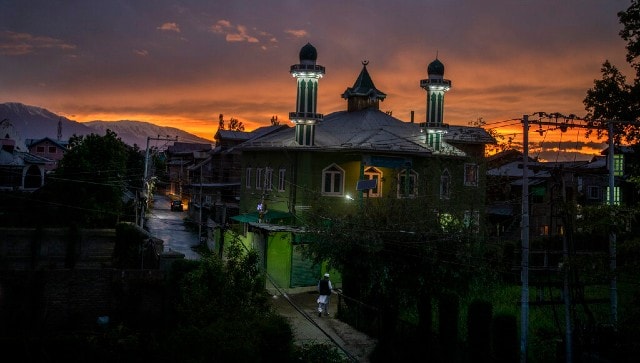 India
An artist was also arrested for painting a pro-Palestinian graffiti on a bridge in Srinagar showing a woman wearing a scarf made of a Palestinian flag and a tear tricking from her eye, with the words: "We Are Palestine"
Sports
The weekend survey by the Asahi Shimbun daily found 43 percent of respondents want the Games cancelled, and 40 percent want a further postponement.