Priyanka, SP may swing Amethi, but voters are no fans of Rahul
The Samajwadi Party and BSP could have had Rahul on the mat if they had fielded strong candidates, but they have ensured that the Muslim vote remains with the Congress.
What makes Priyanka so angry that she has to scold her elite SPG (Special Protection Group) staff in Amethi? Is the pressure of a close contest in Amethi getting to Priyanka Gandhi or is it just that her security staff is not being able to do their job properly?
When the Congress party's star campaigner arrived in the Shah Mau market area of Tiloi assembly segment, Priyanka was happy to see better crowds than on the previous day. But she didn't wager on the fact that when she stopped to speak to people near her car after her speech, she would receive only complaints. People were complaining about the local Congress MLA, Dr Muslim, not giving them a patient ear over the past two years. (The Congress has only two of the 10 sitting MLAs in Amethi and Rae Bareli). She tried to convince them that their problems were being looked into. Around then, her cavalcade began to move forward, but more people wanted to talk and say hello to her. When the SPG staff tried to stop them from coming close, Priyanka intervened. When they tried to stop the milling crowds, she sternly told the SPG: "Please go from here. Do your job."
The growing disenchantment in Amethi has been coupled with some incidents between the media, locals and the SPG. Two photo journalists had complained to Priyanka aide Preeti Sahay about the SPG's use of muscle power on Wednesday. But there is logic in Priyanka's anger, as we find out.
"Amethi is considered a VIP constituency, but we can't even meet our representative," says SK Singh, a resident of Shah Mau village. "It's not as if we don't want to meet them and share our problems, but who will deal with the brickbats of their security paraphernalia?" adds Singh. So, when Priyanka chided her security staff in public, there were murmurs of approval from the crowd after her cavalcade drove off.
The opposition believes if the ruling Samajwadi Party had fielded a Muslim candidate against Rahul, then he would really be facing the barrel. SP is not fielding candidates against Sonia (Rae Bareli) and Rahul (Amethi) in return for the Congress not fielding any candidate against UP CM Akhilesh Yadav's wife Dimple (Kannauj). "When both need each other, they come together, but still there is no development. Look at Amethi, you cannot see friendship turning into development for the people. Is this friendship just for power?" thunders Smriti Irani, BJP's candidate from Amethi.
AAP's Kumar Vishwas goes a step further. "When it comes to Mulayam's bahu and Sonia's son, both become one party. If only they could come together for the betterment of Amethi." The BSP too seems to be taking the middle path, their candidate Dharmendra Pratap Singh almost invisible in the election campaign.
Dalits and Muslims together comprise almost 7 lakh of the electorate, so if the Opposition parties really wanted to push the Congress into a contest, they could have done so. A strong Muslim candidate from SP and a Dalit candidate from BSP could well have spelt doom for the Congress. The BJP too delayed fielding their candidate; many believe Irani could have given a better fight if she had more time. But then politics is a different ball game. AAP's Vishwas makes no bones about him being a Brahmin, and that is an impression not lost on everyone. After all, they are almost 2 lakh such voters who have remained loyal to the Congress. What's complicating the problem for them is the lack of basic infrastructure. "I'm almost 55 years old and I have only voted for the Congress. But this time I think I will vote for BJP," says Jai Shankar Tiwari, resident of Thakurain ka Purwa in Tiloi. "The interior roads are very bad, they only make main roads so that VIPs can travel at high speeds in their big cars," a frustrated Tiwari tells us.
Despite a friendly opposition, Priyanka realizes that this election in Amethi is not at all easy like the previous ones, even the election in Rae Bareli seems like a cakewalk now in comparison. Her team plans a whirlwind tour of over 50 locations in each Assembly segment every day. She has been at her persistent best over the past few days, convincing people about the merits of Rahul Gandhi. "Even the neighbouring district Barabanki is more developed than Amethi," adds Shakil Ahmed who runs a hardware store in Raja Fatehpur village. "I will vote for the Congress, but I'm unhappy with their working style," reveals Ahmed when others are out of earshot. That's the silver lining for the Congress, they can expect the 3 lakh strong Muslims to stand by them. But it's more because of the Modi factor rather than the Rahul factor.
Rahul Gandhi's style of functioning and his lack of presence in Amethi has become a topic of discussion. It's not as if anyone including the Opposition thinks they can defeat Rahul Gandhi, it's the margin at stake. There is also a growing perception that it's Priyanka who is making the difference. The more villages she can cover, the better will be the result for the Congress. Rahul won the 2004 election by a margin of 2,90,853, while his margin went up to 3,70,198 in 2009. But it will leave the Congress red faced if Rahul's victory margin falls somewhere near the one lakh mark this time. And if that happens, the once impregnable fort of the grand old party may just start showing enough cracks for the Opposition to have a serious go at him the next time around.
India
Sulabh Srivastava, 42, died after his motorcycle rammed a pole near a brick kiln in Sukhpal Nagar under the Kotwali police station area on Sunday, police said
Politics
The newly-appointed RLD chief vowed that his party will not allow a communally polarised campaign to 'ruin' the Hindi heartland state in the run-up to the Assembly polls in 2022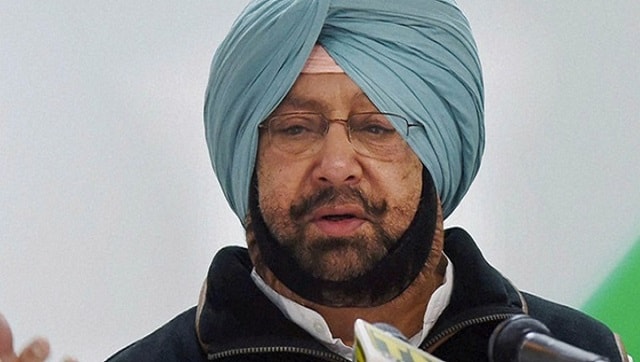 Politics
What appears to be a dispute between Chief Minister Amarinder Singh versus his former Cabinet colleague Navjot Singh Sidhu is turning out to be a conflict within the party with deeper faultlines