There might be a thousand opinions on who may emerge triumphant in the Lok Sabha elections, but politicians and pundits agree almost unanimously on one thing – the centrality of Uttar Pradesh to the outcome. Until recently, the battle for Uttar Pradesh was being shaped as a bipolar contest between the BJP and the SP-BSP combine – who have been compelled to put aside their regional rivalry spanning over two decades to take on the might of the BJP. Despite talks of a 'mahagathbandhan' or grand alliance, the SP and BSP ditched the Congress and went ahead to stitch a mutual seat-sharing arrangement. It was seen as an indictment of the Congress' moribund state in Uttar Pradesh, where from being in power 27 years ago, it has now been reduced to an inconsequential marginal player with no captive vote bank of its own.
Priyanka Gandhi Vadra's grand entry into the turf changes the equation to a large extent. On Tuesday, the latest scion of India's most famous political dynasty held a mega road show to announce her formal entry into the rough and tumble of Indian politics as Congress general secretary in charge of eastern Uttar Pradesh. It might seem daft that the entry of an untested, inexperienced dynast is being billed as some sort of a "game-changing" move in the most fiercely-contested election of the world's largest democracy. But that view runs the risk of underestimating the hold dynastic politics still enjoys over India.
For millions of Indians, not to speak of the media, the very fact that Priyanka has physical resemblance with grandmother Indira Gandhi, the former prime minister, is enough. She has become a national talking point, commentators and analysts have written reams already and spoken aeons about her possible impact, and the media has gone into a tizzy. In fact, the vehicle that carried her and her troupe during the road show had a huge collage of Indira and Priyanka's images just to buttress the facial similarity. The 12-kilometre stretch from Lucknow airport to the Congress party office – the route of the road show – was littered with graffiti, posters and banners where Priyanka is either compared to her grandmother, or superimposed over a life-size billboard of goddess Durga.
A case might be made against the still feudal nature of Indian polity that places dynastic succession over merit and scions are either handed over the reins of parties or gain instant stardom as soon as they decide to take the plunge. That, however, is a separate discussion. The issue at hand is whether Priyanka's entry changes the Uttar Pradesh equation and if so, in what way. A few factors are worth pointing out.
One, Priyanka's biggest impact will be felt in terms of cadre mobilisation. The excitement and the enthusiasm of the ordinary Congress worker as the road show snaked its way through Lucknow was evident. It is too early to say whether lifting of workers' spirits will result in an improved seat tally for the Congress – the two are not necessarily co-related. However, for a moribund unit that was devoid of organisational strength, strapped of cash and grassroots support, Priyanka's high-octane entry can't be a bad thing. TV channels reported that thousands of Congress workers from different constituencies had reached Lucknow to take a glance at Priyanka – or the reincarnation of the Iron Lady of Indian politics.
Two, the perception around the Congress is also seemingly undergoing a change. The BJP appears cautious, mindful that an aggressive attack on Priyanka may give the Congress the chance to play the victim card and tap into the sentimentality still associated with Indira Gandhi, who was a popular figure despite her imposition of Emergency. The most dramatic change, however, seems to have occurred among alliance partners SP and BSP. According to reports, the stirring of Uttar Pradesh's political pot since Priyanka's formal entry and the well-attended Congress road show have triggered a rethink among a section of SP and BSP leaders and feelers are apparently being sent through "back channels" to explore the possibility of coming to some sort of an agreement with the Congress. A News18 report says the alliance partners may leave more than a dozen seats for the Congress, if the GoP is agreeable, to minimise the possibility of fracturing anti-BJP votes.
Irrespective of whether a true "mahagathbandhan" emerges, the fact that its possibility is being discussed so soon after the SP and BSP kept the Congress out of the loop, suggests that the regional parties have taken note of the altered equation on ground and Congress has "improved" its perception from being a "vote-cutter" against BJP to a galvanising force. To that extent, Priyanka's entry already seems to have presented the Congress with some sort of leverage to gain allies.
Three, there are some advantages in being perceived as telegenic and charismatic. It helps more if your lineage is linked to Indian political royalty. Priyanka's entry alone has ensured blanket media coverage for the Congress, which is no mean feat for a cash-strapped party that is struggling to fight elections with empty coffers.
As argued in this Foreign Policy article, Priyanka's entry ensures campaign finance for the Congress because now the party may "ensure wall-to-wall television coverage of any event in which (Priyanka) Gandhi even remotely figures... Given the novelty associated with Priyanka Gandhi's plunge into the rough-and-tumble of retail politics and her perceived superior political acumen, India's ratings-mad news channels will gladly cut into live programming to air any speech, press conference, or casual remark she gives on the trail."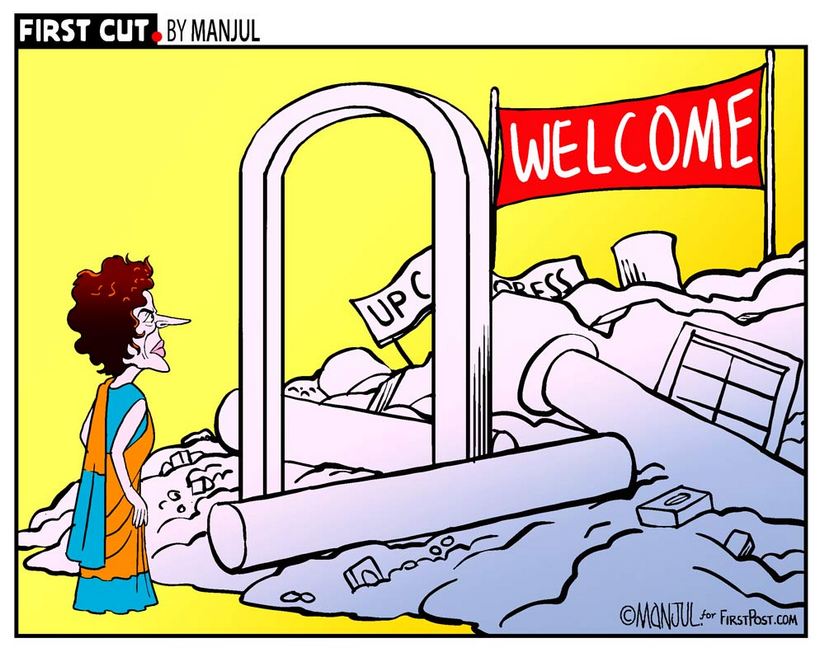 Four, in terms of political savviness, Priyanka's appeal cuts through the middle class more than Rahul Gandhi who, despite umpteen efforts at image makeover, still remains unconvincing and lacks credibility. The elder of the two Gandhi siblings has never been at the forefront, but she has been engaged in backroom support for Congress for a long time – though her forays have been restricted to the family fiefdoms of Raebareli and Amethi. Her on-camera presence and poise before crowd appeals to a section of the middle class that remains fascinated with her grandmother despite her dictatorial strains. This appeal may spill over into the social media domain, where Priyanka opened her account on Monday to coincide with her formal plunge into politics. The BJP no longer enjoys a monopoly over social media ever since late-starter Congress started paying attention to it, and Priyanka may further leverage the medium in favour of the Congress.
Five, Priyanka's stance on husband Robert Vadra is an indication that the Congress has adopted an "offence is the best defence" strategy. She dropped her husband at the Enforcement Directorate office on Day 1 of his questioning regarding alleged benami luxury properties in London, and on Monday she will reportedly fly to Jaipur to be by his side while Vadra is questioned by the ED again on Tuesday. The Congress' strategy is aimed at winning the perception game around Vadra. Priyanka's keenness to be by her husband at a time when he is being questioned for charges of graft is meant to show that she doesn't believe her marital ties will affect her political career. An extension of this argument is that the charges are "baseless" and "politically motivated" to thwart Priyanka's entry into politics. What we see here, therefore, is a clever attempt at turning a seemingly disconcerting reality into political advantage. It shows an aggressive intent on Priyanka's part that may hold her in good stead.
The last two factors are more of a reality check for Congress. Priyanka had released an audio clip on Sunday through an in-house app, claiming that she "will start a new kind of politics, a politics in which all of you will be stakeholders — my young friends, my sisters and even the weakest person, all their voices will be heard."
There was little in the speech in terms of clarity of thought, her tangible targets, an assessment of the political turf and details on how she wants to bring the change. If she was talking of inclusive politics, the Congress has done nothing to show that it wants to indulge in caste-agnostic politics. On the contrary, much of Rahul Gandhi's recent political career involves running to temples and holding up his janeu to reinforce his Shiv-bhakt credentials. Unless Priyanka rises above obfuscating rhetoric and presents a clear roadmap of her plans, it will be difficult for the electorate to take her seriously.
The final point revolves around her subtly promoted Indira 2.0 image. This ploy can only work once. If Priyanka fails to deliver on the ground, no amount of comparisons with her grandmother will bring in the crowds or TV cameras. The Congress perhaps understands this, and therefore Rahul Gandhi has been spending the last few days tempering down the expectations and hype around his sister and insisting that the Congress' real target is 2022 Assembly polls.
Firstpost is now on WhatsApp. For the latest analysis, commentary and news updates, sign up for our WhatsApp services. Just go to Firstpost.com/Whatsapp and hit the Subscribe button.
Updated Date: Feb 12, 2019 07:28:11 IST