Priyanka Gandhi joins active politics: Congress has thrown its hat in UP, made contest tougher for SP-BSP and BJP
Congress has appointed Priyanka Gandhi Vadra as party's general secretary for Uttar Pradesh (East).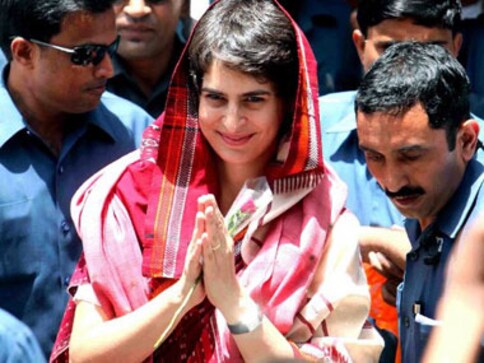 This move is likely to motivate the cadre of Congress.

The move is a setback for SP-BSP, which had hoped Congress would have a tacit understanding of working with them.

Priyanka in the past has canvassed for party only in Amethi and Raebareli.
Congress has appointed Priyanka Gandhi Vadra as party's general secretary for Uttar Pradesh (East). She will take charge in the first week of February 2019 and is likely to contest from Raebareli, the traditional seat of Gandhi family, currently represented by Sonia Gandhi.
Congress leader Motilal Vohra commented on the development and said, "The responsibility given to Priyankaji is very important. This will not only have an effect on eastern Uttar Pradesh but also other regions." Jyotiraditya Scindia will handle Uttar Pradesh West as the party's general secretary.
Benefits of Priyanka campaigning
This move is likely to motivate the cadre of Congress, which was feeling low after Bua and Bhatija jodi announced a mahagathbandhan excluding Congress. Congress recorded 7.5 percent vote share in 2014 Lok Sabha elections, retaining only the two family stronghold seats. In the 2017 Assembly elections, the party's performance declined further, with its vote share reduced to 6.3 percent.
Priyanka bears resemblance to Indira and is likely to attract the female voters who would connect with her far more easily. The turnout of women voters has been increasing over the years. Women are also making independent decisions on voting due to increase in literacy and awareness levels. Congress generally has received higher support from women compared to men in Lok Sabha elections.
Priyanka in the past has canvassed for party only in Amethi and Raebareli. Her campaign across the state is likely to provide a fillip to fortunes of the party when it is attempting to revive its traditional vote bank of the upper caste (mainly Brahmins and Thakurs), Dalits and Muslims. A section of upper caste, disenchanted with BJP due to its flip-flop on the Ram Mandir issue and not so gung-ho about the 10 percent reservation for economically weaker sections for general class, will be targeted by the party.
The party is likely to attract better candidates for seats as they could now see a higher probability of winning elections on Congress ticket. Even BSP-SP candidates who are likely to be denied tickets due to the mahagathbandhan may flock to Congress for accommodating them.
Big blow to mahagathbandhan
The move is a big setback for the mahagathbandhan, which — despite keeping Congress out — had hoped the party would eventually have a tacit understanding of working with them for the larger cause of defeating BJP. Congress appointing Priyanka and Scindia as general secretaries in-charge of Uttar Pradesh is a clear signal that it will put up a spirited fight and make the contest truly triangular.
The party has not taken well the way Mayawati criticised Congress sharply in the press conference on the day of seat-finalisation of the mahagathbandhan. This is likely to split the anti-BJP vote and help BJP in the state. Congress and the mahagathbandhan share complimentary vote block of Dalits and Muslims and Congress strengthening is likely to be at the expense of the mahagathbandhan.
Over the years, Uttar Pradesh has been witnessing either a regional or national contest. Whenever people have voted on regional considerations, SP and BSP have done well, like in 2004 and 2009 when regional parties won more than half of the seats. Priyanka's entry will make the contest national as she will be pitched against Modi.
Strategy of BJP disrupted
Priyanka's entry also complicates matters for BJP as party will try to woo the Brahmin voters of the saffron party. The party will need to come up with a renewed strategy to figure out not only how to tackle the mahagathbandhan but also Congress, which has made Priyanka in-charge of Purvanchal which has 30 seats. BJP swept the region in 2014, bagging 29 seats. Modi contested from Varanasi, which created a wave in favour of the party in 2014.
Congress hopes to repeat its 2009 performance
Congress finished runner-up in six seats in 2014, despite Modi wave scoring higher than SP and BSP. It finished second runner-up in five seats, getting more votes than either SP or BSP. Its vote share in 12 urban seats of the state is over 12 percent, 5 percent higher than state average.
In 2009, in a surprise result, the party won 21 seats, bagging 18.3 percent vote share. The party's decision is keeping in mind short-term gains with long-term expansion strategy. It realises that since negotiations with mahagathbandhan was based on past performance, it could never get a good deal.
To sum up, Congress has thrown its hat in Uttar Pradesh by making Priyanka the general secretary. Now, it is all set to give the regional parties a run for their money. The impact of this could also be felt in seat discussions in Bihar.
(Amitabh Tiwari is a political commentator, strategist and consultant who advises leaders and political parties. He was a former corporate and investment banker and tweets @politicalbaaba.)
World
The twice-impeached Republican, whose party lost the White House and both chambers of Congress during his term, makes his case for another four years with appearances in New Hampshire and South Carolina
India
Abdel Fattah El-Sisi is the first Egyptian president to be invited as chief guest for Republic Day. The two nations share a long history of bilateral cooperation, but over the years, the ties declined. Now as India champions the Global South, Prime Minister Narendra Modi is elevating the partnership
World
Turkey declared a level-4 alert after a 7.8 magnitude earthquake claimed hundreds of lives. The "level 4" alarm calls for international assistance