Priyanka Gandhi enters politics: Narendra Modi repeats 'parivar politics' jibe; Rahul Gandhi says sister will change UP politics
Reacting to the news of Priyanka Gandhi entering active politics, Prime Minister Modi made an oblique reference to the Congress subscribing to dynastic values while Congress president Rahul Gandhi expressed his happiness to be working with his sister.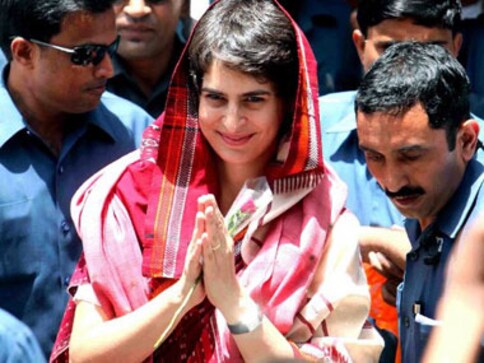 Congress president Rahul Gandhi on Wednesday put his sister Priyanka Gandhi in charge of poll preparations in eastern Uttar Pradesh.

BJP spokesperson Sambit Patra said the move was expected, adding that Congress is all about dynastic politics and is trying to make up for Rahul's failures.

Meanwhile, National Conference (NC) chief Farooq Abdullah said he was thrilled by the news, and said she would prove to be great help for the Opposition.
Prime Minister Modi on Wednesday made an oblique reference to Priyanka Gandhi Vadra finally taking the plunge into politics with her appointment as in-charge of poll preparations in eastern Uttar Pradesh, according to reports.
"For Congress, the parivar is party," Modi said while on a video conference with BJP workers, reported India Today. He did not directly bring up Priyanka, whose appointment comes as a direct challenge to Uttar Pradesh chief minister Yogi Adityanath.
According to reports, Congress workers across India raised the slogan, "Priyanka Gandhi aandhi hai, doosri Indira Gandhi hai."
"I am very happy that my sister, who is extremely capable and hard-working, will work with me," Rahul said.
He further added that Priyanka and Jyotiraditya Scindia will work towards what the youth in Uttar Pradesh wants. "We are not going on the back foot, we do politics for development and people's welfare. I have not sent Priyanka and Jyotiraditya for just two months. Priyanka and Jyotiraditya in Uttar Pradesh will spread the real Congress ideology and change the politics of Uttar Pradesh. That is the agenda," said Rahul.
Priyanka's husband Robert Vadra congratulated her on Facebook:
Senior Congress leader Motilal Vohra said Priyanka now has a "very important" responsibility as her appointment will not only have an effect in eastern Uttar Pradesh, but other regions as well.
Rajasthan deputy chief minister Sachin Pilot also congratulated Priyanka, and said he wishes her a bright future.
Party leader Rajeev Shukla said Priyanka's entry into politics will help in the revival of the Congress not only in Uttar Pradesh, but the entire country.
BJP says move suggests Rahul's failure 
Speaking to ANI, BJP spokesperson Sambit Patra said, "The Congress is a family party; there is no doubt about it. After being rejected from the 'mahagathbandhan' everywhere, the party has sought a crutch from within their own family." Patra added that the move was "expected," and that Congress is all about dynastic politics. "They consider family as the party while BJP considers party as the family. Congress has accepted that Rahul Gandhi ji has failed," he further told ANI.
Uttar Pradesh BJP leader GVL Narasimhan Rao on Twitter called it the "most uneventful news of 2019". He added: "The Priyanka card was played before every election and flopped each time. Perils of Parivar Politics: FAIL & THRIVE. Pity!"
Speaking to News18, Union minister Babul Supriyo congratulated Priyanka, but added that it was a move made by the Congress to "help support" Rahul. He added that the development proved Congress' approach towards dynastic politics.
BJP MP and general secretary for Karnataka Shobha Karandlaje said on Twitter, "When clown prince is failing consistently, princess makes her entry! Congratulations Priyanka Gandhi On your appointment as Gen Secretary of East UP."
Opposition offers support
National Conference (NC) chief and former Jammu and Kashmir chief minister Farooq Abdullah told News18, "Thrilled that she is entering electoral politics. Hope she will contribute to politics. We extend our best wishes to her. She is like her mother Sonia and grandmother Indira. The people of India want her to help the party, and help her brother."
"Both Priyanka and Rahul will prove to be a great help to the Opposition," Abdullah added.
JDU vice-president Prashant Kishor,  a former poll strategist for Prime Minister Narendra Modi, tweeted: "One of the most awaited entries in Indian politics is finally here! While people may debate the timing, exact role and position, to me, the real news is that she finally decided to take the plunge! Congratulations and best wishes to Priyanka Gandhi."
Follow LIVE updates on Priyanka Gandhi Vadhra entering politics here
Politics
Badal joined the party at the BJP headquarters in the presence of several leaders, including Union Minister Piyush Goyal. Recently, his absence from the Punjab chapter of the Congress' Bharat Jodo Yatra had been noticed by state unit leaders
India
Senior leaders, including Modi and BJP president JP Nadda, have asked other state units to take a leaf out of the party's campaign in the western state
India
The decision was taken at the National Executive Meeting of the BJP here in the national capital