Presidential Election 2017: Ram Nath Kovind's village, Paraunkh in Uttar Pradesh, celebrates his win
Paraunkh, the ancestral village of Ram Nath Kovind in Uttar Pradesh, burst into celebrations as soon as the NDA's Presidential nominee was declared as the 14th president of India.
Kanpur: Paraunkh, the ancestral village of Ram Nath Kovind in Uttar Pradesh, burst into celebrations as soon as the National Democratic Alliance's (NDA) Presidential nominee was on Thursday declared elected by returning officer and Lok Sabha secretary general Anoop Mishra in New Delhi.
Kovind defeated his United Progressive Alliance (UPA) rival Meira Kumar by securing a total of 2,930 votes carrying a value of 7,02,044, while the former Lok Sabha Speaker could bag only 1,844 votes with a value of 3,67,314.
Paraunkh residents, irrespective of their age, were seen greeting one another, distributing sweets and celebrating with 'gulal', while the children danced their excitement out.
The entire village was glued to their television and radio sets since morning anticipating the "good news", and celebrations started once the first round of vote count was announced, which showed him leading ahead of Meira Kumar.
Speaking to NDTV, Kovind's elder brother Pyarelal said he had not met his brother for the last several years.
Asked about how he felt now that a Dalit face had become the President of the country, Pyarelal said, "It feels good that he reached there."
Kovind was born on October 1, 1945, in Uttar Pradesh's Kanpur Dehat district, and got his primary education in the village.
Kovind's sister-in-law said that she was happy that he had become the president of the country.
Asked when she was expecting his arrival in the village, she said, "We don't know when he will arrive here, but soon after completing the formalities of the president's house, he should come here."
Kovind, 71, has served as a Rajya Sabha member twice between 1994 and 2000, and 2000 and 2006.
He was appointed the Governor of Bihar in 2015 before the assembly elections. He resigned from the post after Bharatiya Janata Party (BJP) President Amit Shah named him as the ruling alliance's candidate for presidency.
Earlier, he also served as the national spokesperson of the BJP.
Politics
Taking a dig at the flurry of resignations from the saffron party, SP chief Akhilesh Yadav said, "wickets gir rahe the (wickets were dropping)."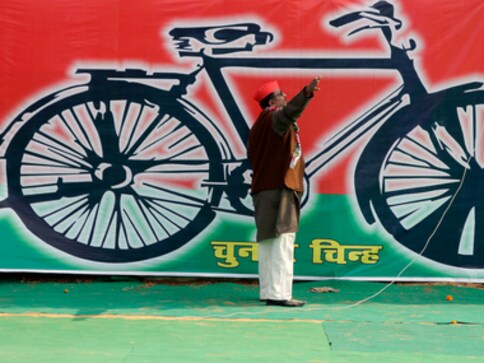 Politics
Reacting to the plea, BJP spokesperson Rakesh Tripathi termed it as desperation on the part of SP chief Akhilesh Yadav, who he claimed was staring at a possible electoral defeat
Politics
Pershant Gujjar, in a video clip, is heard appealing to people in Chorawala village to support him in the elections as the BJP is of Hindus and the opposition Samajwadi Party is a Muslims' party