Presidential Election 2017: Opposition appeals to 'secular forces' to support Meira Kumar
Opposition said that it would contest the 17 July presidential election based on ideology and appealed to all secular forces to support its nominee Meira Kumar
New Delhi: The Opposition said on Friday that it would contest the 17 July presidential election based on ideology and appealed to all secular forces to support its nominee Meira Kumar.
Kumar was picked by 17 non-NDA political parties as their candidate against NDA nominee Ram Nath Kovind.
The 17 July presidential election will see a contest between two Dalits, one hailing from Uttar Pradesh and the other from Bihar.
Thanking the Opposition parties for nominating her as their joint candidate, Kumar said this was a fight between different ideologies.
She appealed to the electorate comprising parliamentarians and members of state legislatures to decide on their support in the best interest of the country based on cherished values of social justice and inclusiveness and on principles and ideologies.
"This election is a fight of ideology. I would appeal to the collegium to take their decision on the best interest of the country, based on the cherished values and principles and ideologies. These are social justice, inclusiveness and values of composite Indian heritage which we hold so sacred," she has said.
Senior Congress leader Ghulam Nabi Azad, who termed Kumar as the best candidate to represent the secular forces, said, "This is a fight of ideologies and there is no midway. People with secular ideology should stand with Meira Kumar."
CPI national secretary D Raja also termed the presidential poll as a battle of ideologies and that the Opposition would fight this contest seriously despite fewer numbers.
"It is true that the numbers are not in favour of the Opposition at this point of time. But it is a contest and must be fought seriously. Some people say it is a token fight, but what is tokenism in a democracy? This contest is to safeguard the Constitution, democracy. It is a battle of ideologies," he said.
Raja also added that they would reach out to the other Opposition parties to join hands and support Kumar's candidature.
RJD chief Lalu Prasad said his was an "ideological battle" against Kovind. "(He) is a hardcore RSS man and even if the Congress had asked us to support him, I would have gone against it," he said.
Kovind today sought to reach out to the Opposition by asserting that the president's office was above party politics and that he did not belong to a party.
"Since I became the governor I do not belong to any political party," the 71-year-old former head of the BJP's Dalit Morcha — almost certain to be the next president — said after filing his nomination here for the post.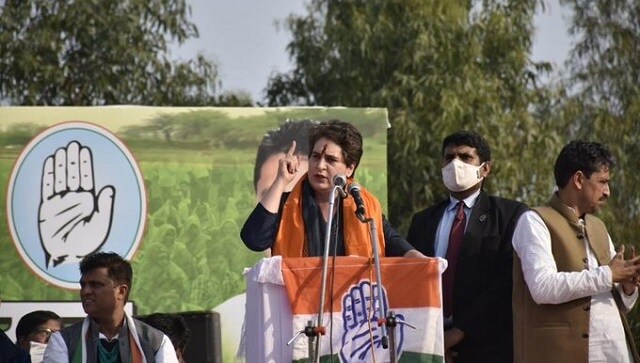 Politics
Her attack on Adityanath came as on this day, last year, the horrific Hathras incident took place in which a young Dalit woman was raped by four men.
Politics
Bhabanipur will go to the polls on 30 September and the results will be declared on 3 October
India
The BJP attacked Gandhi and alleged that he was trying to fuel propaganda by tweeting an old picture "to claim success of the mahapanchayat".