Presidential Election 2017: Narendra Modi, TRS, RPI vouch for Ram Nath Kovind, Congress stays miffed
Reactions began to pour in from political parties after the revelation, as BJP named Bihar Governor Ram Nath Kovind, who is also a Dalit leader, as the NDA's candidate for the post of president.
In the run-up to the 15th presidential election scheduled to be held on 17 July, Bhartiya Janata Party (BJP) announced Ram Nath Kovind as their Presidential candidate after calling for a Parliamentary board meeting at 12 pm on Monday.
Reactions began to pour in from political parties as BJP named Bihar governor Ram Nath Kovind, a Dalit leader, as the NDA's candidate for the post of president.
Among the allies of the BJP, Telugu Desam Party (TDP), TRS, Shiromani Akali Dal, Republican Party of India (RPI), both factions of AIADMK came to show support for the BJP nominee. However, despite being an ally in Maharashtra, Shiv Sena made a stand against BJP's choice for president.
Among the Opposition, CPI, CPM, JDU took no clear stand on the issue. Congress, however, made it clear that they were unhappy with BJP's move to disregard the Opposition in the decision.
Several regional parties either indicated their support or opposition to the NDA's presidential pick. BJD, BSP extended their support to BJP's decision while TMC, All India Trinamool Congress raised concerns over the NDA candidate.
Kovind, a 71-year-old low profile Dalit leader, a two-term BJP Rajya Sabha member, is being seen as an astute choice by the saffron party, which has been targeted by opposition parties over Dalit issues.
Prime Minister Narendra Modi backed BJP's decision and took to Twitter to extend his support to his Kovind as the Presidential candidate. Modi, however, skipped linking Kovind with his Dalit background and instead vouched for his reputation and dedication to public service.
Shri Ram Nath Kovind, a farmer's son, comes from a humble background. He devoted his life to public service & worked for poor & marginalised

— Narendra Modi (@narendramodi) June 19, 2017
With his illustrious background in the legal arena, Shri Kovind's knowledge and understanding of the Constitution will benefit the nation.

— Narendra Modi (@narendramodi) June 19, 2017
I am sure Shri Ram Nath Kovind will make an exceptional President & continue to be a strong voice for the poor, downtrodden & marginalised. — Narendra Modi (@narendramodi) June 19, 2017
Sushil Modi spoke for the "well-informed" candidate picked by BJP. Speaking to Times Now, the BJP minister said, "He has all the abilities essential for a good Presidential candidate. They(Opposition) should come forward and support Kovind." Now Nitish & Lalu shud support Bihar Guv Sh Ram Nath Kovid for Presidential candidate. — Sushil Kumar Modi (@SushilModi) June 19, 2017
बिहार के महामहिम राज्यपाल श्री रामनाथ कोविंद जी को NDA की ओर से राष्ट्रपति पद का उम्मीदवार बनाये जाने पर हार्दिक बधाई pic.twitter.com/Gic70TVQIn — Sushil Kumar Modi (@SushilModi) June 19, 2017
The ruling  Telangana Rashtra Samithi (TRS) in Telangana said the party would support NDA's presidential candidate Ram Nath Kovind. According to a statement from Chief Minister K Chandrasekhar Rao, Prime Minister Narendra Modi spoke to Rao over phone and requested his support for the NDA's candidate. The chief minister immediately consulted his party colleagues and conveyed to the prime minister the TRS's "willingness and his willingness" to support the NDA candidate.
Telangana CM and TRS Chief KC Rao extends support to NDA's presidential candidate #RamnathKovind after speaking to PM Modi pic.twitter.com/96UKg5YkKK — ANI (@ANI_news) June 19, 2017
TRS leader KT Rama Rao also expressed that the party would be supportive of BJP's decision. "When Modi has picked a candidate for President, it is imperative that we extend our support as well. NDA has the numbers. Whatever has to happen is a formality. The decision should be unanimous. This is a popularly-elected government," he said. The RPI, however, appealed to the Opposition to support the candidature of Kovind.
"BJP is always supporting reservation, I appeal the Opposition to support Ram Nath," Ramdas Athavale told Times Now. Shiromani Akali Dal leader Prem Singh Chandumajra also told Times Now that the party accepted Kovind for candidate. "We are partner of NDA, so we will support Ram Nath Kovind," the member of Parliament said. CPI leader
D Raja refused to comment on the announcement. Speaking to Times Now, he said, "In the given situation, we need a person known for his liberal, democratic credentials. Anyway, we will discuss within our party and Opposition. I cannot say anything more than this." 
JDU did not take an immediate stand. Nitish Kumar showered praise on Kovind, saying he is "personally glad" over his candidature. However, Kumar was non-committal on whether his JDU will support Kovind.
"It is difficult to say at this point of time. I had talks with Rashtriya Janata Dal chief Lalu Prasad and Congress President Sonia Gandhi on this issue. We will discuss the issue later and decide," Kumar said.
Also, Sharad Yadav said that the party will take a stand once they having the Opposition meeting.
Opposition ki baithak hogi,usme naam pe vichaar karenge,NDA ne naam announce kiya hai uspe bhi baat karenge: Sharad Yadav,JDU #RamnathKovind pic.twitter.com/NK6EdIpqut — ANI (@ANI_news) June 19, 2017
Shiv Sena refused to take a stand on their reaction to BJP's candidate announcement. Sanjay Raut said on Monday that Sena will convene a meeting to formulate its stand. "No decision has been taken yet.
Amit Shah just called Uddhav Thackeray after the announcement was made. He has asked us for support on BJP's decision on the candidate," he told Times Now. RJD said that the party will only have an opinion after the meeting of the Opposition. "Now BJP has come up with a name, and the Opposition will meet on 22 June. We are collectively making this decision. We should wait for 22 June," RJD spokesperson Manoj Jha told Times Now. 
While the NDA welcomed it's decision of having Kovind as the Presidential nominee, Congress criticised the BJP for not informing the Opposition before the announcement. Addressing the media, Ghulam Nabi Azad said, "From the very beginning, Congress was of the opinion that the decision on picking a president will be made collectively to have unanimity. That's why Sonia Gandhi had few weeks ago called arranged a luncheon for 18 parties." Azad slammed the BJP for misleading the Opposition by emphasising on a consensus candidate. "
Unilaterally, what they did, what exercise they had done, was a formality. No name was discussed. It was mostly a PR exercise," he said. If you don't tell us a name how will it be consensus," he said. Azad expressed that the Opposition will talk about the candidate during the meeting fixed for 22 June.
"In that meeting we will take final decision. Till such time,it's not appropriate for me or my colleagues to talk about the candidates," he added. After the NDA made the announcement on Monday, Congress had also asserted they were yet to have a collective opinion. Congress leader Pramod Tiwari had told CNN News18, "The moment they (NDA) give name, we will discuss within ourselves, and then we will express our opinion. The delay in the announcement has been done by NDA. They were supposed to give this name much earlier," the Congress leader told CNN News18. CPM leader Sitaram Yechury was also among the ones looking forward to the Opposition meeting on the 22nd.
Opp parties are meeting on 22nd. Only once in history of independent India has the president of India been elected uncontested: S Yechury pic.twitter.com/Cx1TlbIB62 — ANI (@ANI_news) June 19, 2017
Meanwhile, Trinamool Congress' Mamata Banerjee questioned the relevance of picking Kovind as a candidate.
In order to support someone, we must know the person. Who is this candidate?: WB CM @MamataOfficial on NDA's Presidential Pick pic.twitter.com/LvpxoIWSUd — News18 (@CNNnews18) June 19, 2017
Narendra Modi spoke to Tamil Nadu Chief Minister Palaniswami and conveyed that AIADMK was supportive of the decision.
Although BJD refused to comment initially after BJP announced the presidential nominee, BJD leader and Odisha Chief Minister Naveen Patnaik later expressed that the party supported Kovind as President.
Elaborating the reasons behind BJD's support to the NDA candidate, Patnaik said Ram Nath Kovind is an eminent lawyer belonging to the scheduled caste community.
"The office of the President of India is above political consideration and Biju Janata Dal wants to keep it above the politics," he said.
Stating that the prime minister spoke to him about the candidature of Ram Nath Kovind, Patnaik said, "He (PM) sought BJD's support in this regard."
Asked whether BJD supported the NDA candidate out of any pressure, party spokesman dismissed it and said "We continue to maintain equal distance from both BJP and Congress. The post of the President of India is above party politics."
UPDATE: #BJD chief & Odisha CM @Naveen_Odisha announces his party's support to #NDA candidate #RamNathKovind in the presidential elections.

— Press Trust of India (@PTI_News) June 19, 2017
Mayawati, however, stopped short of expressing immediate support for Kovind saying the BSP will be positive provided the Opposition does not field any Dalit for the top post.
"The BSP's stand cannot be negative towards a Dalit nominee for the post of president. Our stand will be positive provided the Opposition does not field any Dalit for the top post," she said here.
The BSP chief, however, said it would have been better if all opposition parties were taken into confidence by the BJP-led NDA at the Centre before announcing the name of its candidate.
Kovind's choice is being seen as a political masterstroke as many parties would not like to oppose a Dalit being elected to the country's highest office.
However, Union minister Venkaiah Naidu, who was a part of the 3-member panel formed by the NDA to seek consensus, slammed the Opposition saying that BJP approached the nomination with an open mind. "Our idea is to have broad consensus. Inspite of having majority, we reached out to minorities," he told Times Now.
He said that the opposition should accept Kovind because of 3 factors: his background, non-controversial nature and strong legal, social background. "I hope the Opposition will support Kovind as President. We went with an open mind. We took all inputs and came up with the name," he told the news channel.
With inputs from PTI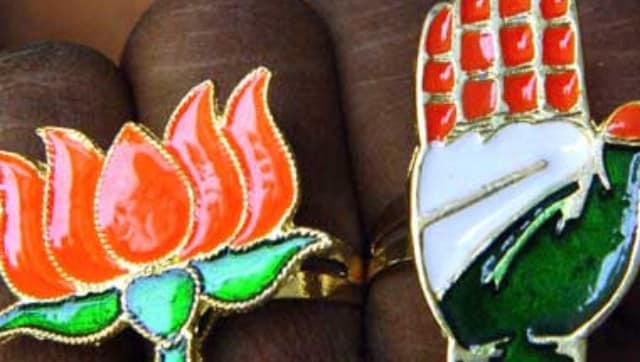 Politics
The Congress received total donations of Rs 58 crore from electoral trusts, which was less than several regional parties
Politics
Prasada's induction will further wear away whatever's left of the Congress and the Gandhis in Uttar Pradesh, even if it does not yield dividends for the BJP
India
Apart from Sibal, G-23 leaders Shashi Tharoor and M Veerappa Moily have also slammed Prasada for switching to the BJP