Presidential Election 2017: BSP changes stand; Lalu Prasad Yadav says will appeal to Nitish on Meira Kumar
Opposition's choice of Meira Kumar has has triggered mixed reactions from different quarters.
The Opposition, in its meeting to discuss presidential candidate, on Thursday zeroed in on former Lok Sabha Speaker Meira Kumar as the candidate against NDA's Ram Nath Kovind.
The name comes up after the Opposition's deliberation on other options like Gopal Krishna Gandhi and Prakash Ambedkar. The choice has triggered mixed reactions from different quarters.
According to Times Now, BJP leader GVL Narasimha Rao said, "They (Congress) are only putting up a symbolic fight. If they only wanted to make her, they could've done during the two occasions when Congress was in power. The ruling party also said that Congress is using Kumar for her Dalit status.
Former Bihar deputy chief minister and BJP leader Sushil Modi said that they have the numbers and the game is already over.  BJP spokesperson Shaina NC, however, was more positive saying, "As a woman I would want to compliment Meira ji but they dont have the numbers. The majority is for Ram Nath Kovind with all the correct prerequisites."
The game is over. There is no contest. more than 60% have expressed support to #RamnathGovind : Sushil Modi pic.twitter.com/uDOR7Ot9mE

— News18 (@CNNnews18) June 22, 2017
Janata Dal-United (JD-U) has decided to stick to their decision of supporting Kovind, saying, "There's no question of going back."  The JD(U) said its stand is based on merit and it will stick it.
Decided to support #RamNathKovind after taking everything into consideration.Political decisions arent changed in mins&seconds: KC Tyagi,JDU pic.twitter.com/lZPcKpwkZm

— ANI (@ANI_news) June 22, 2017
The contest gets a tad more interesting with RJD chief Lalu Prasad Yadav, on the other hand, saying that he will go to Patna and appeal to Chief Minister Nitish Kumar to support Meira Kumar.
After going to Patna, will appeal to Nitish Kumar to support #BiharKiBeti #MeiraKumar pic.twitter.com/6mGQVIiIlZ — News18 (@CNNnews18) June 22, 2017
Nitishji called me, said that it is his personal decision. I would appeal to him to rethink. Won't break alliance: Lalu P Yadav #MeiraKumar pic.twitter.com/ifM5KseARq

— ANI (@ANI_news) June 22, 2017
According to CNN-News 18, Bahujan Samaj Party (BSP) also took an interesting turn by withdrawing their support of Kovind and saying they would back Kumar.
#BREAKING -- BSP to support #MeiraKumar, withdraws support to #RamNathKovind #PresidentialPolls pic.twitter.com/ngIMHXgkSz — News18 (@CNNnews18) June 22, 2017
Fuad Kalim of CPM told Times Now, "I think it's a masterstroke by the Opposition. Now there's only one point: who is in favour of an RSS candidate and who favours one from a non-RSS background."
For more updates, follow LIVE.
Politics
Bhabanipur will go to the polls on 30 September and the results will be declared on 3 October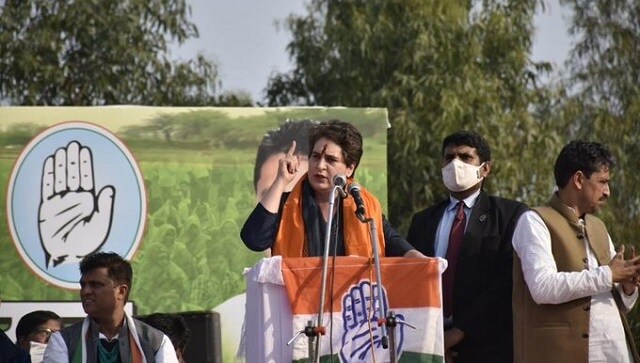 Politics
Her attack on Adityanath came as on this day, last year, the horrific Hathras incident took place in which a young Dalit woman was raped by four men.
Politics
Earlier on Saturday, the home ministry reduced Supriyo's security category from the 'Z' to 'Y' category