Presidential Election 2017: What Indian op-eds said about Ram Nath Kovind's nomination by NDA
The Bharatiya Janata Party (BJP) on Monday threw a surprise by nominating Bihar governor Ram Nath Kovind as the NDA choice for the President's post, stunning the opposition which accused the ruling party of unilateralism.
The Bharatiya Janata Party (BJP) on Monday threw a surprise by nominating Bihar governor Ram Nath Kovind as the NDA choice for the president's post, stunning the opposition which accused the ruling party of unilateralism.
Party president Amit Shah announced the name of Kovind, 71, after a nearly two-hour-long meeting of the BJP parliamentary board attended by Prime Minister Narendra Modi among others, ending all suspense about the NDA's candidature for the top constitutional post. Though the main opposition parties did not criticise Kovind, who emerged as a dark horse, they kept their cards close to the chest on whether they would back him.
Barring the TRS and the BJD which expressed support to Kovind, all other non-BJP parties accused the ruling party of unilateralism and will meet here on Thursday to finalise their strategy for the 17 July battle.
Union minister M Venkaiah Naidu insisted that all parties were consulted. On his part, the soft-spoken Kovind said he would appeal to all political parties and members of the electoral college to back him.
"We have decided that Ram Nath Kovind will be the NDA presidential candidate," Shah told the media, adding he was likely to file his nomination on Friday. Modi said Kovind would make an "exceptional" president and called him a strong voice for the poor and the marginalised communities. "With his illustrious background in the legal arena, Kovind's knowledge and understanding of the Constitution will benefit the nation."
If elected, Kovind will be the second Dalit president after KR Narayanan. A former head of the BJP Dalit wing and a two-time Rajya Sabha member, the low-key Kovind, who hails from Kanpur in Uttar Pradesh, became the Bihar Governor after Modi stormed to power in May 2014.
Opposition leaders reacted cautiously
BSP chief Mayawati, a Dalit leader herself, said Kovind cannot be opposed unless the opposition fielded a popular Dalit nominee. Bihar chief minister Nitish Kumar called on Kovind immediately after Shah's announcement. But he was non-committal on whether his Janata Dal-United will support Kovind. He said he congratulated Kovind on his nomination. "I am personally glad he is the presidential candidate."
As to whether the JD-U will back his candidature, Nitish Kumar said: "It is difficult to say at this point of time. I had talks with (RJD chief) Lalu Prasad and (Congress president) Sonia Gandhi. We will discuss later and decide." Congress leader Ghulam Nabi Azad declined to go into the merits and demerits of Kovind and did not say whether or not the opposition will field a candidate. "All the opposition parties had collectively decided on evolving a consensus on the presidential candidate when leaders of 18 parties met recently," he said.
Sitaram Yechury of the CPM struck a different note. "Kovindji was the chief of the RSS Dalit branch. So somewhere it is a political fight or a contest. We are not commenting or giving any character certificate to anyone." He said the BJP leaders had promised to seek the opposition' consent on the presidential candidate which did not happen.
A sulking Shiv Sena chief Uddhav Thackeray disapproved of caste being the basis for presidency. But another BJP ally, Ramvilas Paswan of the Lok Janshakti Party, said those who oppose Kovind will be considered anti-Dalit.
'The Dalit card'
Quite a few op-eds in the papers on Tuesday pointed to how this was a clever move by the BJP to pull the Dalit card where it matters.
According to The Indian Express op-ed, Kovind's Dalit status has "catapulted him to the top" and that this is a deliberate move by Modi and BJP to send him to Bihar in 2015, to counter the focussed strategy on backward castes and Dalits by the Nitish Kumar government. The op-ed also hinted that this is a move that is aimed at securing the 2019 election as well and shows that the prime minister and BJP are interested in letting Nitish Kumar know that there's still time to switch sides.
According to an opinion piece in Hindustan Times, if elected, BJP will get the credit for putting a Dalit in the role of a president (KR Narayanan was the only scheduled caste president before) and it the op-ed notes that BJP is not particularly concerned with suitability for the role as much as it is for the "political expediency" and that Kovind's election to the office of President of India will "consolidate BJP's social base," adding:
"As much integral to that social repair-cum-consolidation script is Prime Minister Narendra Modi. He's a backward who represents UP and not his home-base of Gujarat in the Lok Sabha. That makes it a "one-plus-one equal to eleven" deal for the populous state which is central to the BJP's game to win Delhi in 2019."
But, maybe this might not be such a clever move, because the Dalit community is most likely to realise that this nomination is pure optics. Martin Macwan, a Dalit activist quoted in DNA said that that the BJP is concerned about the Dalit votes. "They are trying to kill two birds with a stone. Firstly, they will be able to appease Dalits. Secondly, no party will want to challenge a Dalit candidate," he is quoted.
A political choice to forge a 'Hindu rashtra'
In one of the op-eds on The Economic Times blogs, an argument has been made that this is a purely political choice by the BJP — that the BJP needs to shore up Dalit support base, especially in view of the Rohith Vemula suicide issue, thrashing of Dalits in Una and the attacks in Saharanpur. Another blog on The Economic Times states how the Modi-Shah team has made presidential polls "less about mandate and more about the quality and amplitude of political power the duo can wield and then disperse".
According to a report in The Economic Times, Kovind is a "moderate Hindu" who believes in the RSS' philosophy. An RSS associate quoted in the report said, "Kovind has mentored the Sangh extensively on its reach out efforts towards dalits as part of samajik samrastha. His favourite words that he uses in all his speeches are that every one of us needs to work to the best of this shamta (capacity), samata (maintain parity), namrata (humility) and mamata (love)."
An op-ed in NDTV argued that this was a "shrewd" move by the Modi-Shah duo to bring in a candidate who pleases Shiv Sena with his ideology rooted in that of a Hindu rashtra and also a non-controversial candidate who would leave the Opposition split.
Not a robust candidate 
While the opinion and analysis around BJP's nomination of Kovind for the post of president has been described as a political one, what stands out is that most of the opeds look at Kovind as less than deserving. The Tribune's editorial said: "The person who gets to live in the sprawling Rashtrapati Bhavan has to inspire confidence that he/she can be relied upon to be a robust custodian of the republic and its constitutional values and traditions. On that count, the Kovind choice falls considerably short." 
With inputs from IANS
Find latest and upcoming tech gadgets online on Tech2 Gadgets. Get technology news, gadgets reviews & ratings. Popular gadgets including laptop, tablet and mobile specifications, features, prices, comparison.
India
From the moment she steps out of her home till she reaches her Chepauk office, Aruna Devi requires assistance from passersby at multiple points. "That there is still no policy to cater to something as basic as transportation shows that there is no concern for us," says the Chennai revenue official
India
Tapestry Pooling, the initiative developed by the team from Mumbai, is today a finalist in the Open Innovation Track of the $500,000 XPRIZE, a worldwide COVID-19 testing competition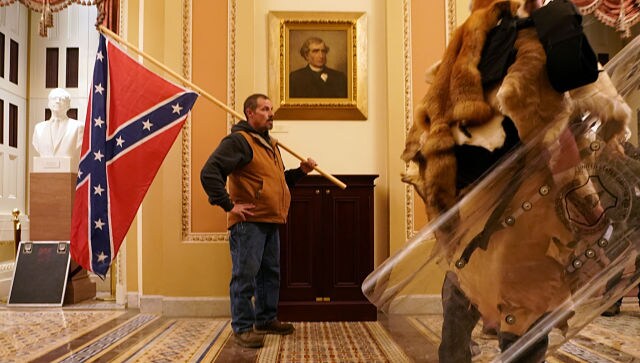 World
These days, democracies tend to collapse from piecemeal backsliding that falls short of the technical definition of a coup but is often ultimately more damaging