Present tense for Tamil Nadu: Removing AIADMK leaders act of false bravado by Dhinakaran
But removing leaders from party positions is only an act of false bravado by Dhinakaran, given that his rivals have already declared his appointment null and void.
In the musical chairs game of loyalty and betrayal that is playing out in the AIADMK, RB Udhayakumar's character or the lack of it will stand out.
In January, as the leader of the Amma Peravai (Jayalalithaa Federation) within the AIADMK, he was the first to demand that O Panneerselvam be replaced as chief minister by VK Sasikala. OPS was so upset with Udhayakumar that he even complained bitterly to Sasikala about it then.
But a lot of polluted water has flown in the Cooum since then. On Wednesday, revenue minister Udhayakumar has metamorphosed into an Edappadi Palaniswami supporter, who has no issues with OPS making a homecoming, while Sasikala is sought to be sidelined. So in the shifting sands of the AIADMK churn, TTV Dhinakaran has now sacked Udhayakumar. Sources say Udhayakumar was also suspected of trying to sabotage Dhinakaran's Melur public meeting near Madurai last week.
Udhayakumar isn't the only one. It is a pink slip season in the AIADMK, with Dhinakaran sacking all those seen as betraying his aunt. Among them Rajya Sabha MP R Vaithialingam who announced on Monday that Sasikala will be expelled soon. Vaithialingam's utterances are seen as high treason because after he lost the assembly election last May, Sasikala reportedly played a critical part in pushing his case with Jayalalithaa to send him to Parliament in June.
But removing leaders from party positions is only an act of false bravado by Dhinakaran, given that his rivals have already declared his appointment null and void. Both factions — the AIADMK (Ruling) and AIADMK (Sasikala) — are busy scoring goals without realising that the AIADMK, as an entity, is scoring several self-goals.
After the merger of the OPS and EPS factions on Monday, Dhinakaran fired the first salvo when he got 19 of his camp MLAs to convey to the Governor Vidyasagar Rao that they do not have any confidence in EPS as chief minister. It is clear that Sasikala, who gave EPS the top job on a platter in February, feels the pain of the knife in her back and wants to show him the door.
Plan A then is to create a wedge in the ruling camp by offering the chief minister's post to another leader. Dhinakaran campers suggested that KA Sengottaiyan, education minister and a leader senior to EPS in the AIADMK, take over as the chief minister. VK Dhivakaran, Sasikala's brother, thought Assembly speaker P Dhanapal would be an apt choice. There is an element of caste politics also playing out as Sengottaiyan is a Gounder like EPS and would continue to command the community backing while Dhanapal is a Dalit. The family is banking on the support of 30 Dalit legislators of the AIADMK, by rooting for Dhanapal.
Plan B is to put pressure on the governor. Giving in 19 identical letters to Raj Bhavan was to tell the world that EPS regime is in a minority. The DMK also has asked the Governor to take cognisance of the situation. The Congress has asked Vidyasagar Rao to make EPS prove his majority on the floor of the Tamil Nadu Assembly.
Plan C will kick in if EPS proceeds on the decision to oust Sasikala. Sources say at least ten ruling camp MLAs including three ministers, will raise the banner of revolt should that happen. They are perhaps the MLAs who Dhinakaran has referred to as his "sleeper cells". EPS himself will be circumspect about acting against Sasikala, knowing it could well cost him his chair.
Plan D will be enforced if Plan A flops and the Governor asks EPS to show numbers. Dhinakaran will have to manoeuvre his way through the anti-defection law to ensure that his camp MLAs do not get disqualified. Which is where the Sasikala clan would hope softening Dhanapal with the lure of the chief minister's post would make him take a more lenient position.
But would it be so easy for the AIADMK legislators, for years fed on an anti-DMK position, to join hands with MK Stalin to bring down a government that was formed by Jayalalithaa? Perhaps not which is why this will be Dhinakaran's last resort. At the same time, he realises the urgency to capture the party structure so that he can edge out EPS and OPS in the long run.
However, what the ruling camp enjoys is the Centre's backing and that worries the Dhinakaran camp as well. Sasikala's nephew continues to be under a cloud in a FERA case and many in Tamil Nadu's political system wonder if he will soon get a knock on the door from a vigilance team.
Since resort politics is the new normal, Dhinakaran has moved his MLAs to the Windflower resort in Puducherry, to keep them safe from poaching. Reports indicate that the EPS camp would try to woo at least half a dozen of them besides also trying to split the eight member Congress legislature party.
Talk of political survival and furious headcount dominate the discourse in the AIADMK government, with little care for matters of governance, making it a case of present tense for Tamil Nadu.
Entertainment
Other announcements include Amol Palekar and Barun Sobti's ZEE5 original film 200, and child actor Alexa Swinton's casting in the Sex and the City revival.
India
Tamil Nadu HSC (+2) Result 2021 Updates: Students who are not satisfied with their results can appear for a special examination if the situation improves during September or October, said the state education minister Anbil Mahesh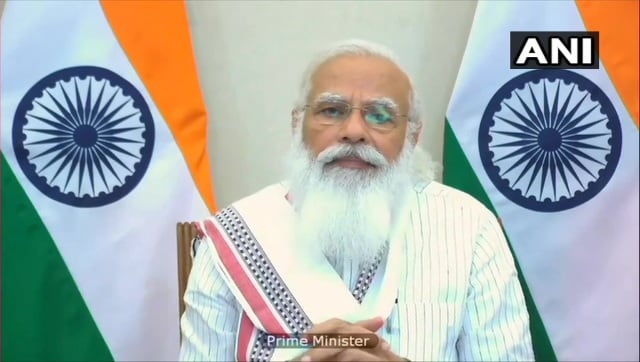 India
During an interaction with CMs of Tamil Nadu, Andhra Pradesh, Karnataka, Odisha, Maharashtra and Kerala, Modi said that 80% of the new COVID cases last week were from these states