Pratul Patel accuses Congress for downfall: NCP, INC have always played the blame game
Senior NCP leader Praful Patel reportedly criticised the Congress and blamed it for the downfall of the two parties while addressing a public rally at Akola on Sunday.
Senior NCP leader Praful Patel reportedly criticised the Congress and blamed it for the downfall of the two parties while addressing a public rally at Akola on Sunday.
"In the last 5 years, it is because of the Congress party that its workers, supporters and NCP have suffered," Times Now quoted him as saying.
He added that the scams involving NCP leaders were not really scams but controversies created by the Congress to defame the NCP.
"They didn't see as many enemies in BJP as they saw in the NCP. Their focus was to put us down. They sank and they took us down," he said.
This is not the first time when the two parties have washed their dirty linen in public. Both the parties have played a blame game and back stabbed each other since time immemorial.
Their alliance was fraught with accusations, disloyal members and tensions.
During his address to party workers on the party's 17th foundation day, NCP leader Sharad Pawar too held the Congress responsible for breaking up the pre-poll alliance in 2014 Assembly elections in Maharashtra, The Indian Express reported.
However, in May 2016, Pawar had expressed confidence of Congress bouncing back to power like in the past.
NCP had also lauded the Arunachal Pradesh Congress' move to replace Nabam Tuki with Pema Khandu for the face of chief minister. The party seems to be confusing itself and others of its loyalty to other parties.
It had even responded to Congress' call for forming a grand alliance of like-minded parties for Goa Assembly elections. NCP had extended its support to the idea, saying such front will prevent division of votes in the BJP's favour, PTI had reported.
NCP's loyalty to Congress has always seemed questionable with reports of Pawar holding a meeting with Prime Minister Narendra Modi before the elections and NCP extending unsought outside support to the Devendra Fadnavis government.
Congress leader Prithviraj Chavan believes that NCP wants to keep its options of an alliance with BJP open. The Indian Express had qouted him as saying, "The minute Shiv Sena and BJP broke their alliance, NCP signalled end of the alliance with Congress, ahead of polls."
Even in the 2007 elections for the post of mayor and deputy mayor for the Mira-Bhayander municipal corporation, NCP joined hands with Sena, BJP, Janata Dal (Secular), other smaller outfits and independents to support an independent for the post of mayor, according to a report in The Financial Express.
The relations between Congress and NCP, who were ruling Maharashtra as an alliance till 2014, have always remained strained. Reports of clashes within the alliance were ubiquitous.
Livemint had reported that the war between NCP and the Congress had delayed Mumbai infrastructure projects. For instance, NCP was pushing for a sealink between the western suburbs of Bandra and Versova while Congress wanted a coastal road along the western seafront of Mumbai as a cheaper option.
Another example is the transfer of Pune Police Commissioner Satyapal Singh in 2010. While Congress had announced that Singh would soon be transferred from his post, NCP had denied any such proposal, according to IANS.
However, after he quit as Mumbai Police Commissioner in 2014 and joined the BJP, the differences between the Congress and NCP delayed the process of finding his replacement, NDTV had reported.
Before the Maharashtra elections in 2014 in which Congress fell from 17 MPs to just 2, both the parties had heated discussions on the seat sharing.
NCP had repotedly raised the demand for rotational chief minister at the last minute and the alliance broke off.
In a series of tweets, Pawar had declared that, "I would like to say that there were significant differences between our party & Congress on various critical issues. Due to time constraint & other issues, we were compelled to take bold step to end 15 years of alliance with Congress in Maharashtra."
Congress and NCP even set up a ten-member committee to resolve differences as and when they crop up.
"The committee has been tasked with the job of resolving difficulties and differences between the two allies in each of the 48 constituencies. A helpline number with office-bearers will be set up soon and if anyone wishes to speak to the Chief Minister or me, they will be connected," Ajit Pawar had told PTI.
Chavan had said that Congress workers considered NCP's body language to be anti-Congress. NCP leader Ajit Pawar had demanded 144 of the state's 288 Assembly seats.
NCP had also criticised the Chavan for high cost of Mhada flats and slow pace of MMRDA projects.
Pawar broke away from the Congress in 1999, protesting Congress chief Sonia Gandhi's foreign origin, and launched the NCP.
With inputs from agencies.
India
The NDRF is conducting rescue efforts in landslide-affected Taliye in Raigad, Porase in Ratnagiri and Mirgaon, Ambeghar and Dhokawale in Satara district
India
As the Opposition creates ruckus in Parliament, the Centre says the controversy is an attempt to malign Indian democracy and its well-established institutions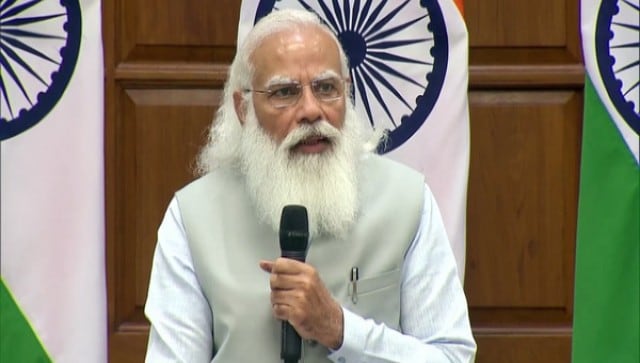 Politics
Leaders, including from the TMC and the CPM, also said that when the pandemic and issues related to it can be discussed on the floor of the House, what was the need to go 'outside'