Prashant Bhushan slams AAP govt's liquor policy, terms Moholla Sabhas a publicity stunt
Questioning why opening of shops has been suspended only for a year, he demanded shutting down of shops which were opened without approval from residents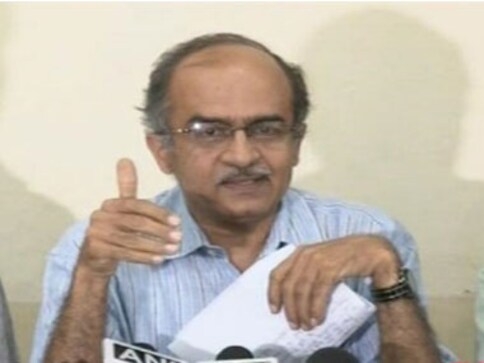 Noida: Firing a fresh salvo at Chief Minister Arvind Kerjriwal over "anti-people" liquor policy, former AAP leader Prashant Bhushan on Sunday asked whether he will resume opening of liquor vends after one year when the MCD and Punjab elections are over.
Questioning why opening of liquor vends has been suspended only for a year, he demanded shutting down of such shops which were opened without approval from local residents.
The Swaraj Abhiyan founder said there was no legal sanction granted to Mohalla Sabhas to close the liquor vends and accused Kejriwal of misleading the people.
"Why has Chief Minister Arvind Kejriwal's announcement of not opening any new liquor shops been made only for one year. Does Kejriwal want to resume his anti-people liquor policy after the MCD elections in Delhi and Assembly elections in Punjab," he said at press conference held in Noida.
Earlier, Abhiyan had alleged that 58 wine shops have opened up in Delhi ever since the AAP government came to power and had demanded closure of shops where people were opposing them.
Announcing the new excise policy, the government had said no new liquor shop except in malls, will come up in Delhi in the current financial year and the mohalla sabhas will be empowered to shut existing neighbourhood vends if there are complaints of "nuisance".
"What is the legal sanction behind the CM's declaration about the role of Mohalla Sabha in closure of existing liquor shops. The Delhi government has no interest in passing the Swaraj bill which would have granted the legal sanction to the units of Mohalla Sabha," he said.
"Why is the government trying to mislead by saying that Mohalla Sabhas will have the power to remove liquor vends when the fact remains that no such powers have been granted yet," he said.
"Further liquor shops should be allotted only after approval from Mohalla Sabhas, instead of shops being opened first and then closing or transferring them if Mohalla Sabhas oppose them. Only those shops should be advertised which have sanction of Mohalla Sabhas," Bhushan said.
He termed the recent newspaper advertisements and announcements regarding Mohalla Sabhas as "political rhetoric meant for media consumption".
He claimed that the Delhi government, in four RTI replies, gave different figures for the number of new liquor shops opened by AAP government since it came to power and asked the reason for the varying numbers.
"The superficial exercise with no substantiative legislative step of forming Mohalla Sabhas in Delhi is being used as a cadre building exercise for upcoming MCD elections," Bhushan said.
Claiming that Kejriwal has made a sudden U-turn on the draft excise policy under pressure of Swaraj Abhiyan's campaign, he asked if Delhi government would share the draft in public domain, for a week, for general public's suggestions before releasing it, as the formal policy declaration has already been delayed.
He said a public hearing will be held by Swaraj Abhiyan on August 23 at the liquor vend in Khajoori (Karawal Nagar) and demanded that at least 11 shops identified by Mohalla Sabhas be closed immediately.
India
Arvind Kejriwal, however, in a tweet appealed to all the MPs, MLAs and the masses to enthusiastically take part in the drive
India
Arvind Kejriwal is a member of the New Delhi Municipal Council by virtue of being the New Delhi MLA
Politics
The Arvind Kejriwal-led party extended its support to the demands of youth for the roll back of the scheme but made a fervent appeal to the protesters to exercise their right to protest in a democratic manner, instead of resorting to vanadalism and arson