Pooja Shukla on fighting Lucknow University over admissions, why she waved black flags at Yogi Adityanath
Pooja Shukla, who has now joined the Samajwadi Party, speaks about the aftermath of her arrest after she waved black flags at Yogi Adityanath, as well as her ongoing struggle against the Lucknow University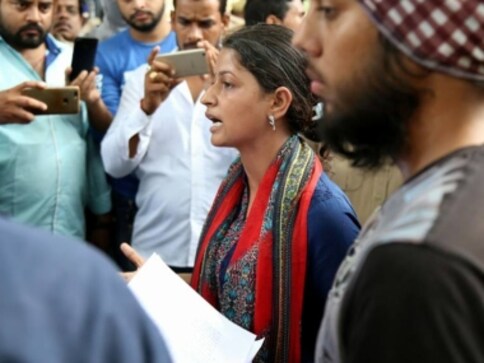 Pooja Shukla, a commerce student from the Lucknow University (LU), wanted to gain admission into a course of her choice. She took the entrance test in June this year and waited for the result, which was later withheld by the authorities.
Now, in order to know whether she has passed the test, she has to submit an affidavit in the Lucknow High Court promising that she will never take part in any activity in the university, nor will she engage in university politics. She can't even enter the campus premises if she is accompanied by more than one other student, and she can't go to the seminar hall.
Pooja is not shocked by this directive from the court. For her, things have never been easy since the day she entered the university and "countered" those in power. She says her miseries have only increased ever since she had a brush with chief minister Yogi Adityanath last year.
Of black flags and brushes with the law
She attained both stardom and a notorious reputation after obstructing Yogi Adityanath's convoy and waving black flags to it. He was visiting the campus to unveil a statue of Shivaji in June 2017. She says she is one among 20 students who are being denied admission into the Lucknow University for staging this protest. "The reason why we showed him black flags was simple: We, as ordinary students, wanted to gain the attention of our chief minister. We wanted him to ask us why we are protesting; in response, we would have told him about the mismanagement taking place in the university, which includes the hooliganism of the Akhil Bharatiya Vidyarthi Parishad (ABVP), and the fee hike. But the chief minister termed us naxals. We were detained and later arrested," she says.
She adds that most of the organisers and attendees of the event were part of the Rashtriya Swayamsevak Sangh (RSS). She also alleged that the event had been organised by the university with students' money, while the administration would allegedly continue to claim that it could not waive off the fees of underprivileged students, or that it could not provide better facilities citing the lack of funds.
It seems that she sees life as being either black or white. She believes that even people and situations are either right or wrong, that there cannot exist a 'compromise' between the two.
After being arrested, Pooja was sent to jail for 26 days. The sections of the Indian Penal Code she was charged with include 307 (attempt to murder) and 7 (the Criminal Law Amendment). She was also charged with rioting, obstructing a public servant from performing his duty and intimidation of a public servant. Once she was released, she says she decided to work full-time for the rights of students against the mismanagement happening at LU, with the aid of the Samajwadi Party (SP). She also joined the SP officially in July 2017.
Abhishek Dixit, Pooja's lawer, says he doesn't expect any help for his client from the court, which has asked her to submit an affidavit with 'strange' clauses. "Isn't the demand of an affidavit stating that she won't go to college or even stand in the premises with more than one student bizarre? The court denied our plea to quash the application so that we wouldn't get relief from the upper courts," he says.
Becoming an activist
But Pooja is of the opinion that she did not earn the ire of LU all of a sudden. She is the daughter of an employee who works in the private sector, and the eldest among three sisters. Her parents were reluctant about her decision to seek admission in the university. "My parents were never happy with my decision to apply to the university instead of a girl's college, but I managed to convince them. When I joined the university, my aim was quite clear: Get a degree in commerce and find a job in a good company. But things turned out very differently. The atrocities committed in the university, especially against poor students, worried me. Amid these adversities, I became exposed to the culture of debate and social activism. And I'm being treated as a criminal only because I ask questions," says Pooja.
She speaks about how she actively began participating in student politics. "I observed rampant eve-teasing and harassment of juniors the day I first joined the university. When one of my friends was eve-teased by a senior, I yelled at him and forced him to apologise. I was told that girls cannot enter the university from gate number one, and I was the first to do that too. In November 2015, I joined the All India Students' Association (AISA), the student wing of the Communist Party of India (Marxist-Leninist) Liberation."
She graduated from LU with first division in 2016, and later, took a drop from studies for next two years. She says that her reasons for taking a drop are personal. However, her participation in university politics continued.
The turning point in her life, Pooja says, was the decision to be part of the protests that followed the brutal gangrape in Delhi in 2012. She says it defined who she is today; it was at that time that she developed a sensitivity towards women and activism.
Pooja is angered by patriarchal mindsets, which she refers to as 'purushvaadi soch'. A kind of aggression surfaces when she speaks of the LU Vice Chancellor or proctor, or active members of student politics, who are all men. She also vehemently opposes the ABVP, who have shown a similar reaction to her. She claims that the university is being run by a Vice Chancellor chosen by the RSS. "They know I am trouble for them. I will raise my voice, I will question what is wrong. This is why I am being denied admission."
Pooja also went on a hunger strike, demanding that the university give admission to all students who had appeared for the entrance tests, and whose results were being held back for waving black flags at the chief minister. "When I approached the university administration, I was told that it doesn't admit students with "criminal backgrounds". Despite having secured first class marks in all my previous classes, I am not able to study further because I am fighting for what is right, and I'm doing it the right way," says Pooja. She had to call off her hunger protest after the doctors advised her about her deteriorating health.
Politics — personal and public
When asked if she is afraid of the police and those who are in power, Pooja just laughs. "I have been randomly picked up by the police so many times, that now, I am just not afraid. I know they can't do anything to me because I am not guilty. They can raid my house in Sarojini Nagar, they can keep me under house arrest or threaten me, but I am not afraid." She's convinced that she has seen the worst that life has to offer.
Her arrest has had an effect on the lives of her family. Her sisters were afraid to step out of the house while she was in jail. "My father had to hear offensive taunts from both within and outside the family... I am not sure about what will happen to my career after such serious charges were slapped on me. If there is anything left for me in life, it is the fight."
Many seem to draw strength from her spirit. Everyone present at the Sheroes Cafe, the place we decide to meet which is run by an acid attack survivor, knows her personally. She claims that people line up to get pictures clicked with her. Her phone never stops ringing once she wakes up every morning.
When asked about her political goals, Pooja claims that she will enter politics if people want her to, but for the time being, she wants to pursue her education and fight for students and their rights.
Notably, while Pooja remained extremely vocal about several things, such as the BJP, ABVP, the RSS, Yogi Adityanath and even Narendra Modi, the students themselves occupied very little space in the entire conversation, which lasted for over two hours. "There is so much to talk about these people that sometimes I just lose focus," she says with a smile.
Why join the Samajwadi Party, considering the reputation Akhilesh Yadav has gained after the infighting within the family? "It was all because of Shivpal Yadav and his purushvaadi soch. His goons were not letting young people, especially women, to grow in the party. Now the SP is a democratic place where all voices are being heard," she says.
Pooja's reaction changes when she is asked about how Akhilesh Yadav can be her role model, when he directed his own wife to not to contest the elections in 2019. "Who said he stopped her? Who knows whether she wanted this herself? Or maybe she wants to work in the party," she says.
The BJP might win the 2019 elections. How long will she continue to fight? Pooja smiles and recites the line she wrote to all her supporters from jail. "Usse ye fikar hai har dum naya tarz-e-zafa kya hai? Humein ye shauk hai dekhein sitam ki intihan kya hai."
Entertainment
The no interview strategy, 'the stars to go into hiding' and Shah Rukh Khan's fan club who actually acted as publicists helped in the success of the Pathaan.
News & Analysis
The base variant Samsung Galaxy S23 starts at Rs 74,999 and goes all the way up to Rs 79,999. The Samsung Galaxy S23 Plus, starts at Rs 94,999 and goes all the way to Rs 1,04,999. The S23 Ultra, starts at Rs 1,24,999 and goes up to Rs 1,54,999.
News & Analysis
Samsung's smartphone manufacturing unit in Noida, India, is the largest mobile factory in the world. The factory will make all Galaxy S23 series devices to be sold in India at the Noida plant.