Politically conscious women voters may tilt scales in Tripura Assembly polls; state has one of best female voter ratio
In the outgoing Tripura council of ministers, out of 12 ministers, one is a woman.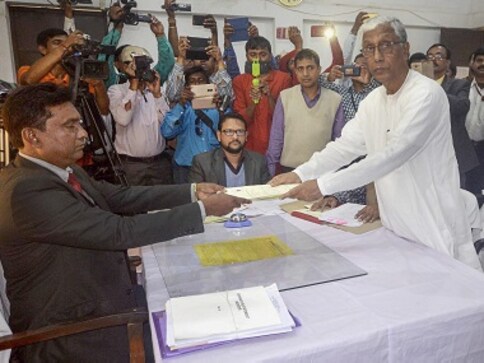 Agartala: The Assembly polls in Tripura on Sunday will see 23 women contesting, including two pitted against Chief Minister Manik Sarkar. The northeastern state has also seen a marked rise in the percentage of women voters — touted as the highest in the country so far.
Of the national parties, the ruling Communist Party of India-Marxist (CPM) has this time fielded seven women candidates, followed by Congress with five, the Bharatiya Janata Party (BJP) with four while the Trinamool Congress has fielded two women.
The Tripura Assembly has 60 members.
The 23 women are among 297 contenders in the fray for the February 18 Tripura polls. The previous Assembly elections in 2013 saw 15 women contesting, of whom five won while seven forfeited their deposits. In the 2008 assembly polls, 31 women had contested, of whom three won while 22 forfeited their deposits.
Chief Minister and CPM politburo member Manik Sarkar is pitted against two women in his Dhanpur assembly constituency (in western Tripura) -- BJP's Pratima Bhoumik and Congress' Laxmi Nag (Barman), who was also a minister in the erstwhile Congress ministry (1972-1977).
In the outgoing Tripura council of ministers, out of 12 ministers, one is a woman.
In the 2013 and 2008 assembly polls, women in Tripura scripted a record in the electoral history in India by casting 92.94 per cent and 91.72 per cent votes, respectively, against the 90.73 per cent and 90.74 per cent of their male counterparts.
Tripura Election Department's brand ambassador and ace gymnast Dipa Karmakar, who narrowly missed out on a bronze medal in the women's vault event at the Rio Olympics in Brazil in 2016, told IANS: "Unlike other parts of India and the northeastern states, Tripura women are not only conscious about political and apolitical issues, but also aware about education, health and socio-economic matters."
Karmakar, 25, urged women to come out in bigger numbers to participate in politics and in important governing bodies to empower other women.
Noted social activist and Tripura Chief Minister Manik Sarkar's wife Panchali Bhattacharya said that women of Tripura, including those from the tribal and Scheduled Caste communities, are more politically conscious than in other parts of India.
"Due to the Left Front government's woman-friendly series of initiatives, women are empowered on all fronts and platforms. Tripura is one of the few leading states in the country that has reserved 50 per cent seats for women in local government bodies," said Bhattacharya, 67, a Centre of Indian Trade Unions (CITU) vice-president and convenor of Working Women's Forum.
Bhattacharya, who had worked as a government official in the central social welfare board for more than 30 years, said that women are fully protected and secure in Tripura and the gender ratio in the electoral rolls, population, government services, and literacy is much better than in other states.
The final electoral rolls of Tripura, published on 5 January, shows a record increase in the gender ratio among voters in the state — at 971 females to 1,000 males.
"Though I have no exact data readily available, the sex ratio of Tripura in the electoral rolls is much higher than the national average and most states in India," Tripura Chief Electoral Officer (CEO) Sriram Taranikanti told IANS.
In last year's electoral rolls in Tripura, there were 965 female voters for every 1,000 males.
According to Tripura's electoral rolls, there are a total of 25,79,060 voters, including 12,67,785 females -- an increase of 2.52 per cent from last year.
In eight of the 60 Tripura assembly constituencies women voters outnumber men — Agartala, Ramnagar, Town Bardowali, Banamalipur, Teliamura, Ampinagar, Pabiachara, Dharmanagar.
The Tripura government reserved 50 per cent seats and posts for women many years ago in local bodies -- with the result that today in many Gram Panchayats, Panchayat Samities, Zilla Parishads, Municipal Councils and Agartala Municipal Corporation, the percentage of women is higher than men.
Union Information and Broadcasting and Textile Minister Smriti Irani, who was here to campaign for the forthcoming polls, feels that women in Tripura are unsafe under the Left rule.
"It is a matter of grave concern that crime against women is very high in Tripura. My sisters and mothers are not getting justice here because law enforcing agencies are not women-friendly. Otherwise, women would be much more empowered," Irani told IANS.
However, Tripura's lone woman minister (in-charge of social welfare department) Bijita Nath strongly refuted Irani's contention. "Irani's views are politically motivated, and not based on facts," Nath told IANS.
Former Congress minister and veteran woman leader Laxmi Nag, 68, said that women of Tripura are very aware about all socio-economic and political issues.
"Since Tripura joined the Indian Union in October 1949, successive governments, irrespective of political parties, have helped to empower women in the political and societal sectors," Nag, who is contesting against the Chief Minister in Dhanpur, told IANS.