PM Modi's unfulfilled promises embolden 'tinpot' like Kanhaiya: Shiv Sena
The unfulfilled election promises of Prime Minister Narendra Modi have emboldened even a 'tinpot' like JNUSU president Kanhaiya Kumar said Shiv Sena
Mumbai: The unfulfilled election promises of Prime Minister Narendra Modi have emboldened even a "tinpot" like JNU students' union president Kanhaiya Kumar to criticise him, the Shiv Sena said on Monday.
"Modi had made tall pre-elections promises: return of black money lying abroad, creating 20 million jobs every year, 'achhe din', and other things. After becoming the prime minister, he failed to deliver. So now people like Kanhaiya Kumar can talk of selling off Modi on OLX (online auction site)," the Sena said in an edit in the party mouthpiece Saamana.
Referring to the allegation made by Jawaharlal Nehru University Students' Union president that Modi has time to travel all over the world but not to the drought-hit areas of Marathwada, Shiv Sena said the question has great resonance for the people of that region.
The party questioned Kanhaiya Kumar's standing as a critic of the government and said it did not agree with his criticism. Nevertheless, the BJP must do some serious 'soul-searching' on who is responsible for breathing life into the entity called Kanhaiya Kumar, said Shiv Sena.
While it was proper on Kanhaiya Kumar's part to highlight the plight of Marathwada people, the Sena wondered, "who is behind him and making him talk" on all these issues.
"It will not help to strangle him, as his voice will not be subdued. Nobody has come forth to smother Owaisi who arrogantly refused to chant 'Bharat Mata Ki Jai'. Does Defence Minister Manohar Parikkar have the guts to throttle Pakistan for the Pathankot incident," the Shiv Sena asked.
On Sunday, following the alleged attack on Kanhaiya Kumar in a Jet Airways plane at Mumbai airport, Sena President Uddhav Thackeray had said at a meeting in Nashik it was wrong to label him "anti-national".
If youth are branded anti-national in this manner, they will not be able to work for the country and the BJP would forfeit youth support, he had cautioned.
India
The daily COVID-19 vaccinations crossed the one-crore mark for the fourth time in less than a month on Friday — the other days being 6 September, 31 August and 27 August
India
Priyanka Sahani used five different grains to design the portrait, completing it in 20 to 25 hours. She took the decision based on the fact that India is predominantly an agrarian country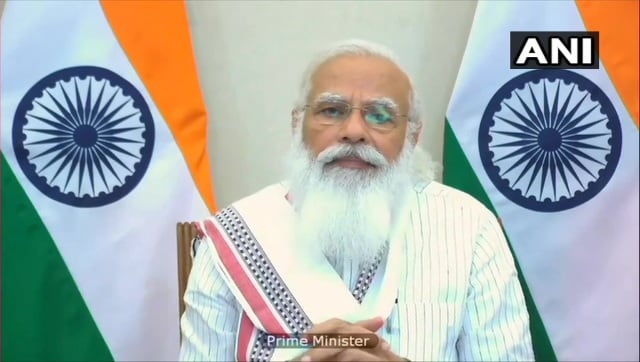 World
External Affairs Minister S Jaishankar will travel to Dushanbe for the SCO meetings that are expected to extensively deliberate on the Afghan crisis and its internal as well as external implications, people familiar with the matter said