PM Modi's Swachh Bharat: Delhi BJP, AAP in full-blown 'garbage politics'
Many AAP old timers, who later quit due to differences with the top brass, questioned why AAP didn't continue its own cleanliness drive.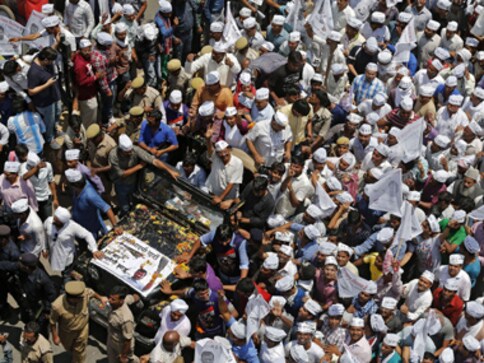 Desperate to stay in public notice, the Delhi BJP and the Aam Aadmi Party (AAP) have waded into a full-blown 'toilet' war these days. The latest in the series of public posturing over garbage, the AAP shot a letter to the Delhi BJP chief along with photographs of garbage on streets and accused them of playing 'dirty politics' late last week.
A day earlier, the state BJP had stumped AAP's convener and former Delhi chief minister Arvind Kejriwal by sending photographs of dirty toilet blocks and poorly maintained streets in his own constituency.
AAP leader and Delhi convener Ashutosh in his letter to state BJP chief Satish Upadhyay on Friday had said, "When the prime minister started the Swachh Bharat Abhiyan we felt it was a good initiative and participated in it by sending pictures of dirty places so that they could be taken up by the corporations. But we have realized that the Delhi BJP had turned it into petty politics by sending pictures of New Delhi area represented by Arvind Kejriwal. If you are incompetent to clean Delhi, hand over the corporations to us and we will do a much better job just like our 49-day rule in Delhi."
"After the PM announced his Swachh Bharat Abhiyan, the AAP has indulged in cheap politics. It all began when Kejriwal said that he would give fund to the state BJP to construct toilet inside its party office. First of all, who is he to decide about what we've to do in our office? It's like you telling someone that since you didn't like his shirt, you would give him money to buy another," Satish Upadhyay told Firstpost. "Forget how much work Kejriwal has done in his constituency; he doesn't even stay in his constituency," Upadhyay pointed out.
There seems to be no end to this toilet politics. It all began with the Swachh Bharat Abhiyan (Mission), a pet project of Prime Minister Narendra Modi. He did it with his usual flair by launching it on Mahatma Gandhi's birthday on October 2, and said, "By Mahatma Gandhi's 150th birth anniversary in 2019, we should deliver a clean India in his honour." During his US visit, Modi had appealed a wildly cheering audience at Madison Square Garden saying that "Gandhiji gave us freedom, and we should give him the other thing he cared about most: cleanliness."
Two days after the launch of the abhiyan, the AAP said it was taking the campaign forward and Kejriwal launched a WhatsApp helpline and urged the public to send them photos of garbage in their areas, register complaints with local corporation offices and seek their response.
"We urged all to be a part of the campaign, and welcomed AAP to come on a common platform to make the city clean. But, gradually AAP converted this drive into petty politics and the BJP doesn't want to indulge in it. The PM gave the call to clean India, and the drive wasn't meant for the BJP office. So, why Kejriwal took up the issue of toilet in our party office, which is our personal affair and who is he to do it. Did he ever visit our office?" questioned state BJP media cell spokesperson Harish Khurana.
The issue of cleanliness drive is getting murkier with the blame game. "The only motive behind AAP's move on this issue is to gain mileage and hog the limelight by hijacking the PM's initiative. Arvind Kejriwal knows how to make a news headline without doing anything. The party is gradually losing its sight and becoming a copycat of traditional political parties. We joined the movement with a missionary zeal and not to do politics, but later when AAP was formed, it turned into a party of neo-elites and grassroots workers got sidelined," alleged Akhilesh, a volunteer-member, who was with AAP from its initial days but was recently expelled.
Many AAP old timers, who later quit due to differences with the top brass, questioned why AAP didn't continue its own cleanliness drive. The AAP popularized its party symbol 'Jhaadu' (broom) by undertaking cleanliness drives in respective areas prior to Delhi Assembly election. The party leaders, volunteers and workers could be seen sweeping the public places, roads and bylanes.
"It's wrong to say that AAP has been playing politics on this issue. It was we who originally started cleanliness drive in Delhi. The BJP has been in power in MCD for the last seven years, but what did they do? Now the BJP is attacking us as AAP workers, with the help of the public have exposed the poor civic condition of Delhi through photographs," an AAP member said on condition of anonymity, as he is not officially designated to talk to the media.
"But, what happened to AAP's cleanliness drive after Kejriwal became the CM and later quit? The party didn't continue with its own drive, simply because it jumped into the Lok Sabha elections. It is nothing but another gimmick of AAP," Akhilesh added.
The Swachh Bharat mission is being stated as the biggest state-driven cleanliness drive that India has ever seen and will address issues of sanitation and the disposal of waste in villages and cities. According to a global survey, nearly 600 million Indians do not have access to toilets.
India
Arvind Kejriwal said he didn't want to defeat anyone in politics but sought to make India the number one country in the world
Politics
The Delhi BJP sought a probe by a retired high court judge as it alleged laxity on the part of agencies concerned and a delay in providing timely help
Politics
Several other events, including the inauguration of electric vehicle charging points by Deputy Chief Minister Manish Sisodia, have been cancelled as well