PM Modi in Varanasi invokes surgical strikes in temple-town ahead of UP elections
With the Uttar Pradesh Assembly election round the corner, Prime Minister Narendra Modi addressed a gathering in temple-town Varanasi as he was there to launch a number of projects including the 1500-km-long gas pipeline costing Rs 51,000 crore
With the Uttar Pradesh Assembly election round the corner, Prime Minister Narendra Modi addressed a gathering in temple-town Varanasi as he was there to launch a number of projects including the 1500-km-long gas pipeline costing Rs 51,000 crore.
Modi arrived in his Lok Sabha constituency immediately after addressing a rally in Mahoba, a district in the Bundelkhand region of Uttar Pradesh.
Invoking the surgical strikes conducted by the Indian Army on terror camps along the LoC in Pakistan-occupied-Kashmir, PM Modi announced he was pleased to know that 'Kashi-vasi' — the people of Varanasi — celebrated the Indian Army's victory.
"Hum Kashiwalon ne 'chhoti diwali' mana li, 29th September ko jab desh ki sena ne parakram kia toh pura Kashi jhum utha tha (The residents of Kashi have celebrated a 'mini Diwali', the Indian Army's strike on 29 September was celebrated by Kashi)," he said.
"After a long time the 1.25 billion people of the country have been able to convey to the army and our jawans that they are with them," he said.
He invoked sentiments regarding the plight of the soldiers stationed at the border who can't celebrate Diwali. He said, "As your MP, I am proud of how you paid tributes to armed forces and expressed your support to them."
As your MP, I am proud of how you paid tributes to armed forces and expressed your support to them: PM in Varanasi pic.twitter.com/HKylMASKn7

— ANI UP (@ANINewsUP) October 24, 2016
He said that the country should let the soldiers of Indian Army, Indian Navy, Indian Coast-guard, Indian Air-force, BSF and CRPF know that they are appreciated.
At the function organised in the Diesel Locomotive Works (DLW), the Prime Minister launched a number of projects, including "Urja Ganga", a 1500-km-long gas pipeline costing Rs 51,000 crore, which will cater to millions of people in UP, Bihar, Jharkhand, West Bengal and Odisha.
Speaking on the importance of the schemes he said, "Schemes are not about publishing ads in newspapers; their real aim is proper execution and touching people's lives. We don't stop our work just at laying foundation stones; we ensure that the projects are also completed."
Stressing the need to complete public projects in a time-bound manner and within specified budget, PM Modi said his government is committed to deliver cooking gas connection to all within the next three years.
He said, "Public schemes must be implemented and inaugurated on time. There must not be any delay in this and that is what my government is doing."
"We will ensure that every household gets LPG connection in the next three years," he said.
The Prime Minister was welcomed by UP Governor Ram Naik and Union Ministers of State Dharmendra Pradhan, Manoj Sinha, Mahendra Nath Pandey and Anupriya Patel.
Although an invitation for the function had been sent to Chief Minister Akhilesh Yadav, he was unable to receive the Prime Minister.
Earlier at the Mahoba rally, he made an impassioned appeal to the people of the state to "come out of the trap of SP and BSP" and vote for BJP this time to usher in a corruption-free environment.
"UP has seen a lot of politics. All types of games have been played here. Those who wanted to play have played, those who wanted to get (something), they have got. Sometimes SP and then BSP, their world have moved, but yours have not changed. If you want to make UP a Uttam Pradesh in next 10 years, come out from the trap of SP and BSP," he told a public meeting in Bundelhand's Mahoba.
With input from agencies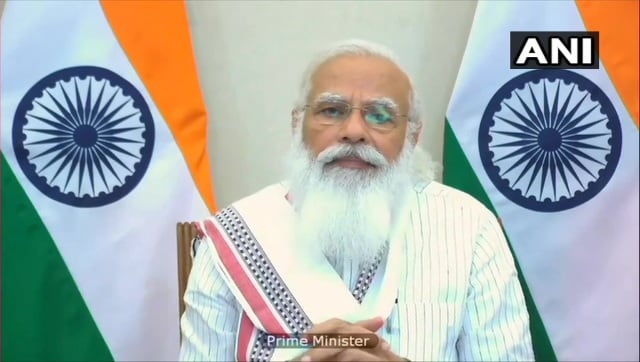 India
Modi cited the government's success in privatising loss-making public airline Air India to assert that this shows its commitment and seriousness.
India
The ISpA is the premier industry association of space and satellite companies, which will undertake policy advocacy and engage with all stakeholders in the Indian space domain, including the government and its agencies
India
Chaudhary was the first politician to have met the family of a slain farmer in a village in Lakhimpur on 4 October