PM, Congress old guard or the masses: Who was Rahul's target?
Rahul's surprise attack on his own government has made Manmohan Singh's position completely untenable as Prime Minister of the country.
By calling the ordinance to save convicted MPs a "complete nonsense", which "should be torn up and thrown away", Congress Vice President Rahul Gandhi has declared that the wisdom of his own government should not be trusted by the people. 
In effect, as far as the Congress party is concerned, he has not just moved and passed a no confidence motion against Prime Minister Manmohan Singh and his entire Cabinet for approving a legislation to strike down the Supreme Court's verdict. 
Rahul's entry at the Press Club of India, surprised all. Congress general secretary in charge of communication, Ajay Maken, appeared perplexed when he got a call from Rahul while he was already talking on the ordinance. For the record, till he got that phone call, he was defending the government's decision on the ordinance and telling the press how great an idea it was. Five minutes later, Rahul Gandhi landed there and came, saw and conquered.
After delivering his message on the 'nonsense' legislation, he vanished, leaving behind a vast churning in the Congress and the UPA government. with his statement he separated the Congress from the Manmohan Singh's government. Maken was quick to declare Rahul's view was the Congress' view. Rajiv Shukla immediately declared that whatever Rahul said should be the view of the party and the government.
The first signs had come yesterday when young minister of state Milind Deora, who is very close to Rahul tweeted against the ordinance. This was followed by Sandeep Dikshit today. Digvijaya Singh had earlier expressed his reservations. This is perhaps another pointer that would suggest that Digvijaya Singh continues to be Rahul's guru and also the voice who sounds an early warning to the party.
Rahul's surprise attack on his own government has made Manmohan Singh's position completely untenable as Prime Minister of the country. From the moment, Rahul Gandhi barged into the Congress spokesperson Ajay Maken's 'Meet the Press' to declare his verdict, direct, dramatically and publicly, Manmohan Singh's little remaining authority was nullified to almost zero and reduced him to a lame duck PM.
The jolt could be too hard for Manmohan Singh to deal with. Consider his ignominy. He had planned his moment of glory with extensive talks at the White House and then later with Nawaz Sharif. Set to go down in history as a man who was bent on ensuring peace with Pakistan and stitching together a civil nuclear deal with US, the Prime Minister must have been sleeping peacefully in his five star hotel suite in Washington DC. Only to be told by his top official aides on waking up, that the person under whom he was most willing to serve after the 2014 elections has just said that his decision taken at the cabinet was 'nonsense' and worthy of being 'torn up and thrown away'.
Will Singh resign? Many today say that any self respecting person would do so under the circumstances. Given he has already gone down in history as the only PM after Pandit Jawaharlal Nehru to have served for two consecutive terms, it could be time for him to bow out with certain grace, if any.
However, never before has an Indian Prime Minister has been disgraced while he is on a foreign soil and while he is to meet so many heads of nations at a multilateral forum. Will he cut short his visit? Will he do or say something drastic there, or will return as scheduled on 1 October and with the storm having passed over continue and let the business be as usual?
Only Manmohan Singh can answer these questions. But for a man who for long was said to be in office, not in power, Rahul Gandhi's barbs would mean that he couldn't even be in office, without severely compromising with self respect and dignity.
But then mark Rahul's other words, in which he said it was "time to stop this nonsense, stop making compromises". Should the PM be doing just the opposite to make a compromise to stay in office?
President Pranab Mukherjee had rung alarm bells in the ruling Congress establishment yesterday night when he summoned Home Minister Shinde, Parliamentary Affairs Minister Kamal Nath and Law Minister Kapil Sibal. Possibly he didn't want to face the indignity, which former President APJ Abdul Kalam had to face in January 2006 when the Supreme Court indicted the government and termed the notification that Kalam signed to dissolve Bihar assembly as malafide and a subversion of the constitution.
The implications of the Congress Vice President's statement are particularly grave because it is also loaded against the senior minister like finance minister P Chidambaram, home minister Sushil Kumar Shinde and Law Minister Kapil Sibal, who have strongly been defending the ordinance. Chidambaram, who could be a potential alternate to Manmohan after the 2014 polls, only yesterday blasted the BJP for having gone back from its initial stance. He criticised them for opposing the legislation in Parliament and by petitioning the President Pranab Mukherjee when the ordinance was set to be passed.
It could be old guard versus new guard. Who could be Manmohan Singh's replacement, if he resigns or is forced to resign? Will the Congress go in for elections? Will Rahul finally pitch in? These are some of the questions, whose answers are not clear to ordinary Congressmen. They will perhaps have to wait till Rahul delivers another verdict.
This was Rahul's moment to be transformed from boy to man. His critics would say, as Arun Jaitley said, it a desperate damage control exercise and a belated realization of what the Congress leader is now terming 'nonsense.'
The innuendo there is this was a stage managed exercise to hijack the credit of stopping the promulgation of an ordinance that was against prevailing public mood. Or is it the rise of a new young Turk in Rahul Gandhi.
Find latest and upcoming tech gadgets online on Tech2 Gadgets. Get technology news, gadgets reviews & ratings. Popular gadgets including laptop, tablet and mobile specifications, features, prices, comparison.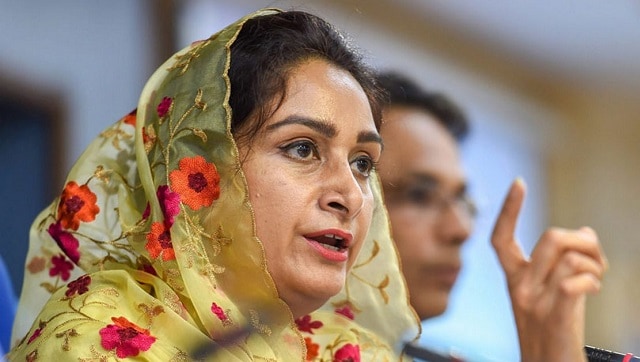 Politics
Had the SAD taken a stand earlier and supported his government against the farm ordinances, the Centre might have thought ten times before pushing the anti-farmer Bills in Parliament, Punjab chief minister Amarinder Singh said on Thursday
India
Congress leader Rahul Gandhi on Sunday questioned the government on its strategy for making the COVID-19 vaccine available to the public
India
The Congress leader in a tweet said that the BJP-led Centre does not know how many migrant labourers died and how many jobs were lost during the lockdown