Pledge of allegiance? West Bengal MLAs give Sonia Gandhi signed affidavit of loyalty
West Bengal has come up with a new trick — getting the newly elected MLAs to sign their loyalties on stamped papers.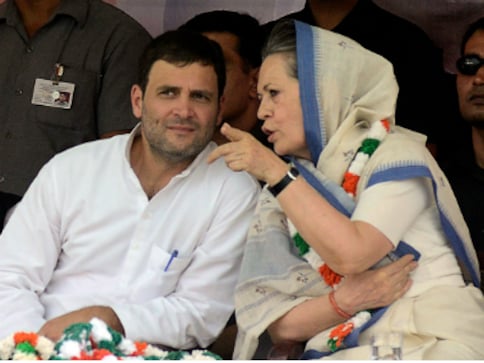 In a party where sycophancy has to be worn on the sleeve. Loyalty, apart from usefulness and ability to win an election, is a criterion for getting a ticket to contest in the Congress. Loyalties, even if the party is in decline, has been a strong feature, at least so far.
It never needed to be put down on paper, unless there was a split and leaders wanted to go in different directions, which, at least now despite its decline does not appear to be the case as of now. But West Bengal has come up with a new trick — getting the newly elected MLAs to sign their loyalties on stamped papers.
The Indian Express today reported that they have signed their "unqualified allegiance" to the party, and the mother-son duo, Sonia and Rahul Gandhi, with an assurance they would not "get involved in any anti-party activity". If they had an opinion, it would not be voiced within the party fora, and if push came to shove, resign their seats.
These expression of loyalty is on Rs 100-stamped paper, but we don't know if they are notarised. Or if they are witnessed, but for sheer novelty, they take the cake. Normally, loyalties are expressed in the Congress in groups by resolutions in their meetings. They are done for official consumption if some have their daggers ready.
However, Adhir Chowdhury, West Bengal Congress has described them as voluntary. When documents are cyclostyled – that is, to a format because cyclostyling is now a thing of the past – they cannot be voluntary. It means, "sign, or else…" But why? In the past, Congressmen in West Bengal had signed such loyalty affirmations on Rs 10-stamp papers, but to get party tickets.
That it should happen in West Bengal, where it surprisingly scored better than the ally, Communist Party of India (Marxist), is interesting. In the Assembly elections that returned Mamata to power, the Congress won 44 seats against the partner's 26. Those elected in trying political circumstances, should be gloating and grateful, not having to spell out their fidelity in writing.
If Adhir Chowdhury is aspiring for something big, what could it be? Or is it it that having won 44 seats, he was asserting his supremacy so that there are no others edging him out from a place of primacy? Or is it that new satraps are emerging, what with Kamalnath recently saying that the party now needed to identify a state-level leader.
Congress has been better served only when it has had such satraps – Kamraj, YB Chawan, Sharad Pawar, Biju Patnaik, et al in the past. Now, with a weak leadership, especially with Rahul Gandhi only doing the foxtrot, here now, then gone the next moment, there have been calls from Digvijay Singh, Rahul's mentor, no less, for "deep surgery".
One does not yet know if this is an one-off development, or done after a quiet nudge by the High Command which feared that the 44-strong legislature party could be assertive, and Choudhury does not claim all the credit. That the mother-son duo matter, nothing else?
also read
Explainers
In 2003, Kathleen Folbigg was dubbed Australia's 'worst serial killer' and sentenced to 40 years in prison for killing her four infants. But new evidence showing a rare mutant gene in her DNA suggesting the children died of natural causes led to Kathleen receiving a full pardon
Explainers
Ben Roberts-Smith, a former Special Air Service Regiment corporal and recipient of the Victoria Cross, was a national hero in Australia. Now, a judge has ruled that he unlawfully killed prisoners and committed war crimes in Afghanistan
Opinion
Rahul Gandhi has in the US shared space with people working with Soros-sponsored organisations who are hell-bent on inducing a regime-change in India and with Islamists such as the Indian American Muslim Council