Piyush Goyal slams Opposition for 'petty politics' amid reports that Rohit Vemula's mother was 'political pawn'
Union Minister Piyush Goyal on Wednesday held a press conference in Delhi to hit out at the opposition for giving a political angle to Dalit student Rohit Vemula's death and exploiting his mother's grief for some 'very low level of politics'.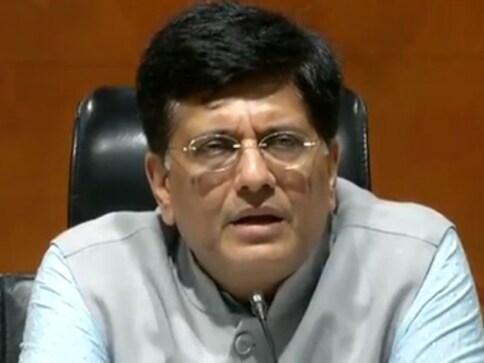 Union Minister Piyush Goyal on Wednesday held a press conference in Delhi to hit out at the Opposition for giving a political angle to the death of Hyderabad Central University student Rohith Vemula and exploiting his mother's grief for some "very low level of politics". Goyal said that the Bharatiya Janata Party (BJP) condemns all such types of attempts to make a political issue out of a sad incident and that Rahul Gandhi should apologise for this.
"I was anxious after reading Rohith's mother's statement. Until when will Opposition parties continue politics over it? The family is not financially stable and fake assurance of money was provided to a distressed mother for political purposes. I received information that even Congress president Rahul Gandhi took Rohith's family to various stages (at rallies) and asked them to make statements. His intention should be exposed and it should be checked whether money was offered to the family for doing so. Rahul should apologise for doing petty politics on a pillar of lies," Goyal said.
However, Vemula's mother spoke to ANI and clarified that even though "it's true that the Indian Union Muslim League (IUML) promised to provide me with money, but they haven't used me for political gains. It was my wish to speak against Prime Minister Narendra Modi and if needed I will speak again in any of their meeting. The IUML had sent us two cheques of Rs 2.5 lakh out of which one has bounced. We informed them and they said they will directly provide us money so that we can buy a house," she said.
According to a report in The Indian Express, Rohith's mother Radhika Vemula had on Monday alleged that even though the family had been promised a house by the Indian Union Muslim League (IUML), there was no progress on the promise. According to The News Minute's report, she said that the party took them to Kerala and made them participate in a big meeting where the party promised that it would sanction Rs 20 lakh and construct a house for the Vemulas and a site was also identified at Koppuravuru, located between Vijayawada and Guntur, to build the house but nothing happened.
Radhika then slammed the IUML for using her as a political pawn. She alleged that the IUML gained good political strength because they had projected her as one of the main guests attending their meetings, The News Minute reported.
"In such a context, how can use they make promises and use it for political gain?" she remarked. Radhika also claimed that one of the two cheques given to her by the party had bounced, forcing her to make several trips to the bank, the report states.
Reacting to the report, BJP spokesperson Sambit Patra tweeted, "This is saddening! Politics over the dead. Installments yet to be paid. It seems while some were eyeing for gains over an unfortunate Suicide, Truth was the biggest looser!"
Goyal, in his press conference, spoke of these charges by Radhika and said that the Opposition's 'dirty politics' has been exposed by her. "It is deplorable action by the political parties", he said. The Indian Union Muslim League made false promises to Rohith's family so that they can address the party's rallies and then they can misrepresent the unfortunate incident. This is condemnable, Goyal said.
However, according to media reports the IUML had on Tuesday termed the cheque bounce incident as a clerical mistake. IUML leader MK Muneer told ANI that the party would stick to its words. "If the IUML has given its word, we will stick to it. I heard the news that a cheque of Rs 20 lakh that was given to Rohith's mother, bounced. This has not come to the notice of any of our leaders yet," Muneer said.
But later on Tuesday, Radhika denied claiming that the cheque given by IUML had bounced. She instead said that the report was spreading 'misinformation'. She was quoted by News18 as saying: "No cheque bounced, it was rejected due to an error. I have no problem with them (IUML). They have given me an advance of Rs five lakh for land and promised me Rs 10 lakh more after Ramzan. I will campaign for anyone who is against the BJP. The article is spreading wrong things."
But Goyal on Wednesday alleged that efforts were made to pressurise the mother to retract her statement and more money was being offered to her in lieu of it.
Rohith, a Dalit student, committed suicide in January 2016 which had triggered a nationwide protest given his backward class status. However, the one-man judicial commission set up to probe the circumstances that lead to Vemula's suicide had submitted its report stating that his act was due to 'personal frustration', not discrimination.
India
Leader of the House and Union minister Piyush Goyal demanded that Gandhi come to the House and apologise for his "rubbish" statements made in London
Opinion
Throughout 2019 to 2022, Mamata Banerjee and Pawar tried becoming UPA convenors but these moves were stonewalled by Sonia Gandhi who is UPA chairperson even if in purely figurative terms
Politics
The Congress leader gave the 10-point reply hours after a Delhi Police team knocked on his doors for the third time in five days. He also sought eight to 10 days to give a detailed response to the questions posed by Delhi police over his January 30 remarks