Pehlu Khan killed by gau rakshaks in Alwar: Not Opposition, BJP faces biggest threat from within
BJP's spectacular electoral successes and spreading of national footprint have unleashed a wave of Hindu triumphalism.
The murder of a Muslim dairy farmer in Rajasthan's Alwar by 'cow-protection' goons and BJP's laboured condemnation of the heinous crime drive home a simple truth. A worrying move is afoot to normalise vigilante violence.
Vigilantism is typically borne out of poor governance. It is the signifier of a weak state unable to enforce law and order. The rise of vigilantism is synonymous with administration's failure to create the architecture for a rules-based society.
Interestingly, this classical definition of vigilantism doesn't fit the kind of mob justice that we are currently witnessing across India's northern belt. Vigilantism, here, has become an extended arm of the state — motivated youths are on the prowl looking for cattle smugglers, lynching them to death, burning butcher shops, shutting down illegal slaughterhouses, subjecting couples to moral policing, harassing people on their choice of food or clothing. In many cases, the police seem to have outsourced the job of law enforcement to these self-styled justice-delivery boys.
This is intriguing. Why would strong, stable state administrations require the help of vigilante groups to bypass the penal system and mete out instant justice? The answer isn't hard to find.
The vigilante groups serve an important purpose in BJP's political ecosystem. The saffron unit's electoral ascendancy has empowered these fringe right groups into imposing their version of the 'idea of India'. For the BJP, these are useful idiots. The party's central leadership maintains an arm's length — the prime minister has issued a strong condemnation of their actions in the past — while its local units use these 'Hindutva soldiers' to provide the narrative of nationalism that the BJP deems crucial to its electoral success.
The problem is, this delicate balance is unsustainable. Operating outside the ambit of law, the members of these groups frequently overstep it giving rise to incidents such as we have witnessed in Dadri, Una or now in Alwar.
For their legitimacy and power, these groups depend on the state which alternates between overt and covert backing.
Consider the conduct of Rajasthan Home Minister Gulab Chand Kataria who first tried to draw a false equivalence between the cow protection goons and the victims, justified the registering of cases against both sides and claimed that the Muslim men transporting cows did not have proper documents on them.
This has been contested by the family members of Pehlu Khan, the 55-year-old Muslim dairy farmer who succumbed to his injuries on Tuesday after getting heavily beaten up by a gang of 200 on Saturday, the day of the incident which took place on a highway in Rajasthan's Alwar district.
Pehlu's son Irshad told News18, "We were coming from a mela in Jaipur. We were stopped near Behror by some people. We showed them the receipt of sale and purchase. They said they are from Shiv Sena and Bajrang Dal and started beating us. They even tore the receipt. They came prepared with hockey sticks and belts."
An Indian Express report provides more details of the receipt which has the stamp of the Jaipur Municipal Corporation (serial number 89942 dated 1 April, 2017). The victim's son told the newspaper that the goons also robbed them of their belongings in cash and mobile phones.
While a video clip of the brutal attack has gone viral on social media, BJP's senior minister Mukhtar Abbas Naqvi told Rajya Sabha "the kind of incident that is being presented has not occurred on the ground." He later qualified his statement, telling Marya Shakil of News18 that his "statement was not in the context of Alwar… Taking law into your hands is wrong. Strict action will be taken against the guilty… People were trying to link the Rajasthan incident to cases in other states.. We will not tolerate violence".
What is striking is that BJP ministers both at the Centre and state have been unable to issue unqualified condemnation for the crime. This isn't surprising. Having ceded space to vigilantism and co-opting their lawlessness into its political ecosystem, the BJP is in no position to disown them. It might not even want to disown them. And therein lies a very real danger for BJP.
While the party may like to believe that a larger Hindu coalition is possible through bovine intervention, it is more likely to get badly singed at the electoral hustings if incidents such as the one in Alwar are allowed to continue.
The challenge for BJP, going forward, may not come from the Opposition or any mythical third or fourth front. It is more likely to come from within. BJP's spectacular electoral successes and spreading of national footprint have unleashed a wave of Hindu triumphalism. The irony is that while trying to implement this narrow, muscular brand of Hindutva, these triumphalist forces are going against the grain of cultural openness that Hinduism stands for.
In their quest for a larger Hindu 'mahagathbandhan', the BJP may end up alienating the vast majority of Hindus who are appalled at such instances of mindless violence. For a party that seeks to remain in power for the foreseeable future, this could be a suicidal step for BJP.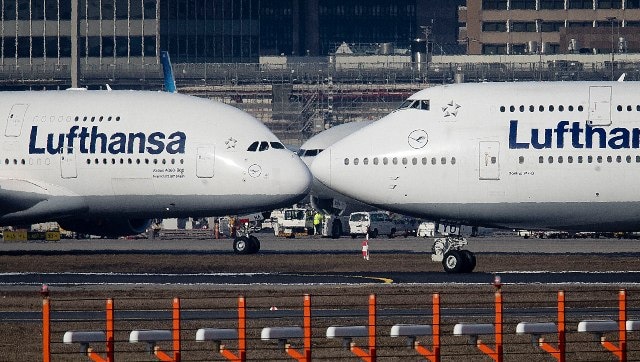 World
With this, an epic 16-year-old dispute over support for airplane makers appears to be heading for an end, at least for now
World
A signed coalition agreement was formally presented to the Knesset secretariat Friday, the last step before a vote and the swearing-in of the new government
India
Residents of Ghoramara and Mousuni are being being moved to safety by the West Bengal government as tidal waters and rainfall pose grave risk to their lives