PDP-BJP govt creating controversies in Jammu and Kashmir for political gains, says Congress' GA Mir
The Jammu and Kashmir Congress on Tuesday accused the PDP-BJP government of creating controversies to serve its vested interests and divert the people's attention from its alleged misrule
Jammu: The Jammu and Kashmir Congress on Tuesday accused the PDP-BJP government of creating controversies to serve its vested interests and divert the people's attention from its alleged misrule.
"The uncertainty in the state is created by the PDP-BJP government which is responsible for creating social and political uncertainty. They can go to any extent to remain in power," Jammu and Kashmir Congress chief GA Mir said.
He said that both the PDP and the BJP were sharing power in the state despite the fact that their approach is opposite on a number of issues.
Alleging that there was a "complete uncertainty" at all levels, including social and political, he said the Mehbooba Mufti dispensation for creating social and political uncertainty to serve their vested interest.
Mir, who addressed public and party meetings, alleged the PDP-BJP coalition for creating the current controversy on Article 35-A with an aim to keep the situation boiling.
"The coalition partners are deliberately creating hurdles in the peace and development of the state by doing politics on sensitive issues. The situation in the state, especially in the valley was deteriorating," he said.
Mir said that the coalition has failed to create a peaceful atmosphere.
Describing the Congress as the only secular force in the country, the party chief said that Congress has always strengthened the secularism and it will continue to safeguard the secular fabric of the country.
He claimed that the Congress party will defeat the designs of the BJP-RSS and create an atmosphere of discord will not allow them to play with the emotions of people for political gains.
Referring to the organisational activities and affairs in all three regions of the state, Mir said that the Congress was holding organisational elections from the booth-level in order to reactivate the party from grass roots level.
Mir said Congress was a vibrant situation in the State capable of defeating BJP-RSS menace hell bent upon to divide people on regional lines in order to serve their vested interests.
Senior vice-president of Jammu and Kashmir Congress Sham Lal Sharma also hit out at the BJP and the RSS for misleading people on every count just to share power with the PDP.
Sharma said that PDP and BJP secured votes by making false promises, as a result, people not only in Jammu but in Kashmir and Ladakh feel back-stabbed and betrayed.
India
These exchanges took place at Punjab's Attari, along the Rajasthan front and in Jammu, and with the BGB along the border with Bangladesh
India
An official statement said that a blinking red light was observed by the troops at a height of 200 metres but the object went back across the border after personnel fired at it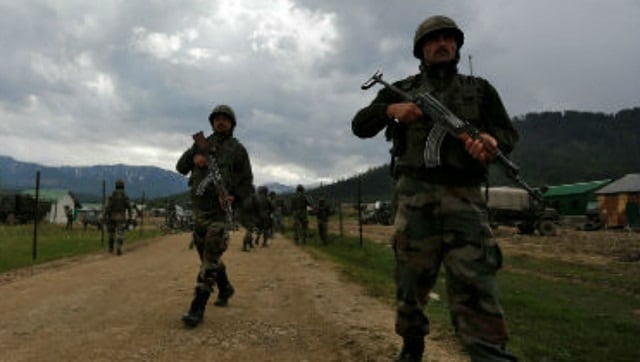 India
The police said that one of the militants, identified as Fayaz War, was involved in several attacks and killings of civilians and security personnel. He was the last perpetrator of violence in north Kashmir