Pawan Kalyan slams TDP at Jana Sena's Foundation Day rally, says it changed Andhra to 'Corruption Pradesh'
Addressing a massive gathering on the occasion of his party's fourth Foundation Day, Kalyan spoke of Andhra pride and Telugu self-esteem, and threatened to launch a fast unto death if special status isn't granted to the state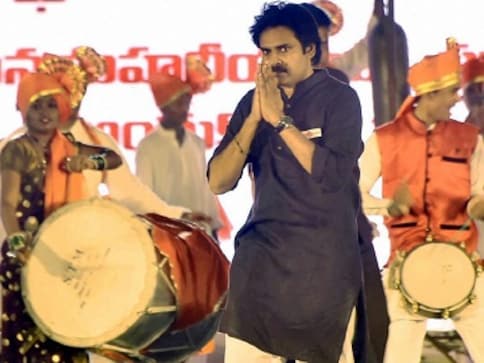 Guntur: Jana Sena Party chief Pawan Kalyan sounded the poll bugle from Andhra Pradesh's Guntur district on Wednesday, saying that his party will contest the 2019 Assembly elections and maintain a safe distance from all established parties of the state: Telugu Desam Party (TDP), YSR Congress and the Bharatiya Janata Party (BJP). However, he said he would work closely with the communist parties in the state.
Addressing a massive gathering on Wednesday on the occasion of his party's fourth foundation day, Kalyan spoke of Andhra pride and Telugu self-esteem. He also brought up the issue of special status for the state, and threatened to launch a fast unto death if it's not granted.
The rally offered a sneak peek into what the election manifesto of Tollywood's power star would look like. Kalyan said his manifesto, which would be released on 14 August, would have special status for Andhra Pradesh as its main agenda, followed by the fight against corruption, implementation of pro-farmer schemes, and welfare of girls and youth. Creation of jobs for the state's youngsters featured prominently in Kalyan's agenda, he said.
His party would focus on equal opportunities to all castes in Andhra Pradesh, as also the plight of Muslims in the state. The Jana Sena Party would also highlight the need for development of the state's Rayalaseema region. Kalyan said the government had adequate funds, and would be using them to provide houses and employment for the state's girls and youth.
He specifically mentioned the need to set up business development in West Godavari district and industries in East Godavari. Jana Sena will also focus on the Vishakhapatnam railway zone issue with full intensity, he said, and will pressure the Centre to get this done.
While maintaining a strong tempo throughout his two-hour-long speech, Kalyan categorically criticised the TDP and its leadership, accusing them of spreading lies in the four years it's been in power. He regretted extending support to the "corrupt" TDP, which according to him, is topping the list of corruption in the country.
He specifically picked on Nara Lokesh, Chief Minister Chandrababu Naidu's son, and said the entire state government is "dipped in corruption".
Kalyan wondered why Naidu was silent on such important issues. He also accused him of maintaining a silence on corruption, sand mafia, atrocities towards people, students and farmers in the state.
The Jana Sena chief asked Naidu why was he silent on the special status issue for the last four years, waking up just with elections around the corner. "Why should anybody support you in 2019? You changed Andhra Pradesh into Corruption Pradesh," he fired.
He also didn't spare the YSR Congress chief Jagan Mohan Reddy, saying he too is silent on many issues and doesn't show enough "seriousness" when it comes to these topics.
Leading up to Wednesday's rally, several YSR Congress leaders had accused Kalyan of acting at the behest of Naidu, accusing the Jana Sena and TDP of collusion.
However, Kalyan insisted he wasn't in politics to gain power and wasn't eyeing the chief minister's chair for himself. He said he was a son of a constable, reminding the audience of his humble beginnings, and said he wanted to work for the people. "The distance from the people to me is of two hearts," Kalyan said to thunderous applause. "People like us enter politics to work for the people, not to eat money."
Accusing parties of distributing money during elections, he asked people attending the rally to take the money from other political parties, but to vote for the Jana Sena.
At the rally, he also launched the Jana Sena's membership drive, simplifying it further by saying interested people only need to give the party a missed call to register as a member. "We will give more weight to the youth and fresh blood to let them enter the Assembly. For us, people are not vote banks; we consider them a family and we'll nurture this with care. If I do not perform please do punish me," the Jana Sena chief said.