Party chief Amarinder Singh to take a call over Navjot Singh Sidhu's induction: Congress
As former BJP MP Navjot Singh Sidhu's induction into AAP looked uncertain, Congress on Thursday said the party's Punjab unit chief Amarinder Singh will take a call on the matter of the cricketer-turned-politician's entry into the party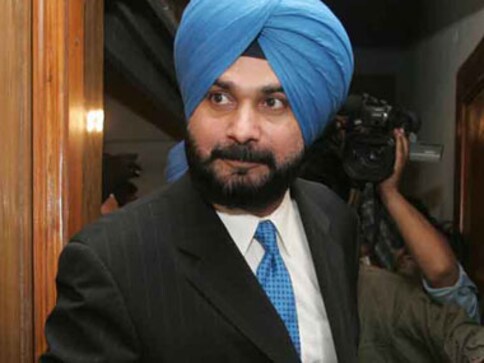 New Delhi: As former BJP MP Navjot Singh Sidhu's induction into AAP looked uncertain, Congress on Thursday said the party's Punjab unit chief Amarinder Singh will take a call on the matter of the cricketer-turned-politician's entry into the party.
"As regards such issues, we have authorised Amarinder Singh to deal with," AICC chief spokesman Randeep Surjewala said when asked whether Sidhu was welcome into the Congress fold.
The party has been maintaining that all like-minded parties and people are welcome to join hands with it in Punjab to defeat the "communal" forces in next year's Assembly poll.
AICC Secretary and in-charge of party affairs in Punjab Asha Kumari had earlier said that Congress was not in talks with Sidhu yet. She said Sidhu who has resigned from the Rajya Sabha has yet to quit BJP.
Amarinder Singh had earlier said that Sidhu was welcome to join Congress as it is in his DNA, as his father happened to be a Congressman. Sidhu hails from Patiala, the home town of Amarinder Singh.
Sidhu, however, has remained incommunicado ever since he resigned from the Rajya Sabha.
However, AAP chief Arvind Kejriwal has tweeted answering the speculations over Sidhu joining AAP, saying he had met him last week but needs time to decide and whether or not he joins the party must be respected.
"Wud Navjot Sidhu ji join AAP- lot of rumours? Its my duty to put forward our side. We have greatest greatest regard for this ckt legend. He met me last week (sic)," he said on twitter.
Ever since Sidhu quit the Rajya Sabha last month, speculation has been rife that he would join AAP as the CM candidate for Punjab, but nothing has materialised so far and the former cricketer and Amritsar MP has not even joined the AAP.
Politics
In Ahmedabad, Kejriwal will administer the oath to new office bearers of the party on 3 July and will attend a town hall meeting on 4 July
Politics
Approval has been given by the Lt Governor to bring a Money Bill to implement the proposal to effect over 66 per cent hike in the salaries of the Delhi MLAs
Politics
His comments came days after Lt Governor V K Saxena gave his nod to the Anti-Corruption Branch to probe allegations of irregularities in the construction of seven temporary hospitals here during the COVID-19 pandemic