Parliament's Monsoon Session highlights: Govt avoids legislative scrutiny by passing key bills in guise of money bill
LIVE NEWS and UPDATES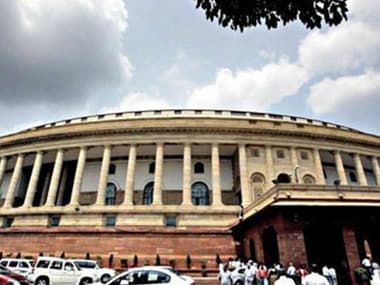 13:14 (IST)

Lok Sabha adjourned till 2.00 pm

13:07 (IST)

Rajya Sabha adjourned till 2.30 pm

12:29 (IST)

BJP blames West Bengal government for Darjeeling situation

पश्चिम बंगाल सरकार की नीति के कारण दार्जलिंग में अशांति फैली हैः अनंत कुमार, संसदीय कार्य मंत्री pic.twitter.com/fOYcNgKWfU

— Lok Sabha TV (@loksabhatv) July 21, 2017

12:28 (IST)

Darjeeling unrest raised in Zero Hour in Lok Sabha

CPM leader Mohammad Salim said that the West bengal food grain minister has threatened to stop the supply of food grains in the Hills of West Bengal, after the pro-Gorkhaland protesters declined to relent and call-off the bandh.

The CPM leader said that this was unconstitutional and against the right to food.

12:17 (IST)

Committee report on the Transgender Persons Protection of Rights tabled in Rajya Sabha

Committee report on the Transgender Persons (Protection of Rights) Bill, 2016 tabled in Rajya Sabha

— PRS Legislative (@PRSLegislative) July 21, 2017

12:09 (IST)

Agriculture Minister Radha Mohan Singh briefs Rajya Sabha on performance of agriculture schemes

12:08 (IST)

Govt is promoting many schemes on family planning: MoS Anupriya Patel

परिवार नियोजन कार्यक्म में हिस्सा लेने वाले युवाओं को बढ़ावा देने की कई योजनाएंः अनुप्रिया पटेल, स्वास्थ्य और परिवार कल्याण राज्यमंत्री pic.twitter.com/v15kwfMg9q

— Lok Sabha TV (@loksabhatv) July 21, 2017

12:05 (IST)

I am being threatened despite remarks being expunged from records: Naresh Agrawal

​

Naresh Agrawal told the chair that his remark linking alcohol to Hindu gods was expunged from the records in Rajya Sabha and he also took back those comments. "However, despite that, BJP Yuva Morcha leaders are threatening me, they vandalised my residence, and media houses are rampantly reporting on those remarks, quoting them out of contest," Agrawal said.

He said that this amounted to flouting the privileges enjoyed by a Member of Parliament.

11:49 (IST)

Rajya Sabha adjourned till 12 pm

11:49 (IST)

Ruckus in Rajya Sabha over Naresh Agrawal's remarks on Hindu deities

11:41 (IST)

Question Hour underway in Lok Sabha

11:36 (IST)

Opposition accuses govt of using finance bill route to pass key bills

Congress leader Jairam Ramesh said that the government is passing key policy related bills to pass off as finance bills to avoid scrutiny in the Upper House.

Anand Sharma said that the government was inclined to undermine the authority of the House. He said that even the Election Commission has taken strong objections to the BJP-led Centre passing Representation of People's Act as a money bill.

11:02 (IST)

Day 5: House proceedings in Parliament begin

18:36 (IST)

Parliament adjourned for the day

Rajya Sabha has adjourned for the day, following Arun Jaitley's speech on communal violence and mob lynchings.

18:14 (IST)

Kerala political killings only since LDF govt took charge: Arun Jaitley

Talking about the issue of political killings in Kerala, senior BJP leader Arun Jaitley said Congress' government under Oomen Chandy ruled the state for five years, but not a single such instance was reported. "Why are there cases coming up only after LDF government took charge?" he asked.

18:06 (IST)

Nehru govt banned cow slaughter first: Jaitley

Senior BJP leader Arun Jaitley says cow slaughter ban was brought in by Jawaharlal Nehru's government. "Law prohibiting cow slaughter was passed during Jawaharlal Nehru's rule. The law had Ambedkar's assent. So how can Congress blame BJP government of Narendra Modi for this?" he asked the Rajya Sabha.

17:55 (IST)

Jaitley says action taken against accused in every instance of mob lynching

Senior BJP leader Arun Jaitley says, "Regarding every event, whichever state it took place in, the home minister took stock of the situation. In every instance, action was taken against the culprits who are all in jail today. They have been chargesheeted and will face trial."

17:10 (IST)

13 Left workers killed since last year, why isn't anybody talking about it, asks Kerala CPM

Referring to accusations made by BJP leaders that CPM workers are targetting them and killing their activists, Ragesh said members of both parties have been targeted. "After the Left govt took charge in Kerala, 13 CPM workers were also killed in Kerala. But why aren't the BJP leaders talking about this?" he asked.

17:06 (IST)

BJP spitting venom, targetting Kerala with a communal agenda: CPM

After BJP leaders raised raised allegations of political killings against Left parties, CPM leader KK Ragesh said BJP is targeting Kerala with a divisive agenda. "They are spitting venom. A madrassa worker Mohd Riyaz, was killed only because he was a Muslim. An eight-year-old child was killed. The CPM is trying to preserve the secular fabric of the state, which is why they are being targeted," Ragesh said.

16:34 (IST)

Where are the gau rakshaks when cows die of hunger, asks Congress

"People who claim to be gau rakshaks never actually take care of the cows. There are cows dying of hunger and negligence in Haryana and Rajasthan, but nobody even gives them food," said Kumari Selja, Congress MP from Haryana.

16:28 (IST)

Dalits have to pick up dead cows' carcasses, but are lynched when they do

Congress leader Kumari Selja from Haryana says, "Atrocities against Dalits have increased under NDA rule, in different states. Manual scavenging is still being practised, though it's against the law. They also have to pick up carcasses of dead cows, so they can be sent to leather and tanning units. The Dalits have been told to both pick up the dead cows, and when they do, you also have them beaten, like it happened in Una."

16:08 (IST)

Those speaking of intolerance are hypocritical, says Rajeev Chandrashekhar

Left leaders speak about 'intolerance' but what about political workers and families hacked in Kerala? Since the Left government came to power, 15 people were killed. It seems to suggest that some violent crimes are OK but some others aren't.

15:46 (IST)

Congress, TMC stage walk-out from Parliament

Congress and TMC stage walkout from Rajya Sabha over the comments made by HRD Minister Prakash Javadekar during a debate on lynchings.

— ANI (@ANI_news) July 20, 2017

15:36 (IST)

86 percent of those killed in communal riots are Muslims, says KTS Tulsi

Muslims constitute 86 percent of people who have been killed in communal riots. We cannot have an "ostrich-like" approach. We need to accept the facts. A mob is like a raging fire. Those feeding the frenzy are equally responsible. In most of these instances, the police hasn't registered a case. Even when they do, the victims are blamed, or their families are blamed.

15:23 (IST)

Congress stages walkout from Rajya Sabha

Congress leader Ghulam Nabi Azad takes exception to Prakash Javadekar's speech, says no party has had as much of an effort in nation building as the Congress. Party stages walkout from Rajya Sabha following the speech.

15:14 (IST)

Condemn Godhra, 1984 riots before talking about lynchings under NDA rule

Union minister Prakash Javadekar tells Rajya Sabha, "We need to condemn issues of cow vigilantes taking matters into their own hands, but we can't have selective amnesia. In 1984, Sikhs were lynched in large numbers, which can even today be considered one of the worst riots in independent India. In 2001, at Godhra, thousands burnt devotees on their way back from Ayodhya. So if we are condemning lynchings, we must condemn all lynchings through history."

15:05 (IST)

JD(U)'s Sharad Yadav makes impassioned appeal to act against mob lynching

Sharad Yadav told the House that he can give umpteen examples where individuals were living under fear of lynching and communal harmony has come under strain. He questioned that why this issue arose for the first time in over 60 years in such a big way only after BJP came to power.

"You have destroyed leather industry, snatched whatever means of livelihood the poor had, and forced the prices of cattle stock to fall... please don't rake up unnecessary issues and use your mandate to do good work," Yadav told the treasury benches.

14:58 (IST)

#Watch: Sushma Swaraj's speech on India-China standoff

India well equipped to handle China's interference: Swarajhttps://t.co/e3bmp6BVNM

— Rajya Sabha TV (@rajyasabhatv) July 20, 2017

14:52 (IST)

Sibal parallels cow vigilantes to Salwa Judum, calls them 'fake Hindus'

Kapil Sibal said that cow vigilantes were just like Salwa Judum who made their own laws and then brought people to 'justice' on their own. He said that such people insult Hinduism and are fake Hindu.

14:47 (IST)

BJP can't distance itself from cow vigilantism: Sibal

​

Sibal said that on one hand "BJP says that don't drag us in this issue as law and order is a state subject... while VHP, Bajrang Dal, who are your own people, are openly encouraging such things."

"Do you dare to openly condemn VHP, Bajrang Dal and term them anti-social organisation... but that's where you f=get your electoral support from," Sibal said.

14:40 (IST)

Kapil Sibal names and blames VHP, Bajrang Dal for mob lynching; Mukhtar Abbas Naqvi wants comments expunged

Kapil Sibal said that while the BJP was trying to distance itself from cow vigilantism, Vishwa Hindu Parishad and Bajrang Dal are openly "encouraging and recruiting" vigilantes and "religious militants".

After Sibal concluded his remark, BJP's Mukhtar Abbas Naqvi stood up and said that the rules said that organisations/ individuals who can't defend themselves in the House shouldn't be named. He asked that such names should be expunged from records.

14:32 (IST)

Kapil Sibal blames Modi for creating environment for mob lynching

"Whatever is happening in India has nothing to do with vigilantes, it has everything to do with the prime minister," Sibal said. He said that the prime minister was creating an environmnet where such elements felt encouraged to carry out their agenda and disturb the peace and tranquility of the nation.

14:30 (IST)

Sibal invokes Modi's old speeches on cow vigilantism, accuses Modi of double speak

Kapil Sibal invoked Narendra Modi's old speeches claiming that the prime minister's latest statements amounted to double speak. He said that Modi had on repeated occasion glorified cow worship and violence, stirring emotions of people. "Cows are being killed for money, how can you take this lying," Sibal quoted Modi as saying.

He said that on one hand he gloriefies extremism and on the other hand he talks of Mahatma Gandhi, "this is paramount to misleading the people... Modi is indulging in double speak."

14:23 (IST)

Kapil Sibal takes govt to task over cow vigilantism

Kapil Sibal, in a strong worded condemnation for cow vigilantism, said that the issue was much more far reaching than the government was ready to accept. He said that the prime minister has issued three statements in three years, but there has been no action on the ground to support his words.

14:20 (IST)

SAD's Naresh Gujral condemns mob lynching, says tough action and tolernce is the only way forward

Shiromani Akali Dal's Naresh Gujral said that such incidents were not only condemnable but against the spirit of India. He said that apart from prime minister's strong words strict action was also necessary.

14:05 (IST)

Rajya Sabha debates on mob lynchings, cow vigilantism

13:23 (IST)

#InPictures: Tamil Nadu farmers beat themselves with chappals in protest

As Opposition protests forced a near washout in the Lok Sabha today, Tamil Nadu farmers who have gathered at Jantar Mantar to demand farm loan waivers amid other things, paraded with human skulls and beat themselves with slippers as a sign of protest.

Delhi: Tamil Nadu farmers demanding loan waiver beat themselves with chappals & parade carrying skulls in protest pic.twitter.com/GpwHnHX1wn

— ANI (@ANI_news) July 20, 2017

13:18 (IST)

Airlines can't impose flying ban on anyone: RS Dy Chairman

Airlines have no authority to impose flying ban on anybody, including parliamentarians, and the law of the land should take its course, Rajya Sabha Deputy Chairman PJ Kurien said on Thursday.

The remarks came after SP member Naresh Agrawal raised the issue of recent flying ban imposed by major domestic airlines, including state-owned Air India

13:15 (IST)

Sushma Swaraj statement on India-China standoff not enough, full-fledged debate needed: Congress

Full fledged discussion needed on India-China standoff. Statement not enough: Ghulam Nabi Azad pic.twitter.com/IkIAj4CHLl

— News18 (@CNNnews18) July 20, 2017

13:02 (IST)

Rajya Sabha adjourned till 2 pm

12:58 (IST)

China tried to unilaterally change status quo in Doka La: Sushma Swaraj

If China unilaterally changes status-quo of tri-junction point between China-India & Bhutan then it poses a challenge to our security: EAM

— ANI (@ANI_news) July 20, 2017

12:56 (IST)

India never interfered in Bhutan, China row; Sikkim standoff to protect Indian interest : Swaraj

Sushma Swaraj told the Rajya Sabha that Sikkim standoff is only about 'just demands' from the Indian side. She said that both Bhutan and India are sovereign nations and are working to resolve their respective border disputes with China. The minister, however, added that the current standoff was a result of Chinese action that directly threatened Indian interests.

"The tri-junction is a shared border between India, China and Bhutan but China was unilaterally trying to build a pucca road and unilaterally alter the status-quo in the region," she said.

12:43 (IST)

Sushma Swaraj clarifies govt stand on South China Sea

External affairs minister Sushma Swaraj said that India's stand on South China has been very clear. She said that India maintains that free and uninterrupted passage for commercial vessels should be maintained in the region and any dispuets should be solved with Indian norms and mutual cooperation.

12:40 (IST)

Sushma Swaraj says India not threatened in IOR, denies Chinese encirclement

Responding to a question on India-China relations, external affairs minister Sushma Swaraj said, "It's wrong to say that China is encircling India in Indian Ocean Region. India is vigilant of its security interests, and no one can encircle it."
With the proceedings of the Parliament getting turbulent in the Parliament, the government is hard-pressed to push its agenda. The Houses have not been transacting much legislative business amid repeated disruptions and Opposition's demand to debate key issue.
On Thursday, the Lok Sabha was adjourned sine die after repeated disruptions by the Opposition over farm crisis and cow vigilantism. The Rajya Sabha, however, say a heated debate over cow vigilantism. Sparks flew in the Upper House on during the discussion on cow vigilantism and atrocities on Dalits, with the opposition trying to corner the government and a minister raking up the 1984 anti-Sikh riots and the 2002 Godhra incident.
As the opposition accused the government of creating an atmosphere of fear in the country, the government in its reply said there was nothing anti-Muslim or anti-Dalit about the incidents, but cow vigilantism should not be "eulogised".
Speaking on the issue, senior Congress leader Kapil Sibal accused Prime Minister Narendra Modi of "doublespeak" and giving "gau rakshaks" (cow vigilantes) a free hand.
"It (mob violence) has nothing to do with cow vigilantes ... It has something to do with Narendra Modi. It is the Prime Minister who is creating the kind of environment in which this is happening," Sibal said in a bitter attack on the government.
"It is better for the Prime Minister to come clean over this rather than indulge in doublespeak," he said, adding that those killing innocent people in the name of cows were not "real Hindus".
He also quoted from old speeches of Modi where he spoke of "pink revolution" and called for stopping cow slaughter.
"We need to ask ourselves as to why this is happening now. We have not seen such violence in the last 40-50 years. The cow represents 'ahimsa' (non-violence). When you kill in the name of cow, you kill the cow, you kill ahimsa and you kill humanity," Sibal said.
Union HRD Minister Prakash Javadekar said that mob violence must be condemned but it should not be done "selectively".
"When I condemn mob lynching, I do not suffer from selective amnesia like some of our opposition colleagues," Javadekar said as he mentioned the 1984 anti-Sikh riots and the killing of "karsevaks" in Godhra in Gujarat in 2002.
"In 1984, Sikhs were lynched or burnt alive, at least 3,000 of them. In 2002, Ram 'bhakts' (devotees) returning from Ayodhya were lynched in Godhra. We condemn all such incidents," the HRD Minister said.
He said there were 16 mob lynchings in 2012 and 14 in 2013.
A visibly angry Leader of Opposition Ghulam Nabi Azad hit back by saying that notwithstanding who was in power, the "parivaar" (a reference to the Sangh family or Hindutva groups) people were found involved in every communal riot in the country.
"Where are the culprits involved in the lynchings in 2012 and 2013? Where are the culprits involved in anti-Sikh riots of 1984?... Very few of them are in jail, rest are roaming free," Javadekar said.
Azad retorted: "Let me say that in all the communal riots that occurred in India, people from your 'parivaar' were found involved."
He said it was the Congress that fought for the country's freedom and "not you people" before the opposition members walked out of the House.
Minister of State for Home Affairs Hansraj Ahir said the Modi government was neither anti-Dalit nor anti-Muslim.
In his reply to the discussion, Union Finance Minister Arun Jaitley said the government would show no sympathy to those lynching people in the name of cow protection.
"Nobody has the right to take law in his hands. And if somebody does, he should be condemned, arrested and prosecuted. The government's stand is very clear -- nobody is allowed to do that," Jaitley said in the Rajya Sabha.
"...there is no rationalisation, no argument about hurting of sentiments can be an explanation for the crime," he said, adding that the central government was absolutely committed on the issue and had already sent an advisory to the states.
"The law will certainly take its course in these cases. No amount of sympathy will be shown to these people. The Prime Minister has spoken thrice on the issue," Jaitley said.
On the atrocities on Dalits, Jaitley said oppression in the name of caste would not be tolerated and that stringent laws were in place to protect the Dalits.
"The way we have historically treated one section of our brethren is a black spot in our history. We owe it to ourselves, if not to them, to reverse that process of history," the minister said.
However, the senior Bharatiya Janata Party leader said, it was also not proper to "eulogise" cow slaughter in states where there was no prohibition on cow slaughter.
BSP leader Satish Chandra Mishra said that his party was not satisfied with the minister's reply and staged a walkout.
With inputs from agencies
Updated Date: Jul 21, 2017 13:24:58 IST