Parliamentarians trade bitter words over CBI filing charge-sheet against HP CM Virbhadra Singh
Pandemonium prevailed in the Himachal Pradesh Assembly on Wednesday, the second day of the monsoon session, as opposition BJP MLAs engaged in a bitter exchange of words with Chief Minister Virbhadra Singh over media reports that CBI has finalised the charge-sheet against him in a disproportionate assets case
Shimla: Pandemonium prevailed in the Himachal Pradesh Assembly on Wednesday, the second day of the monsoon session, as opposition BJP MLAs engaged in a bitter exchange of words with Chief Minister Virbhadra Singh over media reports that CBI has finalised the charge-sheet against him in a disproportionate assets case.
BJP MLA Maheshwar Singh raised the issue after the question hour.
The chief minister shot back, accusing Union Finance Minister Arun Jaitley, former Chief Minister PK Dhumal and BJP MP Anurag Thakur of framing him in false cases and victimising him.
The CM said, "I am not scared of such charge-sheets. I have faced trial in session court twice earlier during the regime of Dhumal in the past and came out clean. I will face it this time also and fight it out and have full faith in judiciary. These are politically motivated charges and I would not be cowed down by such things."
Provoked by the remarks of the chief minister, the BJP members started raising slogans and staged a walkout but returned after a few minutes.
The CM said that it was a fallout of the action taken by his government against alleged irregularities in the Himachal Pradesh Cricket Association (HPCA), led by Anurag Thakur.
Singh accused Jaitley, Dhumal and Anurag Thakur of unleashing a "malicious" campaign against him.
The BJP members wanted to speak on the issue but Speaker Brij Bihari Lal Butail continued the proceedings.
On this, BJP member Ravinder Ravi got furious and asked the Speaker to allow the opposition to raise the issue.
Ravi broke the microphone on his desk and the entire BJP rushed near the podium of the Speaker and raised slogans.
The Speaker later adjourned the House for the day and said the "act of particular BJP member to damage the property of the house is contempt of the house".
Find latest and upcoming tech gadgets online on Tech2 Gadgets. Get technology news, gadgets reviews & ratings. Popular gadgets including laptop, tablet and mobile specifications, features, prices, comparison.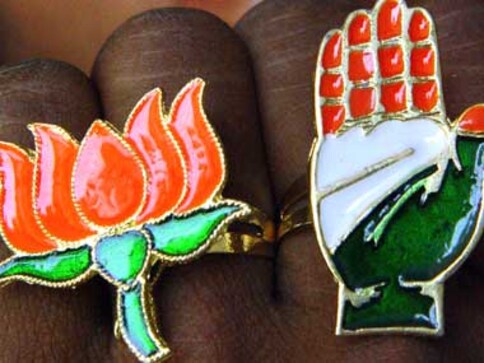 Politics
The final campaigns will see senior BJP leader Arun Jaitley campaigning in Shimla and Chief Minister Prem Kumar Dhumal in Kangra. Controversial Congress state leader Virbhadra Singh, will also hold rallies in Kullu and Bilaspur.
Politics
"Virbhadra Singh has said that he would consider filing a defamation action against me. He is certainly entitled to do so. In that event I would be pleading truth as defence and cross examining him on each of these issues," Jaitley said.
First Cricket News
BCCI president Anurag Thakur has come to bat for politicians, after the OP Jaisha controversy and Lodha panel report questions their involvement in sports.