Parliament LIVE: Rajya Sabha adjourned as benches remain empty, Congress calls govt non-functioning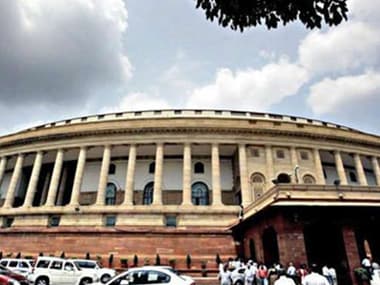 18:04 (IST)

Rajya Sabha amid pandemonium as govt refuses to discuss on motion to send triple talaq

18:00 (IST)

Rajya Sabha adjourned till Friday without any discussion on triple talaq bill

17:59 (IST)

Govt requests to take up GST bill first as Dy Chairman ruled Triple Talaq bill can't be taken for passage without first building consensus in House

17:57 (IST)

Sukhendu Shekhar Roy of TMC rejects govt allegation that suggested composition of Standing Committee was not inclusive

Roy, responding to Jaitley's objection that the Select Committee suggested by him did not reflect the nature of the House, Roy said that he had included members from all parties who were willing to send the bill to the Standing Committee. However, BJP members were not included because the government was not willing to send the bill to the committee. Roy added that if the BJP is interested in sending the Bill for further scrutiny, he has no objection to ammend the list to include its members too.

17:48 (IST)

PJ Kurien says resolution was admitted because Chairman himself allowed it

Kurien said that the Leader of the House is a very learned advocate himself and all points raised by him are of relevance. The rule he quotes that a prior notice should be given is also correct, he said. "However, the same rule adds that the Chairman has the power to admit such a motion and which is why I cannot overrule it. It is now admitted and hence is the property of the House, only members can amend it," Kurien said on Jaitley's objection over the Opposition motion seeking triple talaq bill be sent to Standing Committee.

17:41 (IST)

Uproar in Rajya Sabha after opposition's motion on #TripleTalaqBill, opposition has demanded the bill be sent to select committee

— ANI (@ANI) January 4, 2018

17:40 (IST)

Arun Jaitley raises objection on point of order requesting bill be sent to Standing Committee

Jaitley said that the previous precedents show that any amendments or motions should be introduced with prior notice. He said that the Opposition's demand to send the bill to Select Committee was invalid. He also raised objection on the suggestion on members of Select Committee made by Anand Sharma.

He said that a committee should reflect the nature of the House, which the list of suggestions given by Sharma does not. Sharma's suggestion did not include names from the BJP.

17:34 (IST)

Govt bill is incomplete, will finish Muslim women, says LoP Ghulam nabi Azad in RS

Ghulam Nabi Azad stood up as the bill was taken up for discussion and said that none of the parties are in opposition of the bill in essence. However, he said that the government's bill will "finish Muslim women" instead of saving them.

"If you will put their husbands in jail, who will provide for them, who will pay for their children," Azad asked as he reiterated that Congress leader Anad Sharma's suggestion to send it to Standing Committee should be taken into consideration.

17:30 (IST)

Rajya Sabha begins debate on the triple talaq Bill

10:45 (IST)

BJP president Amit Shah reaches Parliament

BJP president Amit Shah reached Parliament, to make his Parliamentary debut in Rajya Sabha today


#ParlWinterSession -- BJP President Amit Shah reaches Parliament, to make his Parliamentary debut in Rajya Sabha today
Image: ANI pic.twitter.com/LUlaLMAjsL

— News18 (@CNNnews18) December 15, 2017

10:43 (IST)

Mallikarjun Kharge appeals govt to create healthy atmosphere for debate

Congress leader Mallikarjun Kharge said govt should should respect Opposition and create an atmosphere for healthy debate during Parliament Winter Session.

10:37 (IST)

Narendra Modi hopes for positive debate

"I hope that Winter Session will be fruitful. I expect that Winter Session will proceed in a positive way. I hope that Winter Session debate will strengthen democracy. I believe that to take the country ahead this Winter Session debate will be useful, " said Modi as Winter Session sets to begin.

10:28 (IST)

Narendra Modi sought cooperation of all political parties at all party meet

On the eve of Winter Session, two all-party meetings were convened, first by the ruling NDA and the other by Lok Sabha speaker Sumitra Mahajan. At the all-party meeting Modi requested all parties for cooperation in order to make Parliament session a fruitful one.

Mahajan met the leaders from all parties on Thursday over dinner.

10:15 (IST)

Winter Session of Parliament begins today: There are 14 sittings this session

#WinterSession begins today. There are 14 sittings this session.

— PRS Legislative (@PRSLegislative) December 15, 2017

12:30 (IST)

Lok Sabha debates Disability Bill

Possibly the only work that was undertaken during Winter Session, MPs in Lok Sabha are debating the Disability Bill and are planning to pass it. Today is the last day of Winter Session.

Rajya Sabha was adjourned sine die earlier today.

निशक्त व्यक्ति अधिकार विधेयक, 2016 पर लोक सभा में चर्चा चल रही है..#LokSabha

— LokSabha TV (@LokSabhaTV) December 16, 2016

12:03 (IST)

Speaker Sumitra Mahajan disallows demand for adjournment motions in Lok Sabha

लोक सभा अध्यक्ष ने विपक्ष के सभी स्थगन प्रस्ताव किए खारिज #LokSabha

— LokSabha TV (@LokSabhaTV) December 16, 2016

11:44 (IST)

Peace prevailed only when obituaries were read out: Hamid Ansari

The Rajya Sabha on Friday concluded its winter session after an emotional speech by the Chairman as the house was adjourned sine die.


"Regular and continuous disruptions signify this session... The rules about displaying placards and shouting slogans were ignored by all sections of the house," Rajya Sabha Chairman Hamid Ansari said in his closing statement before adjourning the house.


Peace prevailed only when obituaries were read out, he added.

11:33 (IST)

All sections of the house(Rajya Sabha) need to introspect on the distinction between dissent,disruption and agitation: VP Hamid Ansari

— ANI (@ANI_news) December 16, 2016

11:17 (IST)

Lok Sabha starts at 11 am, gets adjourned at 11.03 am till 12 pm

Lok Sabha adjourned till 12 pm #wintersession

— ANI (@ANI_news) December 16, 2016

10:57 (IST)

Congress delegation gives memorandum to PM Narendra Modi on farmers loan waiver issue

— ANI (@ANI_news) December 16, 2016

10:50 (IST)

Prime Minister Narendra Modi appealed to people of India that digital economy should be a way of life,it will be transparent and effective, Parliamentary Affairs Minister Ananth Kumar said.

PM appealed to people of India that digital economy should be a way of life,it will be transparent and effective: Ananth Kumar pic.twitter.com/OMw5x45HxA

— ANI (@ANI_news) December 16, 2016

PM ne kaha aaj 16 tarikh Bangla vimochan diwas hai, tab vipaksh ne saboot nahi manga tha,lekin aaj vipaksh saboot mangta hai:Ananth Kumar

— ANI (@ANI_news) December 16, 2016

PM ne kaha pehle satta paksh ghotale karta tha, aaj ke din satta paksh black money ko lekar kaam kar raha hai: Ananth Kumar

— ANI (@ANI_news) December 16, 2016

10:39 (IST)

Rahul Gandhi will meet with Narendra Modi shortly

Two days after serious corruption allegations against the prime minister, Congress vice-president Rahul Gandhi, along with other Congress leaders, will meet Narendra Modi shortly.

Reports said that the meeting is about waiving off farmer loans.

Congress leaders including Rahul Gandhi to meet PM Narendra Modi shortly

— ANI (@ANI_news) December 16, 2016

10:31 (IST)

Narendra Modi to address BJP members today

The last day of the Winter Session of Parliament is setup for a big tussle between the government and the Opposition as both try to break the deadlock.

The BJP's Parliamentary Party meeting to discuss the strategy to counter the Opposition's charges against the government is currently underway. Prime Minister Narendra Modi is set to address the gathering.

Opposition leaders are scheduled to meet the President and PM Modi to push for a way to break the deadlock.

Delhi: BJP Parliamentary Party meeting underway. (Inside visuals) pic.twitter.com/yoz4KXp8Tu

— ANI (@ANI_news) December 16, 2016

13:36 (IST)

Advani ji said "Koi jeete yaa haarey, iss sab hungame se sansad ki haar ho rhi hai,speaker se baat karke kal charcha honi chahiye":Idris Ali

— ANI (@ANI_news) December 15, 2016

13:36 (IST)

LK Advani told me that he feels like resigning, adding "had Atal ji been in the Parl today, he would have been upset": TMC MP Idris Ali

— ANI (@ANI_news) December 15, 2016

13:32 (IST)

I feel like resigning, says LK Advani

Senior BJP leader LK Advani told Home Minister Rajnath Singh to intervene and stop disruptions in both Houses of Parliament. Expressing his unhappiness, Advani allegedly said that he "feels like resigning".

Advani also added that "had Atal ji been in Parliament today, he would have been upset."

13:05 (IST)

Winter Session a failure - Opposition meets President Pranab

Taking their protest on demonetisation to President Pranab Mukherjee's doorsteps, Opposition parties sought a meeting with the president to convey the problems caused by the measure to the common man and "over not being" allowed to speak in Parliament. At a meeting of the opposition held in the chamber of Leader of Opposition in Rajya Sabha Ghulam Nabi Azad, representatives of various parties decided to raise with the President the problems of the common people, including the poor and farmers arising out of demonetisation.


Leaders of various parties said the entire opposition has decided to approach the President to "complain" against the ruling party for not allowing them to speak in Parliament. The leaders said they were elected representatives of the country and had every right to speak in Parliament and it was "unconstitutional" not to allow them to speak in both Houses. Sources said time is being sought from the President till Friday and all opposition parties were ready to raise the issue unitedly before him.


Sources said that it was also decided in the meeting to raise the plight of farmers and common people in both Lok Sabha and Rajya Sabha and demand a loan waiver for farmers. Representatives of Congress, Trinamool Congress, BSP, SP, JD-U, CPI, CPI-M, NCP, DMK and All India United Democratic Front (AIUDF) were present in today's meeting.

With inputs from PTI

12:38 (IST)

Rajya Sabha adjourned till 2 pm

12:24 (IST)

Lok Sabha adjourned for the day

12:18 (IST)

Mallikarjun Kharge: We want debate, ruling BJP is obstructing discussion

Members create ruckus in Lok Sabha after Leader of Opposition in Lok Sabha Mallikarjun Kharge gets up to speak. It is shameless that Parliamentarians behave the way Lok Sabha is functioning.

Unnecessary yelling, screaming and obstructing debate and discussion has become usual in the Lower House. Parliamentary Affairs Minister Ananth Kumar raises AgustaWestland issue in Lok Sabha as Opposition demands to debate demonetisation.

12:13 (IST)

Rajya Sabha was earlier adjourned after uproar as GN Azad raised farmers issue on demonetization & treasury benches raised #AgustaWestland

— ANI (@ANI_news) December 15, 2016

12:02 (IST)

Lok Sabha, Rajya Sabha resume, so does ruckus

11:56 (IST)

Let me speak: Rahul Gandhi

After a sudden press conference where the Congress vice-president claimed that he had information on 'personal corruption' the prime minister, Rahul Gandhi on Thursday demanded that he be allowed to speak in the House.

Let me speak, I will speak: Congress vice president Rahul Gandhi

— ANI (@ANI_news) December 15, 2016

11:52 (IST)

Parliament logjam continues even though 2 days left for Winter Session

Merely two days are remaining for the Winter Session to wrap up, but both the Houses showed absolutely no concern for the fact that the session has been a complete washout until now. The Lok Sabha got adjourned within minutes of commencing and Rajya Sabha a few minutes after. Both Opposition and BJP sparred over the issue of demonetisation and Rahul Gandhi's jibe at Narendra Modi on Wednesday.

Earlier in the day, senior BJP ministers, including Venkaiah Naidu and Mukhtar Abbas Naqvi had met with Prime Minister Narendra Modi ahead of the session and the Opposition parties met with President Pranab Mukherjee.

11:22 (IST)

BJP and Opposition both stall Rajya Sabha

Helpless deputy chairman PJ Kurien begs for MPs to sit down as Congress and BJP leaders spar over Ghulam Nabi Azad's speech on demonetisation.

"I have to adjourn.. what should I do?" asks Kurien. "This is for the first time in history of India that it's the ruling party that's not letting the House to function," says Azad.

Uproar by opposition in Rajya Sabha, says Govt not letting the house function

— ANI (@ANI_news) December 15, 2016

This is for the first time in history of India that it's the ruling party that's not letting the House to function: Ghulam Nabi Azad in RS pic.twitter.com/laIq9yytR7

— ANI (@ANI_news) December 15, 2016

Maine notice diya hai kisaanon ka karza maaf karne ke liye, BJP sarkaar kisaan virodhi sarkaar hai: GN Azad in Rajya Sabha

— ANI (@ANI_news) December 15, 2016

11:16 (IST)

BJP protest in Rajya Sabha

Senior BJP leader Venkaiah Naidu and Mukhtar Abbas Naqvi object to leader of opposition Ghulam Nabi Azad speaking in the Upper House. Kurien asks BJP members to sit down. Amid slogans of "Agusta Agusta", BJP leaders demanded to know what is the topic of discussion?

Kurien allows Azad to speak.

11:14 (IST)

Members protest in Rajya Sabha

Kurien: "I have given the floor to Leader of Opposition. That's the tradition. Let's follow it. Please sit down."

11:12 (IST)

Lok Sabha adjourned till 12 pm amid massive uproar

BJP raises AgustaWestland scam in Lok Sabha. Amid massive uproar, Sumitra Mahajan adjourns the House till 12 pm.

Congress has made a grave mistake by raising their finger against me,they will pay the price for their lifetime,I'm telling you:Kiren Rijiju pic.twitter.com/snpIH99nzU

— ANI (@ANI_news) December 15, 2016

11:04 (IST)

Notice in Rajya Sabha for discussion on corruption allegation against Rijiju

Congress leader Anand Sharma gave notice in Rajya Sabha for discussion on Kiren Rijiju's alleged involvement in Arunachal hydro scam issue.

11:01 (IST)

Rajya Sabha and Lok Sabha start

15:00 (IST)

Rajya Sabha adjourned till tomorrow amid uproar over Kiren Rijiju's alleged involvement in corruption related to Arunachal Hydro Project

— ANI (@ANI_news) December 14, 2016

15:00 (IST)

Both sides are indisciplined, what can I do? asks Kurien

It seemed like the members in the Upper House were just waiting to pass one single Bill this Winter Session. Soon after Kurien praised the members of the Upper House for being disciplined, ruckus over alleged corruption allegations on Kiren Rijiju took the House by storm again.

As Opposition members raised slogans and ruckus, Kurien said, "What can I do except adjourning. Both sides are indisciplined. The House is adourned till tomorrow (15 December) 11 am."
The Winter Session of Parliament opened on Wednesday with a united Opposition mounting an assault on the government over demonetisation, saying it had led to "economic anarchy" in the country. The opposition parties also demanded a probe by a Joint Parliamentary Committee (JPC) on the alleged selective leak of information before the official announcement.
While Lok Sabha was adjourned for the day after paying tributes to nine leaders, including sitting TMC MP Renuka Sinha, the seven-hour-long debate in Rajya Sabha, however, remained inconclusive. The debate in Rajya Sabha continued till 6 pm on Wednesday before Deputy Chairman of the House PJ Kurien adjourned it till 11 am tomorrow. Kurien said that the discussion on demonetisation will be resumed on Thursday at 2 pm. "From 11am to 12 pm will be the Zero Hour and Question Hour will be from 12-1 pm," said Kurien. There were repeated demands by the opposition members that the Prime Minister should be present in the House to listen to the members.
Leader of Opposition in Rajya Sabha Ghulam Nabi Azad said Modi, who did not come to the Rajya Sabha on Wednesday, should at least be present tomorrow and possibly intervene. The government rejected as baseless the opposition charge that there was "leakage" of the 8 November decision and said everyone was taken by surprise which is why there are "initial" problems.
Joining ranks over the raging issue, parties like Congress, JD(U), RJD, SP, BSP, Trinamool Congress, Left and AIADMK slammed the government, particularly targeting PM Modi, for making Rs 500 and Rs 1,000 denomination notes invalid and said the "ill-timed" and "ill-conceived" step had severely hit the common people, the farmers and the poor.
During a discussion on demonetisation, which was taken up after suspension of all business in response to notices given by a host of opposition members, a scathing attack was made on the government which strongly defended the step as one taken in national interest and to end corruption and black money, which it linked to terror activities in the country.
Here's a quick recap of what happened today
Anand Sharma uses wit and humour to attack Modi
Deputy Leader of Opposition in the Rajya Sabha Anand Sharma on Wednesday demanded a probe into "selective leakage" of the demonetisation move, which he termed a "Nadirshahi farman" (autocratic order). Initiating a debate after listed business was suspended to take up a discussion on the 8 November decision to withdraw old higher denomination currency, Sharma used wit and humour to attack Modi for being insensitive to problems caused to the common man.
He asked Modi to state where he got Rs 23,000-24,000 crore, estimated by the International Money Watch Group, for his Lok Sabha elections. He also asked if cheque or credit card payments were made to organise his rally at Ghazipur in Uttar Pradesh a few days ago. Alleging that the information on demonetisation was selectively leaked, he said, "Your BJP units have deposited crores (just before the 8 November decision)."
Sharma also sought to know from the Prime Minister as to "who wants to kill him", referring to the Prime Minister's speech in Goa where he had said that with demonetisation resulting in "Looting of their 70 year corrupt earnings, they will destroy me, they can kill me". "There should have been an ordinance for demonetization. But no ordinance was brought. This is a Nadirshahi farman (autocratic order)," Sharma said.
"The decision to demonetise high currency notes was leaked to a select few. Secrecy was not maintained on this issue. It was published in a Gujarati newspaper long back and even other newspapers wrote about it," said Sharma. "There should be a probe into the selective leakage of information," he said, asking: "What did the government do to prepare for effective implementation of the policy."
He also sought to know from the government which law gave it the right to impose limits on withdrawing money from peoples' own accounts. "I condemn Prime Minister's statement in Goa for mocking the people who are standing in queues. He must apologise. Please explain who wants to kill you," said Sharma posing a question to Modi. Congress will not tolerate anyone planning to harm the Prime Minister of the country, he said. "An atmosphere has been created by the government where questioning them has become a parameter to decide one's nationalism," said Sharma.
He sought to know from the Prime Minister as to from where the "15 thousand crore rupees spent on your mega election campaign come from". "Did you pay for your recent Ghazipur rally through credit card," Sharma said mocking the government for asking people to use plastic money for day-to-day expenses.
Sharma also demanded that Modi must disclose the list of those names, who are holding black money in Swiss banks. "Government has a list of those holding black money in Swiss banks. We demand that the Prime Minister must tell who all are there in the list," said Sharma. He said the government should disclose how much money left India between March and September this year and how many people invested in bullion, bought gold or forex during this period.
Sharma took a dig at the government for using the term "surgical strike" in the context of demonetization and the unplanned consequences of the move, saying, "Bina doctori padhe sab surgeon ban gaye (You became a surgeon without training or education)."
Quoting media reports, Sharma said State Bank of India — the country's largest lender — knew of the decision way back in March and a Gujarati newspaper had in April published a report of the move to withdraw Rs 500 and Rs 1,000 notes. He demanded a probe into "how many people bought more than Rs 1 crore of foreign currency and bullion" since April. "This is a serious issue... you never kept secrecy (about the decision)," Sharma said. The "ill-timed" and "ill-conceived" move had unleashed "economic anarchy" in the country and benefited a few, he said, adding that to fight black money created by higher denomination currency, a bigger Rs 2,000 note has been brought which is similar to the paper on which 'churan' is sold and "shed colour" was brought.
"Your government is insensitive," he said adding Modi was riding a bullet train in Japan when old, women and common man were queueing up at banks at 3 am in the morning to get currency to buy their daily needs. Sharma said Modi had in his Goa speech had stated that those standing in line at banks were those involved in 2G spectrum and coal scam as well as holding black money. "I condemn the Prime Minister for calling the poor standing in the queue for his Rs 4,000-4,500, black money holders and scamster," he said.
Taking a dig at the Modi, he said someone who "changes clothes five times a day", has become Prime Minister and travels around the globe was "calling himself a sanyasi and tapasvi".
Sharma demanded that the names of persons holding accounts in Swiss bank and those revealed in the Leichtenstein and HSBC lists should be made public. The names of bank loan defaulters above Rs 5,000 crore should also be made public. While the decision had put the common man to immense hardship by way of having to stand in long queues to lay hands on valid currency to meet daily needs, the information about demonetisation was selectively leaked to the "friends of BJP," Sharma alleged. The move had branded 86 percent of the currency in circulation black money and "everyone a criminal," he said adding when Modi announced the plan it was expected that adequate arrangements would be made for dispensing new notes.
"The magnanimous prime minister allowed Rs 4,000 of old currency to be changed... what right does the Constitution give the government to place restrictions on withdrawal of ones hard-earned money," he asked, adding one has to "beg to be allowed to withdraw his own money." He said former RBI Governor IG Patel had written about the government's decision to demonetise currency in 1978 and it would be absurd to think that all ill-gotten money is kept in cash and not invested in real estate, billion, equities or foreign exchange.
Moving towards cashless economy was fine but even the most developed economies of US or Europe have not achieved that objective yet. If they had, the US central bank would have stopped printing dollars, European Central Bank won't be printing Euros and UK central banks would have stopped printing pound sterling, he said.
Stating that the government had in one stroke declared everyone a criminal, he said the government and the finance minister have stated that terrorists would have benefited if advance information on the decision was given. "Which terrorist goes to RBI with sack full of counterfeit currency to change."
After withdrawing Rs 500 and Rs 1,000 currency notes, restrictions were placed even on foreign tourists who could not get their currency changed.
The Congress leader said Finance Minister Arun Jaitley had informed Parliament in August that fake currency was 0.02 percent of the total currency in circulation. "If 0.02 percent by government admission is counterfeit currency, how can that be made the base to remove 86 percent of currency in circulation," he said.
An undeclared emergency has put common people in grave inconvenience, he said while crime money, ill-gotten wealth and that accrued through corruption or tax evasion is blackmoney, Prime Minister should answer if he considered money in the market, or in households, or with farmers, workers and employees was also blackmoney.
"This question arises because a message has gone that Indian economy was run on blackmoney... you decide but don't brand the whole country," he said, adding whether the cash the farmers gets for his crop or the one he uses to buy seeds or fertilizer was blackmoney. He said the move had rendered millions of agriculture workers and labourers unemployed.
Mayawati calls demonetisation ill-timed
As the debate was in progress, BSP chief Mayawati demanded the presence of the Prime Minister in the House to hear out the Opposition parties and address their concerns.
Mayawati questioned the government's preparedness for the demonetisation of high-value bank notes, accusing it of spending the last ten months on settling the black money of its people. Participating in a debate in Rajya Sabha on the demonetisation of high-denomination currency notes, she said: "The government has said that they spent ten months preparing for this decision. Ten months was a long time to prepare. If they were serious about it, they would have prepared well for all the problems that people are facing today."
"What we are witnessing in India today would not have happened had they prepared," she added. Accusing the government of supporting those close to it in settling their ill-gotten wealth, Mayawati said: "In the last ten months, the BJP government has worked to help the party supporters and big businessmen to settle their black money.
"If the government had spent ten months preparing for it, then why do they need another 50 days? There is something fishy."
"Masses are in pain. The Prime Minister must be sleeping after taking pills. The move is without preparedness and people will punish BJP in 2019 during general elections. People of five states going for elections including Manipur, Uttar Pradesh and Punjab will punish BJP," she said, adding that the poor and the middle classes were the worst sufferers. "It is an immature decision taken in haste and the whole country feels that is an 'economic emergency'," she said adding that it was like a "Bharatbandi situation."
Opposition demands Modi's presence in Rajya Sabha
Mayawati said the House should request the Prime Minister to be present and answer the members' concerns. It is "a very serious issue", she said, adding she has been observing Leader of the House and Finance Minister Arun Jaitley, appears "sad".
Her demand was supported by Leader of Opposition Ghulam Nabi Azad, who said the PM must be present in the House to hear out the concerns of various parties.
Earlier, Kurien said he had received as many as 13 notices under rule 267 for suspension of business to take up discussion on inconvience and hardships caused by demonetisation of currency. He said there was a general consensus for discussion and the government too was agreeable, so the list of business as notified stands completely suspended.
Azad demanded that the prime minister should at least "hear out the feelings of six-seven main parties, otherwise there is a mismatch. The feelings of opposition members should be heard by PM. I demand that at least he hears them out and sit in the House at least today. We can wait for him to come."
This was objected to by DP Tripathi (NCP), who said that as Leader of the Opposition he should not distinguish between the big and small parties. Ram Gopal Yadav (who was expelled from Samajwadi Party) joined Anand Sharma to allege that information on demonetisation was "leaked" and termed it as a scam while demanding a thorough probe into it.
"A BJP leader in Punjab had tweeted on 5 November about the new Rs 2,000 note. How did this happen? This is an issue of concern. There is a scam in this. This should definitely be probed," he said, alleging further that 10 percent of the people have 90 per cent of wealth of the country and the remaining 90 per cent do not have anything.
The common people, especially the poor and the housewives were put to great hardship through this move and if elections are held today they will teach this government a lesson, he said, adding that majority of women who saved money through household savings were upset with the move.
"Elections are not fought with money power. You cannot win elections through money power. No one can win elections like that. Elections are won only by winning the hearts of people," he said.
Demonetisation of high denomination currency has created big problems to common people and and law and order situation is being created with police being deployed outside banks to control the queue.
"Do not hold elections now. If you meet and ask for votes from housewives in villages, they will beat you up with 'belan' and you will have to embalm your back with turmeric," he said, adding that you might lose elections if you hold early polls. Yadav said the entire House was against corrupt and drug money, but lamented that an impression is being created that those opposing this are against curbing black money which is erroneous.
JD(U) leader Sharad Yadav, who also sought a JPC probe into the suspected leak, said the sudden move was akin to "jumping out of a moving train". He said unlike the rich, who the PM said were standing in queue, it was the poor, handicapped and old people who were doing so to get their hands on their hard earned money. He alleged that while loans worth Rs 7,000 crore was written off today by banks including Rs 1,200 crore of Vijay Mallya and said that the prime minister has made the honesty of the country to stand in queues.
Yadav also took a dig at Jaitley saying he was sure that the Finance Minister was not part of the decision making on demonetisation, because had he been, Jaitley would have tipped him off. This remark left most members including Jaitley laughing.
Yechury renames PM as "Modi Antoinette"
CPM leader Sitaram Yechury said that of the 130 crore population in the country, only 2.6 crore have credit cards.
He took a dig at Modi and narrated the infamous quote of Queen Marie Antoinette during the French revolution who had said that people can eat cakes when they don't have bread. "We have Modi Antoinette who says 'If you don't have paper, use plastic'".
Yechury compared the Prime Minister with a Roman ruler. He said a Senator had remarked about this ruler that: "I think he knows what Rome is. Rome is the mob. Conjure magic for them and they'll be distracted. Take away their freedom and still they'll roar. The beating heart of Rome is not the marble of the senate, it's the sand of the Coliseum. He'll bring them death - and they will love him for it."
Alleging that a BJP unit in Kolkata deposited Rs 1 crore in Indian's Bank Account on 8 November, he said "prove me if I am wrong." He added that Prime Minister was advertising for Paytm while talking about cashless economy.
The CPM leader said 1/5th of the economy is black economy and people who kept black money invested it in real estate, gold etc. That is why the imports surged and stated that it was this PM only who had stated that 95 percent of the black money is stashed offshore and is in safe havens.
"PM is cleaning a pond to kill crocodiles but big crocodiles have survived and only small fishes are dying."
He also demanded that corporate funding of all political parties should stop and there should be a stystem of state funding for elections to which Kurien said "why don't you move a private members bill in this regard."
Terming the demonetisation move as "Tughlaq shahi", he said the length of queues before banks and ATMs was ever increasing and asked why the government was agonising the people. He sought an investigation into the move, saying "let there be a joint parliamentary committee" for a proper probe. "We need to know the motive behind the move" as before every parliamentary session there is some gimmick which diverts attention from other major issues.
With inputs from agencies
Firstpost is now on WhatsApp. For the latest analysis, commentary and news updates, sign up for our WhatsApp services. Just go to Firstpost.com/Whatsapp and hit the Subscribe button.
Updated Date: Jan 04, 2018 18:04:44 IST