Budget Session of Parliament LIVE: After fiery Zero Hour, Lok Sabha adjourned till 2.40 pm
LIVE NEWS and UPDATES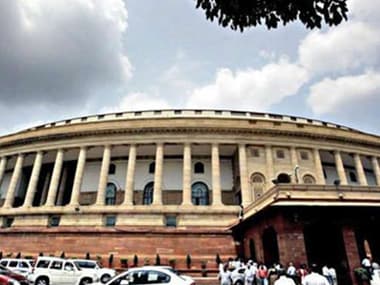 13:08 (IST)

Rajya Sabha adjourns sine die

Rajya Sabha adjourned sine die

— ANI (@ANI_news) April 12, 2017

12:59 (IST)

Opposition and ruling united over bounty row on Mamata Banerjee's head

The Lok Sabha on Wednesday condemned a BJP youth wing leader's offer for a bounty of Rs 11 lakh to anyone who beheads West Bengal Chief Minister Mamata Banerjee.

Raising the issue soon after the House assembled to take up the day's business, TMC member Saugata Roy said a BJP youth wing leader had made the "announcement" of giving the reward for beheading Banerjee, after police resorted to lathicharge in Birbhum district to disperse a rally during Hanuman Jayanti. "Mamata Banerjee is not only an elected chief minister but a former member of this House too. It is a serious and alarming behaviour and the House must condemn it. She is a grassroot leader and government must take action on it," he said.

12:52 (IST)

Lok Sabha adjourned sine die

— ANI (@ANI_news) April 12, 2017

12:50 (IST)

First leg of Budget Session productive: LS functioned for 113%, Rajya Sabha for 97%

The first part of the Budget Session was very productive as Lok Sabha functioned 113 percent while Rajya Sabha 97 percent. The productivity in the second half of the budget session till now for Lok Sabha and Rajya Sabha has been 112 percent and 87 percent.

The Companies (Amendment) Bill, 2016 and The Repealing and Amending Bill, 2017 is scheduled for consideration and passage in Lok Sabha today.

12:44 (IST)

MPs create ruckus in Parliament

The matter echoed on in the Parliament on Wednesday as TMC leaders raised the issue in Rajya Sabha, which garnered support from other parties as well. Samajwadi Party Rajya Sabha MP Jaya Bacchan expressed anguish on the BJP leader's remark, stating that the BJP was keen on protecting cows but not women.

TMC's Saugata Roy also strongly condemned the BJP leader's statement urging strong action against people who make such provocations. Meanwhile, BJP has distanced itslef from Varshney's comments, stating that the West Bengal state government is free to take action against him.

11:54 (IST)

Last day of Budget Session - here's a quick recap of the session

Today is the last day of the Budget Session of Parliament. The first half of the session was held from 31 January to 9 February and after a month-long recess the second half of the session began on 9 March. During the session till now, the Lok Sabha has passed 21 bills and the Rajya Sabha 14 bills. They include the Enemy Property (Amendment and Validation) Bill, The Mental Health Care Bill, The Maternity Benefits (Amendment) Bill, The Payment of Wages (Amendment) Bill, 2017 and the crucial four supporting bills for the roll out of the Goods and Services Tax.


Scrapping a colonial-era tradition of presenting the Budget at the end of February, for the first time in the history of Independent India, the Government presented the annual accounts on 1 February. Prime Minister Narendra Modi on Tuesday described the Budget Session as a winner for the treasury benches. He said, the government was able to secure passage of many key bills in the Parliament.

The Repealing and Amending Bill, 2017 also listed in LS for passage today.

— PRS Legislative (@PRSLegislative) April 12, 2017

The Repealing and Amending Bill, 2017 also listed in LS for passage today.

— PRS Legislative (@PRSLegislative) April 12, 2017

11:49 (IST)

BJP leaders distance themselves from Yogesh Varshney's comment

BJP leader Mukhtar Abbas Naqvi disowned Varshney's comment, saying: "I condemn this type of statement. The state government can take proper action." BJYM leader Varshney issued the outrageous threat while hitting out at Mamata over police action on a rally held on Sunday to mark Hanuman Jayanti in Birbhum district.

Alleging that people were beaten up brutally by the police, Varshney described Mamata as a "demon" and said, "When I saw the video, I only had one thought... that if anyone gets me Mamata Banerjee's head I will give them 11 lakh."

11:39 (IST)

Last leg of budget session favourable for BJP govt

The second half of the budget session of Parliament, which ends on Wednesday, has been favourable to the ruling NDA, which not only managed to push its economic reforms agenda but also put up a united front. Prime Minister Narendra Modi on Tuesday told the parliamentary party of the BJP that the session was a victory for the Union government.

11:34 (IST)

Actor and MP Jaya Bachchan, along with BJP leader from Bengal Rupa Ganguly, reacting sharply to the comments against Mamata

Must take steps for protection of women aggressively. You are protecting cows but atrocities being commited on women-Jaya Bachchan, SP in RS pic.twitter.com/ES3sx5AHhW

— ANI (@ANI_news) April 12, 2017

11:30 (IST)

Bounty announced for Mamata; Rajya Sabha slams BJYM leader Yogesh Varshney

After a day of ruckus in Parliament over the "illegal" death penalty given to former Indian Navy officer Kulbhushan Jadhav, MPs in Rajya Sabha were up in arms after a Bharatiya Janata Yuva Morcha (BJYM) leader announced a reward of Rs 11 lakh to whoever who beheads West Bengal Chief Minister Mamata Banerjee and gets her head.

The remark, which came shortly after a lathicharge which happened at Birbhum district to disperse a rally raising slogans of "Jai Sri Ram" on Hanuman Jayanti, recieved a lot of flak and criticism.

BJYM leader Yogesh Varshney told ANI, "Those who will cut and bring West Bengal Chief Minister Mamata Banerjee head, I will give that person Rs.11 lakh. Mamata Banerjee never allows Saraswati Puja, fairs during Ram Navami and during Hanuman Jayanti procession, people were lathi charged and brutally beaten up. She organizes Iftar party and always supports Muslims."

13:31 (IST)

Here's what Mukhtar Abbas Naqvi said about the Alwar incident in Rajya Sabha

"Hamare desh mein yeh message nahi jana chahiye ki hum yeh hatya ko samarthan kar raha hai… issliye it is a very sensitive issue.. crore logo ke bhavnao se judha hua mudha hai.. hamara aisa koi message nahi jana chahiye ki hum hatiya ke samarthan mein khade hue hai (This issue is a very sensitive issue. There should be no indication or message that we are backing those who are violent. It's an emotional issue for crores of people.) Issliye jis particular state ki barein mein jo baat kar rahe hai, us tarah ki koi bhi ghatna, jis tarah ki ghatna pesh ki ja rahi hai, aise koi ghatna zameen par nahi hui hai. Jis media report ki barein mein bat ki ja rahi hai, us state ki sarkar ne pehle hi condemn kiya hai. (No such incident, as being reported, has taken place on the ground. The media report which are being cited, the concerned state government has already condemned.)"

13:22 (IST)

Version of Alwar incident reported by media is untrue: Naqvi in Rajya Sabha

Dismissing the version of events of the killing of a Muslim man by cow vigilante groups in Rajasthan's Alwar amid growing uproar over the alleged murder, Union Minister Mukhtar Abbas Naqvi on Thursday said, "Jis tarah ki ghatna pesh ki ja rahi hai, us tarah ki ghatna zameen par hua nehi (The version of events presented didn't occur)."


Naqvi was addressing the Rajya Sabha amid an uproar over the Alwar incident. As a united Opposition slammed the government for doing nothing against rogue groups thrashing people on the pretext of cow protection, Naqvi said, "This issue is a very sensitive issue. The message should not go from the House that we are supporting cow slaughter. Millions of people's sentiments are involved in the issue."

Jis tarah ki ghatna pesh ki ja rahi hai, aisi koi ghatna zameen par nahi hui hai: Mukhtar Abbas Naqvi in RS on Rajasthan's Alwar incident pic.twitter.com/ZqrUBwdwP1

— ANI (@ANI_news) April 6, 2017

13:14 (IST)

Congress slams Union minister Mukhtar Abbas Naqvi for denying Alwar lynching

Speaking in the Rajya Sabha, Union minister Mukhtar Abbas Naqvi denied that any lynching had taken place in Rajasthan's Alwar. Reacting to this, Leader of Opposition, Ghulam Nabi Azad said that even the New York Times had carried a report on the lynching.

13:07 (IST)

Rahul Gandhi blames PM Modi, RSS for rising intolerance

Anybody who doesn't listen to & agree with Narendra Modi and RSS has no place in India, that's their vision: Rahul Gandhi on Alwar incident pic.twitter.com/QpjYBeaM7p

— ANI (@ANI_news) April 6, 2017

13:06 (IST)

Ravindra Gaikwad compares himself to Mahatma Gandhi

The Shiv Sena MP says Airlines imposing travel ban on him is like Mahatma Gandhi being thrown out of train in South Africa.

13:01 (IST)

Not censuring Ravindra Gaikwad for unruly behaviour an opportunity lost

It is indeed sad that the conduct of this elected representative is just another passing news shower. Everyone seems happy that airlines have banned him from flying, a minor inconvenience that will melt away in a few days. In no way does it highlight the frequent high-handedness by VIPs in India where aviation is concerned — nobody said 'enough is enough now, put on your seatbelt and shut up!'

Read more here.

12:55 (IST)

Shiv Sena MPs allegedly threatened to stop flights from Mumbai

Also heard amidst din during argument between BJP and Shiv Sena leaders "won't let airlines fly from Mumbai": Sources

— ANI (@ANI_news) April 6, 2017

12:54 (IST)

Shiv Sena MP Anant Geete, other party MPs heckle Civil Aviation Ashok Gajapati Raju

​

The scenes turned ugly in the Lok Sabha as Shiv Sena MPs tried to gherao the minister. However, Home Minister Rajnath Singh and other ministers came to Raju's rescue.

12:54 (IST)

Ravindra Gaikwad's defence over the Air India ruckus

Shiv Sena MP says that he had no altercation with the AI staff. According to his version of the story, he had booked a seat in business class but was made to sit in economy class.

Hear his defence here.

Sena MP Ravindra Gaikwad plays victim and accuses AI employee of saying that 'you may be an MP but you're not PM' pic.twitter.com/7ND5RmwkxU

— News18 (@CNNnews18) April 6, 2017

12:42 (IST)

Ravindra Gaikwad's defence over the Air India ruckus

Shiv Sena MP says that he had no altercation with the AI staff. According to his version of the story, he had booked a seat in business class but was made to sit in economy class.

Hear his defence here.

Sena MP Ravindra Gaikwad plays victim and accuses AI employee of saying that 'you may be an MP but you're not PM' pic.twitter.com/7ND5RmwkxU

— News18 (@CNNnews18) April 6, 2017

12:32 (IST)

Congress vice-president Rahul Gandhi on Alwar lynching

Shocking breakdown of law & order in Alwar, expect Govt to take strict action against those responsible, tweets Rahul Gandhi pic.twitter.com/boMk2bYFfU

— ANI (@ANI_news) April 6, 2017

12:27 (IST)

Lok Sabha adjourned till 12.45 pm after ruckus over Ravindra Gaikwad's statement on Air India row

12:26 (IST)

Gaikwad remains defiant

I apologise to the Parliament if I've caused any hurt, but not to the Air India official: Ravindra Gaikwad,Shiv Sena MP in Lok Sabha.

12:19 (IST)

AI staff caught me by collar: Gaikwad

Ravindra Gaikwad says that the Air India staff assaulted him. He says that the officials of the airline caught him by his collar and his reaction was in defence.

12:16 (IST)

Ravindra Gaikwad pleads his innocence

Maine kya gunaah kiya? Mera kya apraadh hai ki jaanch ke bina media trial ho raha hai?: Ravindra Gaikwad,Shiv Sena MP in Lok Sabha

— ANI (@ANI_news) April 6, 2017

12:12 (IST)

Shiv Sena MP Ravindra Gaikwad speaks on AIr India issue

Gaikwad began by saying that the airline staff treated him badly. He also added that he must get justice from the Speaker of the Lok Sabha. Gaikwad blames media for launching a trial against him.

12:11 (IST)

Rajnath Singh on Alwar Lynching

Rajnath Singh says that the Rajasthan government has taken cognisance of the case and that a FIR has been filed on the issue and people have been arrested.

12:08 (IST)

Alwar lynching rocks Rajya Sabha

After the man lynched in Alwar died on Wednesday, the Congress party asked for a discussion on the issue. Mallikarjun Kharge says that the Rajasthan Government failed to act on the issue. He added that this was the fifth such incident in Rajasthan.

21:48 (IST)

We are seeing history in the making: Jaitley on Lok Sabha passing GST bill

We are virtually seeing history in the making because we are now going to be transforming into a new system of indirect taxation: FM Jaitley pic.twitter.com/q2Mp7QeZKg

— ANI (@ANI_news) March 29, 2017

21:36 (IST)

PM Narendra Modi hails passage of GST bill

GST बिल पास होने पर सभी देशवासियों को बधाई | नया साल, नया कानून, नया भारत!

— Narendra Modi (@narendramodi) March 29, 2017

20:53 (IST)

Three of the four GST bills passed in the Parliament

20:18 (IST)

Jaitley concludes govt stand on new tax regime, requests House to pass it as is

Arun Jaitley said that the government has strived to ensure that the GST council is representatve of everybody's interest and the body debating the draft of the bill also included representatives from each state.

"Council will be a permanent body with a political complexion that accommodates everyone and has representatives from every state. Therefore I request the House to pass the bill unanimously drafted by a representative council as is," Jaitley said.

20:15 (IST)

No tax on agriculture under GST regime: Jaitley

Jaitley sought to reassure the Lok Sabha on the changing tax regime as far as foodgrains are concered. The finance minister said that Agriculture as and industry and foodgrain have always remained exempt from taxes and they always will.

20:08 (IST)

Arun Jaitley says no precedent of a taxation bill not being a money bill

"This law seeks to replace the Central Excise law, Service Tax law etc and consolidates them into one. So here is a taxation law that alters the tax regime and replaces existing tax laws then how come it won't be a money bill," Jaitley asked.

He said he was ready to sit and wait for the Opposition to point out even one precedent when a taxation bill has not been treated as a money bill.

20:05 (IST)

Oppn alleges govt made GST bill a money bill only to override Rajya Sabha, where BJP does not enjoy majority

20:02 (IST)

Anti-profiteering clause a must in GST bill to check inflation: Jaitley

19:57 (IST)

I didn't make this law, it was 7 Congress finance ministers who did: Arun Jaitley

19:56 (IST)

Compensation package was introduced only to bring on-board the manufacturing states: Jaitley

Jaitley said that the council introduced the provision of a compensation package only for the benefit of manufacturing states as we saw that the transition to GST would affect them adversely while it benefited the consuming state.

19:48 (IST)

For one commodity their will be one rate of tax in the country: Arun Jaitley

Jaitley said that one commodity will have a single rate of tax across the country, but it is not necessary that two different commodities enjoy the same rate of GST.

19:43 (IST)

Arun Jaitley responds to Congress' objection says parliament's right to form legislation plenary

Jaitley said that the idea that we can deviate from GST council's recommendations is problematic and ill advised as the laws will keep changing depending on the colour of the political party in power. Therefore to protect the structure of federalism that the government is trying to implement it is imperative that the GST council has the power to decide on taxation issues.

However, the finance minister added that the Parliament will have the power to send back a suggestion for reconsideration. He also reassured the House that the power to form a legislation is plenary to the Parliament.

19:38 (IST)

Congress questions the amount of power GST council will wield, says Parliament will no longer have power to debate/ amend taxation laws

19:36 (IST)

INC leader Veerappa Moily, interrupts Jaitleys speaks, asks if GST council is supreme power, who will protect the funds

19:34 (IST)

Arun Jaitley defends GST bill after Oppn arguments, says goods will slightly become cheaper after new tax law

19:30 (IST)

Greater impetus will be on self assessment under GST: Jaitley

Arun jaitley told the Lok Sabha that the new tax regime is designed in a way that larger impetus is placed on self assessment of tax for the people, barring limited cases of audits. He said this will not only simplify the tax filing process but do away with multiple layers of taxation for the common man.

19:25 (IST)

GST will aide free flow of goods and services across the country: Jaitley

"There is no free flow of goods and services in the country. The objective of the new tax regime was to establish such a system that when goods and services flow across company, taxes are levied at a uniform rate and a single window," Jaitley said.

19:22 (IST)

Finance Minister Arun Jaitley responds to Oppn on GST

Jaitley started off by thanking the members of Opposition for engaging in a debate. He then pointed out that the debate was crucial as once the GST bill becomes an act, it will drastically change the tax regime in the region.

Jaitley also said that multiple window taxation system has ailed the economy since long and must be fixed in favour of the common man.

18:34 (IST)

Bishnu Pada Ray terms Narendra Modi 'Bharat ka hero'; has sycophancy got no limits?

Bishnu Pada Ray, BJP member from Andaman and Nicobar Islands was all praise for prime minister Narendra Modi. He termed Modi "Bharat ka hero" and Arun Jaitley and other ministers as "ratan - Sab ke sab ratan." Clearly, sycophancy has no limits.

He also said that the UPA couldn't implement GST was its failure.

#sidebar
Bishnu Pada Ray (BJP) calls Narendra Modi "Bharat Ka Hero" and Arun Jaitley & Ministers as "ratan. Sab ke sab ratan."#HouseWhelmed pic.twitter.com/BhCYp2KwtG

— HasParlAdjournedYet (@HasParlAdjYet) March 29, 2017
The second half of the Budget Session will resume in the Parliament on Thursday as politicians and common people wait with bated breath for the results of the elections in five states.
We'll have to wait and watch whether the results of the polls in Uttar Pradesh, Punjab, Goa, Manipur, and Uttarakhand will affect the proceedings in both the Houses of Parliament.
What is likely to affect Parliamentary proceedings is the issue of attacks on Indians in the US and the anti-terror operation in Lucknow, which will be raised in Parliament on the first day of the second-half of Budget Session, the Congress had said on Wednesday.
Congress leader in Lok Sabha Mallikarjun Kharge told IANS that on Thursday, the party will raise the issues of attack on Indians in the US and the anti-terror operation of Lucknow, in which a youth was killed, as well as the bomb blast in a train near Bhopal.
"On Thursday, these two issues will be raised. We will decide on other issues to be raised in rest of the session later," Kharge had told IANS.
Home Minister Rajnath Singh is expected to make a statement on both issues on Thursday, according to informed sources in the Home Ministry.
Meanwhile, Minister of State for Parliamentary Affairs Mukhtar Abbas Naqvi had said that the government is prepared to take up any discussion opposition parties want.
"The government is prepared to discuss all issues raised by the opposition subject to permission of the presiding officers," Naqvi had said.
The minister had told IANS that pending bills, including the ones relating to Goods and Services Tax and Enemy Property, are among those on the government's agenda.
"There are 20 new bills on the agenda of the government," Naqvi had told IANS.
Leaders from different parties felt that the mood of the session will depend on the results of assembly elections in five states.
Asked about it, Naqvi did not deny the possible impact of the results of assembly polls to five states on the session.
Meanwhile, Hindustan Times reported that leaders from the Opposition are also talking with the Shiv Sena, BJP's ally in NDA, to join the Opposition on a "case-to-case" basis to criticise the BJP.
"The Sena has seen how the BJP has crept into its turf in Maharashtra in the last civic body polls. The Sena wants to be more vocal against the BJP on a number of issues even as it is a part of the NDA government," the report quoted a leader as saying.
With inputs from agencies
Your guide to the latest election news, analysis, commentary, live updates and schedule for Lok Sabha Elections 2019 on firstpost.com/elections. Follow us on Twitter and Instagram or like our Facebook page for updates from all 543 constituencies for the upcoming general elections.
Updated Date: Apr 12, 2017 13:08:19 IST