Parliament highlights: GST, Kashmir, Dalit atrocities discussed in Monsoon session
LIVE NEWS and UPDATES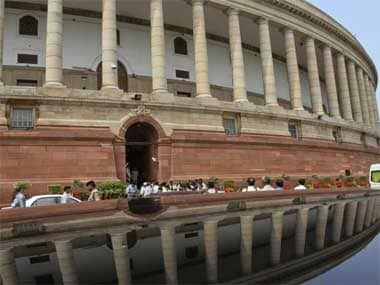 12:23 (IST)

Lok Sabha adjourned sine die

12:17 (IST)

Resolution on Kashmir issue passed in the Lok Sabha

Lok Sabha speaker Sumitra Mahajan announced that the resolutions proposed on the Kashmir issue has been passed. She said,"This house expresses serious concern over the violence in Kashmir Valley. Everyone here conveys loss of life caused by the deteriorating situation. The house is of the firm view that there cannot be a compromise on security."

She added, "This house earnestly appeals to all sections of society in India to work for the early restoration of normalcy and harmony. This is to restore confidence in people and youth in general. The resolution is adopted unanimously."

After GST this is the second resolution which has been adopted unanimously.

11:52 (IST)

Rajya Sabha adjourned sine die

11:41 (IST)

Shashi Tharoor raises the issue of failing start-ups in India

In the Question Hour in the Lok Sabha Congress leader Shashi Tharoor raised the issue of failing start-ups in India. He said, "The government has given tax incentives to the start-ups but everyone knows that they don't make any money in the first few years. Hence the tax incentives should be given to the angel investors."

11:19 (IST)

Rajya Sabha discusses low wages of the members of Parliament


Ram Gopal Yadav, SP, Uttar Pradesh raised the issue of the low wages of the members of Parliament. He said, "The pay of the MP's is only a fraction of ministers in Telangana Assembly or Delhi Legislative Assembly. We are asked to reduce our expenditure but we cannot do that when we have to entertain people of our constituency. The rising inflation also makes it difficult for us to sustain ourselves."

Congress leader Anand Sharma said that the government should not be hypocritical. He said, "When administrators have high salary, MLAs have a good rise, why don't we get the same treatment?"

11:11 (IST)

Bills for Passing in the Parliament

On Friday, 12 August, 2016 the bills for consideration and passing in the Lok Sabha are Mental Health care Bill,2016 and Transgender Persons (Protection of Rights) Bill, 2016.


Bills for consideration and passing in the Rajya Sabha are Appropriation No.3 Bill, 2016, Employee's Compensation (Amendment) Bill, 2016, Taxation Laws (Amendment) Bill, 2016, Factories (Amendment) Bill, 2016.

20:16 (IST)

Rajya Sabha stands adjourned for the day

20:13 (IST)

Following Rajnath Singh's reply, Lok Sabha was adjourned for the day

19:31 (IST)

Home Minister Rajnath Singh replies to the discussion on atrocities on Dalits in Lok Sabha:

"It is painful that even after 70 years of independence we are still discussing atrocities on Dalits. We cannot deny that there are people from several castes and religion. We should not politicise the atrocities on Dalits," Singh said.

"We can make India world's best country if we consider humanity above all. There are many articles in our Indian constitution for Dalits. But there is a need for effective laws to act on these articles. Our government is working at socio-economic development of the Dalits."

"This is rumour that after BJP came to power that the atrocities on Dalit have increased. Just ask yourselves if this is true. Show me the data records. I don't want to point fingers at any political party. But following figures would explain: In 2013, 39,346 cases were registered against atrocities, 40,300 and 35,564 were registered respectively," Singh said.

Our biggest challenge is to counter the twisted mentality of the perpetrators. What happened in Una was extremely condemnable.

On PM Modi's silence, Singh said, "Has any PM spoken during all discussions in Parliament? When PM spoke on the atrocities, and gau rakshaks, I issued an advisory that strict action should be taken against such gau rakshaks.

Dalit community has contributed a lot towards Indian heritage. When India was under the British Rule, no matter how atrocities were inflicted on them, still they stood by India. They never demanded a separate country. We in the government emphathise with the Dalits.

Seva Bharati, an RSS organisation, is one of the organisations which has been majorly active at the grassroots for the upliftment of Dalits.

It is pointless to blame the other government. Why did we celebrate Ambedkar's 125th anniversary with such genuinty? Respecting Ambedkar is like respecting India.

We all should work together and committ ourselves in taking action in order to stop the atrocities on Dalit. Also, I would appeal all the state governments to take strictest action against anti-social elements who try to disrupt the harmony of secular fabric of the country.

19:07 (IST)

Meanwhile Lok Sabha MPs discuss atrocities on Dalit

NK Premchandran, RSP MP from Kollam: The attrocities against the Dalits is politics. Educational, economical and social upliftment is the need of the poor.

AIMIM MP Asaduddin Owaisi: No democracy in the world has prioritise animal life over human life. But the Indian democracy has. Why do gua rakshaks have come to power? The credit goes to the idealogy of ruling party. What right do so-called gau rakshaks have to look at what I eat?

Sexual violence against Dalit women has increased. About eight lakh Dalits are dependent on selling skins, bones of dead cows, what will they do now?

PM made a strong statement: Shoot me, not the Dalits. But why he didn't include Muslims? Muslims can never be part of Hindu nationalism but they are a part of Indian nationalism.

Congress MP Jyotiraditya Scindia: When we are talking about Swachh Bharat, we should first clean our minds. Fringe elements have now turned into the Centre today. Why the Home Minister didn't visit Rohith Vemula?

17:51 (IST)

Bhupender Yadav, BJP, Rajasthan: We need to focus on primary education, and not just studies but also students should be able to play sports for an hour. From Std VI to X, students should also be given a chance to do social work. Otherwise, once they pass Std X, they just become a product for coaching centres.

Look at Kota. Students fear failure and commit suicide. What failure? These students' lives have not even begun yet. Why do students do this? Because we tend to stress on career. Even if you don't have a career, you still have a life that society values.

17:44 (IST)

Bhupender Yadav, BJP, Rajasthan: Science is not just studying engineering or medicine, it is not just a career, it is a mindset. Where are research laboratories? Where is the focus on innovation?

17:43 (IST)

Bhupender Yadav, BJP, Rajasthan: The biggest challenge is inculcating gender sensitivity, respect among men and women for each others' opinions, in education.

17:40 (IST)

Right now: Short duration discussion on the draft National Education Policy, 2016

17:32 (IST)

Uproar in Rajya Sabha: Parties blame each other as House discusses the (lack of) electrification of villages in Uttar Pradesh.

In the midst of the uproar, The Chair announces that the 30-minute discussion has now ended.

16:57 (IST)

Dump this draft National Education Policy in the dust bin: Congress

"Dump this draft (National Education Policy) in the dust bin," said a dramatic Kapil Sibal in the Rajya Sabha.

"The most important thing in this country is edcuation. Let's work on this together," he further said.

16:55 (IST)

Watch Sitaram Yechury's speech on the draft National Education Policy here:

Sh. Sitaram Yechury's comments on the draft National Education Policy - 2016.: https://t.co/5Sv2rdx18Z via @YouTube

— Rajya Sabha TV (@rajyasabhatv) August 11, 2016

16:48 (IST)

No system of education can survive if you infuse books with ideology: Kapil Sibal in Rajya Sabha

"All education is ideology-neutral. No system of education can survive in the world if you infuse textbooks with ideology. What you are doing on the ground is the opposite of the draft national education policy," said Kapil Sibal in the Rajya Sabha.

"When you look at education, never look at it from the point of view of the government. Put yourself in the eyes of the child. When you do that, you will understand the child's aspirations," Sibal further said.

16:25 (IST)

Yechury criticises govt for calling students in universities 'anti-national'

"Can you reduce our students in universities today to anti-national people?" Sitaram Yechury said in the Rajya Sabha.

"How are we treating these universities? The whole structure of administration of higher education is being revamped in order to centralise it. Without consultation of all states, this type of centralisation is unacceptable," he said.

"We had tremendous advancements in our ancient Indian sciences," Yechury said. He also talked about it was in India that the number zero was created.

He then asked why India, which had been making great advances in education in ancient, suddenly stopped making those advances. He said it was because of the spirit of intolerance that it took place.

"Once you bring back an environment of intolerance, you restrict the advancement of education. And that is exactly what is happening today," Yechury said.

16:15 (IST)

Discussion begins in Rajya Sabha on National Education Policy

"Education should be about jobs. But is that the whole point of education?" CPI(M) General Secretary Sitaram Yechury said in the Rajya Sabha.

"Instead of setting up new institutions, the priority of the government should be to expand the existing institutions," Yechury further said.

16:00 (IST)

Members create uproar over the need for maternity leaves for surrogate mothers


TMC leader Derek O Brien said, "The house is requesting that the surrogate mothers should also be privy to the maternity leave. Since we all agree, the govt should take that into consideration."

The members of the Opposition sought an assurance from the government that the surrogate mothers will be made part of the bill.

15:39 (IST)

Jaya Bachchan asks for the maternity leave period to be extended to 1 year

Member of Rajya Sabha Jaya Bachchan commented on the maternity benefit amendment bill. She said "I hope you (Maneka Gandhi) will give more consideration to the women working in the Parliament. There are women who work in the parliament with non-parliamentary positions and are pregnant. It is unsafe to go home at night. So a special provision should be made for them."

She said, "Pregnant women need equal care, especially in the seventh month. Attendance is also important when the child is teething. So I hope you will extend the period of leave to 1 year or atleast give it 8 months."

14:55 (IST)

Discussion on Dalit atrocities beings in Lok Sabha

A CPI(M) MP spoke against the remarks made by PM Modi on the atrocities against Dalits. "In what context did he make this statement?" PK Biju, CPI(M) MP from Kerala, said in the Lok Sabha.

"I request the PM not to make any statement but take strong action," he said. "If you have so much information about gau rakshaks, why don't you take action against them?" he added.

14:33 (IST)

Maternity Benefit (Amendment) Bill, 2016 introduced in Rajya Sabha

This is an important bill as it will improve the health of babies: Maneka Gandhi on maternity benefit amendment bill pic.twitter.com/c5PQlkh380

— ANI (@ANI_news) August 11, 2016

14:09 (IST)

Central Agricultural University (Amendment) Bill, 2016 passed in Rajya Sabha

#RajyaSabha passes The Central Agricultural University (Amendment) Bill, 2016

— Rajya Sabha TV (@rajyasabhatv) August 11, 2016

12:39 (IST)

Rajya Sabha adjourned till 2 pm

On Wednesday Samajwadi Party forced three adjournments of Rajya Sabha in pre-noon session alleging discrimination by the Centre in releasing funds for Uttar Pradesh.


Slogan-shouting SP members trooped into the Well of the House demanding an assurance from the Centre that it would release the share of Uttar Pradesh shortly.


JD-U members too trooped into the Well charging Centre with not implementing the Pradhan Mantri Krishi Bima Yojana (crop insurance scheme) in flood-hit Bihar.


Deputy Chairman P J Kurien first adjourned the house for 15 minutes and then till noon as uproarious schemes continued. The House was adjourned for the third time soon after it reasembled at noon.


Ram Gopal Yadav (SP) gave a notice under rule 267 seeking suspension of business to discuss the alleged discrimination against Uttar Pradesh, while Sharad Yadav (JD-U) gave a similar notice to raise non-release of funds for Bihar.


Soon after listed papers were laid on the table, Yadav said Uttar Pradesh Chief Minister and Chief Secretary have written several letters to the Union government seeking release of the state's share of funds.

Listing out schemes under which funds have not been released, he said Rs 1,425 crore for scholarship for 8 lakh SC/ST and OBC students had not been released, while Rs 4,742 crore compensation for hailstorm-hit areas was yet to come.


Out of Rs 2,780 crore sanctioned for UP from the Central Road Fund, only Rs 219 crore had been released so far, he alleged, adding that not even half of the money allocated under the Pradhan Mantri Gramin Sadak Yojana has been released, leading to stalling of projects.


Also, money under Sarva Siksha Abhiyan, higher education as well as scholarship for minorities and other backwards too had not been released, he said.


"If the Centre does not give an assurance that the due funds will be released in 2-3 days, the House will not be allowed to function," he said.


While Sharad Yadav (JD-U) said similar discrimination was being meted out to Bihar, his party colleague Ali Anwar Ansari said 2,300 villages in 14 districts were under water but the crop insurance scheme was not being implemented there.


Pramod Tiwari (Cong) raised a case of daring heist in a moving train when Rs 5 crore out of Rs 340 crore cash being sent to Reserve Bank of India from Salem in Tamil Naidu was stolen.


He asked how the cash transfer was being done without security and alleged complacency of RBI officials in the loot.


Soon after SP leader Yadav completed his submission, his party members trooped into the Well raising slogans against the government.


JD(U)'s Ansari after making his brief statement too joined them in the Well.


Kurien asked members to return to their seats and promised to allow them raise the issue so that the government could react.


But the members remained unrelenting. SP members also urged Defence Minister Manohar Parrikar, who was present in the House, to join them in the Well saying he represents Uttar Pradesh in Rajya Sabha and should stand in solidarity. As the din continued, Kurien adjourned the proceedings for 15 minutes.

PTI

12:28 (IST)

Filmstar Suresh Gopi presents his first report in Rajya Sabha

Popular Malayalam filmstar Suresh Gopi today briefly hogged limelight in the Rajya Sabha as he presented his maiden parliamentary report and Deputy Chairman P J Kurien complimented him.


When Kurien called Meghraj Jain (BJP) to present the reports of the department-related standing committee on information technology, the BJP leader said his co-member on the panel, Suresh Gopi, will present it.


As Gopi, who was BJP's star campaigner and nominated to the Upper House in April, rose to lay the report on the table of the House, Kurien said it was Malayalam actor's maiden report presentation.


"I have seen you acting in films. This is first time I am seeing you present a report in the House," he remarked. "Wish you best of luck," he said, as members thumped desks to welcome him.


PTI

12:24 (IST)

PM should make a statement on Dalit issue in Parliament: Mayawati


BSP chief Mayawati on Thursday demanded that Prime Minister Narendra Modi make a statement in Parliament on the issue of atrocities on Dalits.


Speaking to reporters outside Parliament, the former Uttar Pradesh chief minister alleged that the recent statements of the Prime Minister on Dalits were an exercise in "damage control".

Ahead of UP elections and polls in some other states, there have been incidents like the Rohith Vemula episode, the Una attack on youths and other atrocities which have affected BJP's image with regard to Dalits, Mayawati claimed.


"Our party wants that rather than expressing sympathy with Dalits, the PM should focus on acting against those who commit atrocities against them," the BSP chief said. She also demanded that Modi should speak on the issue in Parliament. "If he can speak on it outside, he can also say it in the House," she said.

PTI

If PM can speak on issue of atrocities against dalits,outside Parliament then why not in Parl- BSP Chief Mayawati https://t.co/EzYp5T4y3h

— ANI (@ANI_news) August 11, 2016

12:19 (IST)

Uproar in Rajya Sabha by SP members protesting non-release of funds for Uttar Pradesh by Centre

12:01 (IST)

Rajya Sabha adjourned for 30 minutes

The Upper House of the Parliament was adjourned after Samajwadi Party members created uproar protesting non-release of funds for Uttar Pradesh by Centre. The house was adjourned twice earlier in the day.

11:53 (IST)

Venkaiah Naidu questions Dalit atrocities outside Parliament

Commenting on Dalit atrocities, BJP leader Venkaiah Naidu said that these attacks were prevalent even during the Congress rule. Speaking outside the Parliament, he questioned whether the attacks happened only during PM Modi's rule. The Lok Sabha is slated to discuss the issue today.

Did atrocities against Dalits start when Modiji became PM? Which party ruled most since 1947?: Venkaiah Naidu pic.twitter.com/UDV8Wvoj5W

— ANI (@ANI_news) August 11, 2016

19:30 (IST)

Lok Sabha passes The Factories (Amendment) Bill, 2016. House is now adjourned till 11 am, Thursday, 11 August.

19:22 (IST)

A clause by clause voting is taking place.

19:10 (IST)

Meanwhile, the Lok Sabha continues to debate The Factories (Amendment) Bill, 2016.

18:21 (IST)

Rajya Sabha stands adjourned till 11 am Thursday, 11 August, 2016.

18:20 (IST)

Sitaram Yechury requests Singh to add to the resolution the part about process of dialogue. Singh clarifies that it will be.

The House adopts the resolution unanimously.

18:18 (IST)

Singh also read out a statement on behalf of the Rajya Sabha. "The House expresses sympathy to those affected. The House also urges steps to be taken to stop the violence quickly."

18:16 (IST)

Singh also clarified that the government has no intention of handing over Kashmir to the armed forces or imposing President's Rule in the state.

18:15 (IST)

Rajnath Singh gets patriotic in Rajya Sabha, says 'No power in the world can take Kashmir from us'

Home Minister Rajnath Singh replied to Rajya Sabha on the Kashmir unrest debate. He assured the House that the situation is not as dire as being debated and then said that he doesn't believe that unemployment is the reason for the Kashmir unrest.

He then went on to address the issue of Pakistan's statements on the Kashmir unrest. "Two weeks ago, Pakistan PM Nawaz Sharif said that he is waiting for the day when Kashmir will become Pakistan's. He has also written a letter to the UN Secretary General saying that there should be a plebiscite on the the Kashmir issue. On the basis of the statements made int he House, I can say that no power int he world can take Jammu and Kashmir from us. If there is dialogue with Pakistan, it won't be on Kashmir, it will be on Pakistan-Occupied Kashmir," he said to much applause.

He also appealed to the youth of Kashmir to not display flags of the Islamic State. "What has ISIS done? They have murdered the people who believe in Islam. If there is one country that believes all religions are equal, then that country is India. Islam has never said you should murder anyone. I believe that those who claim Islam does so are insulting Islam," he said.

As for raising the slogan, Pakistan Zindabad, well, Singh made it very clear that "it is not acceptable on Indian soil." He added, "I appeal to the people of Kashmir not to do this."

18:07 (IST)

Rajnath Singh in Rajya Sabha: We have decided that once the Session ends on 12 August, around noon, we will have an all party meeting on Kashmir and the Prime Minister will be present at the meeting.

18:04 (IST)

Rajnath Singh in Rajya Sabha: The people of Kashmir need to understand that as much as our hearts beat for Bihar, West Bengal, Gujarat, Assam and Odisha, that much it also beats for Jammu and Kashmir.

18:00 (IST)

Rajnath Singh in Rajya Sabha: One hundred ambulances have been damaged due to stone pelting but despite that, 400 ambulances are still operational. Patients have been treated in Delhi too.

17:59 (IST)

Rajnath Singh in Rajya Sabha: There is kerosene, fuel and sugar available in Srinagar. There is supply of milk also. Between 14 July and today 5,600 trucks carrying essentials have reached Kashmir. I am not saying that the people are comfortably living their daily life, but the state government has tried its level best to make even these troubling times less trying.

17:56 (IST)

Rajnath Singh in Rajya Sabha: It is not as if curfew has been imposed all the time, in many places,the markets are not open because of fear. I can say for sure that whatever is happening in Kashmir, is sponsored by Pakistan.

17:55 (IST)

Rajnath Singh in Rajya Sabha: During our tour of Kashmir, we met more than 30 delegations. We also met the chief minister.

17:52 (IST)

Rajnath Singh in Rajya Sabha: In all my time in Parliament, I have never seen such a long debate on Jammu and Kashmir. If anyone doesn't understand the meaning of healthy democracy, they will understand if they watch our Rajya Sabha a whole day.

17:41 (IST)

People of Pakistan are not against us: RPI MP Ramdas Athavle
"I have been to Pakistan three times, people of Pakistan do not hold any grudges against India. I want to tell the youth of Kashmir that I know that they are suffering, but we should stand by India during these troubled times," RPI MP Ramdas Athavle said.

17:12 (IST)

Resuming dialogue with Pakistan will be a mischievous attempt: RJD MP Ram Jethmalani

"Resuming dialogue with Pakistan will be a mischievous attempt, but we shall have many many dialogues with people of Kashmir. The solution offered by the J&K CM Mehbooba Mufti will not resolve the unrest in the Valley. We should go to International Court of Justice, we should not carry on any dialogue with Pakistan," Jethmalani said in Rajya Sabha.

16:56 (IST)

D Raja: This is the time to gain the confidence of the Kashmiri people. But Subramaniam Swamy has tweeted that the government should impose President's Rule in the state.
Dubbing passage of the GST Constitution Amendment Bill as historic, Finance Minister Arun Jaitley on Wednesday said that manufacturing taxes and VAT will come down with the new national sales tax but the same for services tax will be decided by states and Centre. The Goods and Services Tax (GST), which will subsume over a dozen central and state levies including excise duty, service tax and VAT, is "perhaps the most important" tax reform, he said soon after Rajya Sabha overwhelmingly voted for the legislation.
"Today is a historic day for the reason that Rajya Sabha has passed the GST bill which have been held up for a very long time. All members present at the time of voting, voted in favour of the bill," Jaitley told reporters in Parliament House.
Thanking Congress and other opposition parties for supporting the legislation, he said proceedings in the Upper House demonstrated to the world that this is a great day for Indian democracy and Indian federalism. "In fact Indian democracy and Indian federalism are at there very best in as much as all national political parties and regional parties, state governments have come together to usher a major taxation reform.. The government wanted to build a larger consensus, which we succeeded in doing," he said.
Asked if the implementation of the GST would mean rise in cost of air travel, mobile bills and eating out because of incidence of service tax going up in the new regime, he said that tax rate would be decided by the GST Council, comprising of the Centre and the states.
"Manufacturing taxes will certainly will come down, VAT will come down. What level services taxes are to be kept is a discretion of GST Council. It will depend on what states along with Centre will decide," he later told Times Now. On Congress demand for not converting the supporting GST legislation as Money Bill, Finance Minister said he has not pre-decided on bringing the Bills as Money or Finance Bills.
"Once the GST is implemented, it will bring basic changes as far as the Indian tax structure is concerned, it will converge India into one unified market, with one unified tax in the country, it will improve the base of taxation, it will make evasion extremely difficult.
"The central and state governments have to work together to make this a great success. Overall, I think we had an excellent debate," he told reporters.
He said although every state government is on board in order to implement one of the most important taxation reform in India, the fact is that it has been passed unanimously all regional and national parties have actively supported it.
Congress hoped that subsequent legislations for its implementation like CGST and IGST bills would be brought in the Winter Session as financial and not money bills. Former Finance Minister and senior Congress leader P Chidambaram said he was only half satisfied with the Finance Minister's promise made in the Upper House in this regard.
"It's a half promise. Therefore, I am half satisfied," he told reporters after the passage of the Constitution Amendment Bill. Chidambaram said Finance Minister Arun Jaitley has assured that he will hold discussions with the Congress party before bringing the bills. Senior Congress leader and former Law Minister Kapil Sibal cited the example of Aadhaar Bill to claim the new legislations could be converted into Money Bills to block voting.
"We have seen the Aadhar Bill was converted into a money bill and we were not given the right to vote on it. We have doubt that this GST bill will also be turned into a money bill whereby a discussion on it will take place in Rajya Sabha but members will not be allowed to vote on it. We are concerned over it," he said. "We hope that it will be a financial bill and there will be a discussion on it and we will be given the right to vote on it," he said.
Another Congress member Renuka Chowdhury said, "They have considered many of our aspects. Have to wait and see what happens in the winter session." NCP leader Praful Patel said it is very good that the Constitution amendment bill to bring GST was passed with general consensus.
"It is good for the country and states will also benefit, especially those which considered themselves as backward as they will get more revenue.
"We hope that the Bill to be brought by government in November will also be passed with general consensus. Finance Minister has given an assurance that whatever bill will be brought, it will be honoured," he said. Earlier in the day, Congress had made it clear to the government that firm assurances for keeping the GST rate capped at 18 per cent and bringing subsequent legislations needed for its rollout as financial bills alone could ensure its support to the long-pending Constitution Amendment bill.
"We also demanded an assurance that the CGST and IGST should not be moved as money bill. The Central GST and Integrated GST are bills which will apply on taxpayers, on common man. They must be debated and voted upon by both Houses of Parliament. We hope to get assurance from the Finance Minister. If these assurances are forthcoming, we will be able to support," Chidambaram told reporters.
---
The GST Bill will finally be taken up for discussion in the Rajya Sabha.
India Inc had said it is looking forward to introduction of the much-awaited Goods & Services Tax (GST), saying it would be a very significant step in the field of indirect tax reforms in India.
The government has circulated official amendments to the GST bill to drop 1 percent additional tax and include a definite provision in the statute for compensating states for revenue loss for 5 years as it gears up to discuss the long-pending bill in Rajya Sabha.
The eleventh day of Parliament's Monsoon Session on Monday began with AIADMK Rajya Sabha member Sasikala Pushpa's statement where she said that she was facing a "life threat" and was being "compelled to resign".
Sasikala, who hit the headlines for slapping DMK leader Tiruchi Siva at the airport on Saturday, said: "I am receiving an unconditional apology from Tiruchi Siva. Something was spoken against my party leader and I behaved like that."
The parliamentary proceedings over the day saw the passage of the Indian Medical Council (Amendment) Bill, 2016, and the Dentists (Amendment) Bill, 2016, that provide for putting the NEET in place for admission to medical and dental courses across the country from next year; and National Institutes of Technology, Science Education and Research (Amendment) Bill, 2016 in Rajya Sabha.
The Enforcement of Security Interest and Recovery of Debts Laws Amendment Bill 2016 was moved in the Lok Sabha for consideration and passing.
Key proceedings/issues discussed in Lok Sabha:
• Supplementary demands over additional spending
The government sought parliament's nod for additional spending of Rs 1.03 lakh crore, though the cash outgo will only be Rs 20,948.26 crore.
Presenting the Supplementary Demands for Grants for 2016-17 in the Lok Sabha, Finance Minister Arun Jaitley sought parliament's approval for a transfer of Rs 5,000 crore towards National Employment Guarantee Fund and Rs 1,000 crore for providing funds to Indian Strategic Petroleum Reserves for Sovereign Strategic Crude Oil Reserve at Vizag, Mangalore, and Pudur.
• Bill for speedier recovery of bad loans passed
The Enforcement of Security Interest and Recovery of Debts Laws Amendment Bill 2016 was moved in the Lok Sabha for consideration and passing.
Piloted by Finance Minister Arun Jaitley, the bill seeks to amend four laws — the Securitisation and Reconstruction of Financial Assets and Enforcement of Security Interest Act, 2002; the Recovery of Debts due to Banks and Financial Institutions Act, 1993; the Indian Stamp Act, 1899; and the Depositories Act, 1996.
• Special status: TDP MPs protest in Parliament
Unhappy over the Centre's stand on special status to Andhra Pradesh, TDP, a partner in NDA government, staged protests both inside and outside Parliament. Seeking immediate announcement for special status, the MPs of Telugu Desam Party (TDP) tried to disrupt the proceedings in the Lower House.
Holding placards and raising slogans in support of their demands, the TDP members in the Lok Sabha began the protest as soon as the house met for the day. They rushed to the speaker's podium, demanding that the government fulfill its commitments under Andhra Pradesh Reorganisation Act.
Speaker Sumitra Mahajan repeatedly appealed to members to return to their seats but they continued the protest. The Speaker conducted the proceedings amid the uproar before adjourning the proceedings till 2 pm.
• Attack on Dalits and Muslims
Opposition members expressed concern over growing attacks on Dalits and minorities and called for stern action against cow vigilante groups which have been targeting them.
Raising the issue during Zero Hour, Trinamool Congress leader Sudip Bandopadhyay underlined the need for action against those targeting the Dalits and Muslims to uphold secularism and communal harmony.
Key proceedings/issues discussed in Rajya Sabha:
• GST Bill listed for Wednesday
The government has listed the GST bill for discussion in the Rajya Sabha on Wednesday, hoping it will be passed through consensus, but the opposition Congress said that consultation is still on over the issue and an agreement is not yet finalised.
In view of the development, the BJP has issued whip for all its Rajya Sabha members to be present in the house for the next three days.
"The GST bill is listed for Wednesday. We hope it will be passed through consensus," Parliamentary Affairs Minister Ananth Kumar said.
• Bills to put in place NEET passed
The Rajya Sabha passed by voice vote the Indian Medical Council (Amendment) Bill, 2016, and the Dentists (Amendment) Bill, 2016, that provide for putting the NEET in place for admission to medical and dental courses across the country from next year.
The bills provide for a Constitutional status to the 'National Eligibility-cum-Entrance Test (NEET) and seek to amend the Indian Medical Council Act, 1956, and the Dentists Act, 1948.
Responding to a debate on the bills in the Rajya Sabha, Minister of Health and Family Welfare Jagat Prakash Nadda said the whole exercise was aimed to stop multiplicity of examinations, to bring transparency to curb corruption and to stop exploitation of students.
• Uproar over Manohar Parrikar's comments on Aamir Khan
Rajya Sabha witnessed a brief uproar by opposition members over alleged remarks by Manohar Parrikar against actor Aamir Khan even as the Defence Minister denied having said what was been quoted to him.
During the Zero Hour, Derek O'Brien (TMC) raised the issue of "dangerous" rise in religious fundamentalism in the country, saying the government, ministers and people associated with the ruling party were "shooting their mouths off every day".
"The Prime Minister needs to come and say these are in fact mistakes, this is not thinking of the government. Prime Minister come here and assure us that we can live in the India we know — Unity in Diversity".
As soon as he finished his Zero Hour mention, Leader of Opposition and senior Congress leader Ghulam Nabi Azad quoted a report which said 'Parrikar takes a swipe at actor Aamir; those who speak like this must be taught a lesson'.
"So may I ask him (Parrikar who was sitting in the House) what lesson he is going to teach us...The entire nation should be told what type of action and lesson he is going to teach the minorities of this conuntry," Azad said.
To this, Parrikar said: "I would only say one thing. Let the members see the video...and make up their mind". However, this did not pacify the agitated opposition.
Find latest and upcoming tech gadgets online on Tech2 Gadgets. Get technology news, gadgets reviews & ratings. Popular gadgets including laptop, tablet and mobile specifications, features, prices, comparison.
Updated Date: Aug 12, 2016 12:26:14 IST