Parliament Budget Session: Congress to move no confidence motion against govt in Lok Sabha today; Mamata to meet Sonia in Delhi
Misgovernance and the central government's efforts to spread a climate of fear and oppression have brought together various parties irrespective of their differences in states, the Congress said
Misgovernance and the central government's efforts to spread a climate of fear and oppression have brought together various parties irrespective of their differences in states, the Congress said on Monday.
With the CPM moving a notice of 'no confidence' motion against the BJP-led NDA government on Tuesday, Congress spokesperson Abhishek Singhvi said parties which may not agree with each other across the country today have a very strong feeling about the various malpractice of this government.
"This government in a short while has started a climate of fear of oppression, of misgovernance, of threat, of vendetta and you are finding a natural conversions, it is not that anybody is making much of an effort," he told reporters.
Singhvi said not only the Congress, three-four other parties have moved 'no confidence motions' against this government.
"This must have something to do with the kind of mal-governance you are having in this country," he said.
He said there is a spontaneous way of action by the people and by parties which have diverse and may be warring at that state level.
The Congress leader said he finds no contradiction in that as state-level and central-level coordinations were two different things and parties that may have differences in states can come together on a central issue.
West Bengal chief minister and Trinamool Congress chief Mamata Banerjee, who has already been in talks with Opposition leaders to mount pressure on the government, reached New Delhi on Monday for a four-day visit, NDTV reported. She will be attending a dinner hosted by Nationalist Congress Party chief Sharad Pawar on Tuesday, and is also is likely to meet former Congress president Sonia Gandhi during her tour, the report added.
The meeting with Sonia is expected to be a personal visit, The Indian Express reported. "She (Sonia) is hospitalised. Let her recover. I do not want to disturb her," the report quoted her as saying. However, a meeting with Congress chief Rahul Gandhi has not be finalised yet.
With logjam in Parliament entering the 15th day, the CPM on Monday submitted a notice of no confidence against the BJP-led central government in Lok Sabha, the fourth party to do so after the Congress, TDP and YSR-Congress.
Parliament will resume its sitting on Tuesday after a three-day recess amid indications that the logjam may continue.
On Friday, the Congress gave a notice of no-confidence against the government in Lok Sabha, days after the Telugu Desam Party (TDP) and the YSR Congress adopted a similar measure.
Lok Sabha speaker Sumitra Mahajan has not taken up the no-confidence motions, saying the "House is not in order".
Asked about the emergence of a third front, Singhvi said no government has done the task of uniting so many parties as the Modi dispensation. He said despite their differences with each other the Modi government has brought diverse parties together, be it the BSP and SP, DMK or Trinamool Congress or even Shiv Sena.
With inputs from PTI
Politics
Ahead of BJP's Nabanna Chalo march, BJP leader Suvendu Adhikari on Tuesday accused Chief Minister Mamata Banerjee of enforcing dictatorship in West Bengal similar to what is prevalent in North Korea.
India
In recent days, West Bengal CM Mamata Banerjee and her nephew, senior Trinamool Congress (TMC) leader Abhishek, have been surprisingly reticent in directly speaking out against Prime Minister Narendra Modi - their favourite punching bag in normal times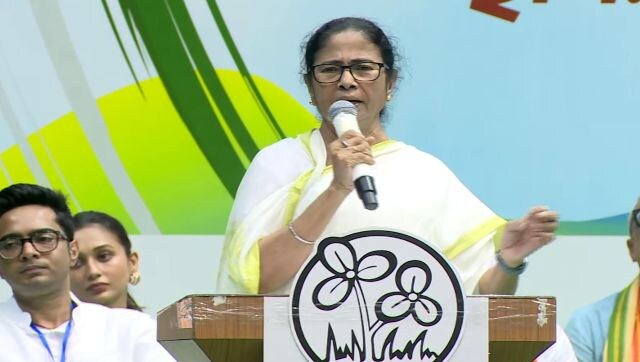 Politics
This time around Mamata Banerjee has to play on a larger arena — balancing between protecting her home turf while moving the chess pieces on the national board