Parliament as it happened: 'Wasted' Winter Session concludes, Lok Sabha, Rajya Sabha pass Disabilities Bill
LIVE NEWS and UPDATES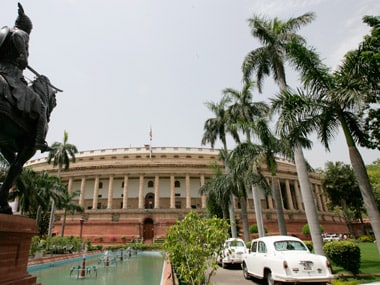 18:04 (IST)

Rajya Sabha amid pandemonium as govt refuses to discuss on motion to send triple talaq

18:00 (IST)

Rajya Sabha adjourned till Friday without any discussion on triple talaq bill

17:59 (IST)

Govt requests to take up GST bill first as Dy Chairman ruled Triple Talaq bill can't be taken for passage without first building consensus in House

17:57 (IST)

Sukhendu Shekhar Roy of TMC rejects govt allegation that suggested composition of Standing Committee was not inclusive

Roy, responding to Jaitley's objection that the Select Committee suggested by him did not reflect the nature of the House, Roy said that he had included members from all parties who were willing to send the bill to the Standing Committee. However, BJP members were not included because the government was not willing to send the bill to the committee. Roy added that if the BJP is interested in sending the Bill for further scrutiny, he has no objection to ammend the list to include its members too.

17:48 (IST)

PJ Kurien says resolution was admitted because Chairman himself allowed it

Kurien said that the Leader of the House is a very learned advocate himself and all points raised by him are of relevance. The rule he quotes that a prior notice should be given is also correct, he said. "However, the same rule adds that the Chairman has the power to admit such a motion and which is why I cannot overrule it. It is now admitted and hence is the property of the House, only members can amend it," Kurien said on Jaitley's objection over the Opposition motion seeking triple talaq bill be sent to Standing Committee.

17:41 (IST)

Uproar in Rajya Sabha after opposition's motion on #TripleTalaqBill, opposition has demanded the bill be sent to select committee

— ANI (@ANI) January 4, 2018

17:40 (IST)

Arun Jaitley raises objection on point of order requesting bill be sent to Standing Committee

Jaitley said that the previous precedents show that any amendments or motions should be introduced with prior notice. He said that the Opposition's demand to send the bill to Select Committee was invalid. He also raised objection on the suggestion on members of Select Committee made by Anand Sharma.

He said that a committee should reflect the nature of the House, which the list of suggestions given by Sharma does not. Sharma's suggestion did not include names from the BJP.

17:34 (IST)

Govt bill is incomplete, will finish Muslim women, says LoP Ghulam nabi Azad in RS

Ghulam Nabi Azad stood up as the bill was taken up for discussion and said that none of the parties are in opposition of the bill in essence. However, he said that the government's bill will "finish Muslim women" instead of saving them.

"If you will put their husbands in jail, who will provide for them, who will pay for their children," Azad asked as he reiterated that Congress leader Anad Sharma's suggestion to send it to Standing Committee should be taken into consideration.

17:30 (IST)

Rajya Sabha begins debate on the triple talaq Bill

10:45 (IST)

BJP president Amit Shah reaches Parliament

BJP president Amit Shah reached Parliament, to make his Parliamentary debut in Rajya Sabha today


#ParlWinterSession -- BJP President Amit Shah reaches Parliament, to make his Parliamentary debut in Rajya Sabha today
Image: ANI pic.twitter.com/LUlaLMAjsL

— News18 (@CNNnews18) December 15, 2017
As the Parliament Winter Session reconvenes after a four-day break, it looks like the Opposition may finally get the debate on demonetisation it has been asking for, with Prime Minister Narendra Modi likely to attend all the remaining parliamentary proceedings, reports said on Wednesday.
According to The Indian Express, both the Bharatiya Janata Party (BJP) and the Congress has instructed their Member of Parliaments (MPs) to be present in both Houses for the rest of the session.
The news story, however, indicated that the government seems to have managed to convince the Opposition to forego its demand of a discussion under Rule 193, a primary demand of the Opposition — mostly Congress and Tirnamool Congress — that had lead to a deadlock in both the houses of Parliament since the beginning of the session. It will now be a no-rule discussion, it said.
As for the Opposition's second demand, which was that Prime Minister Modi should answer questions from the Opposition, CNN-News18 said that Modi is likely to attend the parliamentary proceedings. However, whether or not he will speak, remains unclear.
However, according to an NDTV report Information and Broadcasting Minister Venkaiah Naidu said that Prime Minister Modi will be present in Parliament for the three remaining days of the Session and can participate in proceedings for either of the House depending on the need.
"Prime Minister Narendra Modi will hold a meeting with key ministers before Parliament convenes this morning to decide their strategy," the report said.
The Opposition will discuss its strategy during the parliamentary proceedings on Wednesday in an Opposition party's meet at 9.30 am, CNN-News18 reported.
The Parliament's Winter Session has been facing a deadlock on demonetisation ever since it began on 16 November. While the Lok Sabha has managed to conduct two legislative actions — pass the Income Tax amendment bill and approve the Supplementary Demand for Grants — the Rajya Sabha, on the other hand, functioned normally only on the first sitting of the session when a debate on demonetisation took place for five hours.
While three bills related to Goods and Services Tax (GST), are unlikely to be cleared on Wednesday, The Indian Express said, "Rajya Sabha is likely to pass the Rights of Persons with Disabilities Bill, 2014 in a brief remission of hostilities."
However, apart from the listed topics of business, the Parliamentary proceedings are likely to attract heated discussions on the arrest of former Air marshal, SP Tyagi, in relation to the AugustaWestland VIP chopper scam as well as BJP leader Kiren Rijiju's alleged corruption in the Arunachal Hydro Power project.
Updated Date: Jan 04, 2018 18:04:44 IST
Find latest and upcoming tech gadgets online on Tech2 Gadgets. Get technology news, gadgets reviews & ratings. Popular gadgets including laptop, tablet and mobile specifications, features, prices, comparison.