Circa 400 BC….Scintillating discussions, debates and arguments on what constituted a perfect governing system; de-constructing justice, demos, kratias  (from where we get the word "democracy") and other such notions into their constituent elements. Socrates, Glaucon, Thrasymachus &  gang at it. Relentlessly.
"In fact, The Republic does address the danger that power will corrupt. Yet at its core is a related but deeper insight: that the desire for power corrupts, and more than that, destroys. It destroys people, who in a never-ending pursuit of power undermine their psychological health. And it destroys politics, as rulers desiring power for self-gratification undermine political unity" wrote Melissa Lane in the introduction to Plato's The Republic (translated by Desmond Lee) in the year 1974.
"Democracies were in danger of being ruled by whim, mass ignorance and hysteria rather than by reason, making them fatally inconsistent over time…..both democracies and oligarchies were in danger of being laid low by ambition for power, which blinded them to criticism" she went on to state. The events, historical or mythical, that The Republic talks about were unfolding in ancient Athens and Sparta sometime around 400 B.C. And those scintillating discussions are brilliantly captured in the dialogues between Socrates and a few more gentlemen of great learning, including a sophist or two, in The Republic.
It appears, we have not learnt anything from those dialogues in ancient Athens and Sparta, the pomp and celebrations that the Parliamentarians in India shoved into our face through television channels yesterday, notwithstanding.
Taking off from of an article on Firstpost titled Pardon us, MPs, but your slip is showing… by Venky Vembu , whose articles usually leave me mulling over a few things not entirely frivolous,  this post here will expand upon those perfectively understandable rants bordering on boilerplate drivel, by various people who mistakenly call all MPs  looters, plunderers and other such endearing names. One can understand those emotions; they reflect the angst and the outrage, and hence get mistaken as generalized sweeping statements, which they are not. It usually takes the forever smiling, enchanting Miss Shazia Ilmi to appear on a TV debate and save the day for the likes of Kejriwal and Baba Ramdev.
Unfortunately, the proportion of those with less than impeccable credentials lodged in the dark underbelly of Indian Polity, is not entirely insignificant…and it would definitely help if the MPs go beyond  symbolic gestures of introspection and special sittings to commemorate 60 years of  India's Parliamentary democracy…
Here are a few facts and figures that may be mulled over: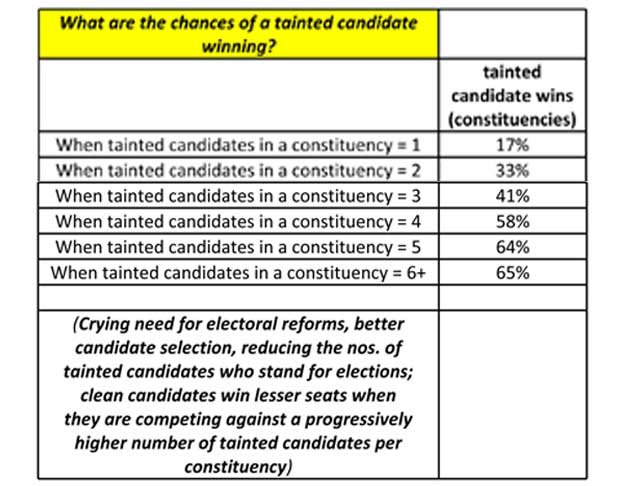 As is clear from the figures presented above, the scene is bleaker than what is made out to be by those who come out in support of MPs – in most cases, the MPs themselves.  And it cuts across party lines. Unfortunately, the explanations that MPs offer in order to claim the moral high-ground are - to quote Richard Dawkins from his demolition job on another much revered institution - so "spectacularly weak that it renders even more comical the airy confidence with which they are asserted".
Continues on the next page:

I have analyzed data from various sources (see here , here and here)  which in turn rely on the data furnished by the candidates vide the affidavits they file prior to an election. Admittedly, the data could be a bit short of being completely accurate for the following reasons:
- The affidavits were false
- The legibility of those affidavits was less than perfect
- There may have been certain resignations mid-way which could impact the percentages
- Some of the cases filed could have been politically motivated; to present the other side of that particular argument, those "politically motivated false cases" would most likely get cancelled out by the ones which never got filed!  So I guess, no wriggle-room there.
- Some of these cases may have been subsequently withdrawn; as is my wont, let me then argue that those would be cancelled out by the ones which were filed after the underlying reports were compiled!
In my next post, I will share with Firstpost readers, some more facts and figures, using  which you would be free to draw your own conclusions regarding the correlation between wealth of a candidate and his/her chances of winning an election. The underlying information is out there in the public domain, and those of you who wish to invest some time and effort in going through the reports, can access the same in the hyperlinks inserted in this post.
As a parting shot, I leave you with the following facts about a certain Ms. Mayawati, whose track-record in amassing wealth, and the stupendous y-o-y growth rates  equals,  if not over-shadows, the track record of legendary investors like Jim Rogers, George Soros and Warren Buffett over a 11 year period! And she, and her political outfit, represents the poorest sections of the society, in what is perhaps one of the poorest states in the country? Hmmmm…..
Assets declared in 2003 ------ 1 crore*
Assets declared in 2007 ------ 52 crores*
Assets declared in 2012 ------- 112 crores*
*(figures are approximate and as per her affidavits- her lawyers claim, as press-reports indicate, this minor fortune has been largely built through donations from those who love her – Maan, that IS a whole LOTTA love! Should donations not have been flowing the other way, come to think of it?)
I am wondering if I should hit the mute button on my remote, the next time Harish Salve appears on a TV debate in future – last I checked, he was one of the lawyers defending her in the disproportionate assets case. He is a professional lawyer; I understand that.  I, on the other hand, am a professional hitter of the mute button
Finally….
Democracy is what we signed up for, and democracy is what we will sign up for in future – but is this the rotting mutant version of it that we want or deserve? Come on, my dear MPs, you can do better than this. Much better….forget your slip, we see a lot more, voyeurs that we are. And what we are currently seeing is revolting – and it does violence to our senses.
Is it our fault then that we are suitably contemptuous of about 30% of those we elected? Would serving breach of privilege motions help you regain some of the respect, or would that be akin to shooting the messenger while not paying heed to the message?
Updated Date: May 14, 2012 16:38 PM