Pan Nalin to host 'Angry Indian Goddesses' screening for Shah Rukh Khan
Shah Rukh Khan has appreciated the trailer of Angry Indian Goddesses and Pan Nalin is sure that he would love the film too
Mumbai: Pan Nalin is working on organising a special screening of his directorial Angry Indian Goddesses for Shah Rukh Khan. The filmmaker says he is "positive" that the superstar will love the film because "he is admired by billion goddesses across the world".
"When my editor Shreyas Beltangdy completed editing of the trailer of 'Angry Indian Goddesses', the very first person I wanted to share it with was Shah Rukh. So, yes, I had an honour to share the trailer of the film with Shah Rukh Khan.
"He watched it, loved it, watched it again and expressed sincere desire to watch the film! So now we will work towards organising a special show of AIG for Shah Rukh," Nalin said in a statement.
"I am positive that Shah Rukh will love the film because he is admired by billion goddesses across the world - and Angry Indian Goddesses is about those goddesses," added Nalin, who made a short documentary on Shah Rukh Khan long before the director made his first feature film Samsara.
Angry Indian Goddesses, which is slated to release om December 4, follows the stories of seven girls. It narrates the tale of how Frieda, played by actress Sarah, invites her closest girl friends to Goa to announce her wedding, and it all turns into a wild bachelorette party.
Nalin's directorial also stars Sandhya Mridul, Tannishtha Chatterjee, Anushka Manchanda, Amrit Maghera, Rajshri Deshpande and Pavleen Gujral.
The film will be releasing along with Vishal Pandya's erotic thriller Hate Story 3, which stars actors Zareen Khan, Daisy Shah, Sharman Joshi and Karan Singh Grover.
IANS
Entertainment
Aamir Khan's words in 2015 about the safety of his children now reverberate across the entertainment industry, thanks to the Aryan Khan case.
Entertainment
Tahir Raj Bhasin's layered performance reminds one of what Shah Rukh Khan could have achieved had he been given the luxury of six hours of runtime to build a character and live through the conflict.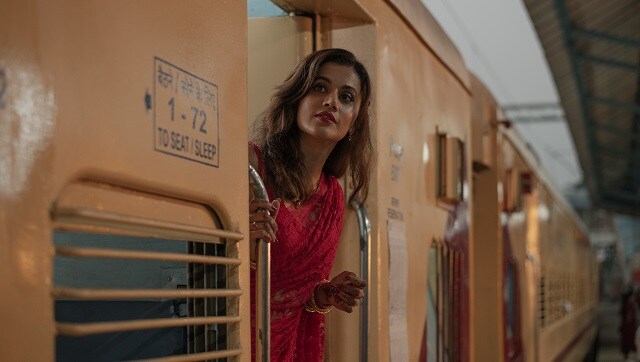 Entertainment
Taapsee Pannu's recent revelation that other actresses rejected Haseen Dillruba because they were not sure of 'the hero' only exposes the gross dependence of leading ladies on how 'saleable' their male counterparts are.