Our intention is to free Chhattisgarh from the Raman Singh regime, says Ajit Jogi
In an interview with Firstpost, Jogi, who will reveal the name of his new outfit on 6 June, spoke about his future plans
New Delhi: Senior Congress leader and the first Chief Minister of Chhattisgarh, Ajit Jogi may just have kickstarted a round of rebellions in the beleaguered Congress. Recently, he expressed his intention to separate from the grand old party and float a new one in the state to take on the Raman Singh-led BJP government. The 70-year-old bureaucrat-turned-politician will reveal the name of his outfit after a referendum in his hometown Marwahi in Bilaspur district on 6 June.
In a telephonic interview with Firstpost, Jogi spoke about his future plans.
Excerpts from the interview:
You have been a loyal Congress worker for decades. What compelled you to launch a new party?
For quite some time I have been under tremendous pressure from my well-wishers, a section of party workers, supporters and the people of my constituency to make Chhattisgarh free of Dr Raman Singh's government. If he is not stopped, Raman Singh will make it for the fourth time as chief minister and there's no hope from the Congress. Now I feel free and happy. It's my commitment to people who have been supporting me for years to provide them a better alternative.
What is the agenda of your new party?
As I said our intention is to free Chhattisgarh from the Raman Singh regime. We have to get rid of the BJP by next election. Chhattisgarh is the richest state in terms of mineral resources, forest produce, biodiversity, and is the largest producer of steel, but the common man on the street has failed to get the benefits. People with no concern for Chhattisgarh are reaping the fruits, and it's solely due to the failure of Dr Singh as chief minister. The state is facing the serious problem of Naxalism, the worst in the country. This was not the case during my tenure as chief minister. Corruption is rampant in every level.
Why did you need to leave the Congress for that?
Many leaders in the Congress in Chhattisgarh are in Raman Singh's pocket. The Leader of Opposition TS Singh Deo's family was given land in Ambikapur by a previous government, and he's under obligation. That's the reason why Deo, as PAC chairman, gave a clean chit to Raman Singh and his son in the AugustaWestland scam. The present PCC chief Bhupesh Baghel, who was a minister in my Cabinet, was then accused of an illegal land deal, and I had referred the case to the Lokayukta in 2003. But no chargesheet has been filed yet. This clearly speaks about the status of these Congress leaders in the state. What can be expected from them? There are lots of corruption cases against the Raman Singh government. The Congress party in the state is not equipped to take them head on.
What was the immediate provocation?
For the last 13 years I haven't been given any role by the party — not even at the block level — and I've been rendered an ordinary party worker. The party workers who are with me have not been given any responsibilities, forget any bigger role, even at the booth level. I know it has been manoeuvred by some people (read Congress leaders) in Delhi. They can't tolerate regional satraps coming up, like it happened in the case of Mamata Banerjee, Jagan Reddy and Himanta Biswa Sarma. They want weak people and sycophants like Baghel and others in the party. The result is before us — Congress today is left with only 44 seats. So the only option was to move out and form a new party. I always had the highest regards for the top leadership in Congress, whether it was Indira Gandhi or Rajiv Gandhi. And even today, I have the highest respect for Sonia Gandhi.
Are you going to get support from your Chhattisgarh Congress party colleagues in this venture?
Yes, there are Congress MLAs who have expressed their desires to join me, but at present I've advised them to remain where they are. I've been receiving tremendous support, both from within a section of the party and from outside.
What is your opinion on Rahul Gandhi, who is rumoured to be taking over as Congress party president?
It's not my concern anyway. It's the Gandhi family that has to take decision on what role Sonia Gandhi and Rahul Gandhi will perform. I don't want to comment on Rahul Gandhi. It's the performance of the party that ultimately speaks.
Have you decided any name for your new party?
Yes, we have a few names in mind. We're going to have a meeting with the supporters and people in Marwahi on 6 June where issues related to name, party symbol and flag related to the new party will be discussed and finalised.
What role will your son Amit Jogi play in the new party?
First, the allegations are baseless. Amit is working hard to create a strong base for the new party. He has been touring across the state, meeting people by visiting villages and telling them about our agenda. I too have faced several false allegations against me right from an alleged murder charge of an NCP leader to my identity as a tribal leader. But, I've come out clean in all these cases. These are conspiracies, we've been fighting.
Find latest and upcoming tech gadgets online on Tech2 Gadgets. Get technology news, gadgets reviews & ratings. Popular gadgets including laptop, tablet and mobile specifications, features, prices, comparison.
India
Taking note of this, many Twitter users remarked that this is the first instance of the social media site calling out "fake news" in India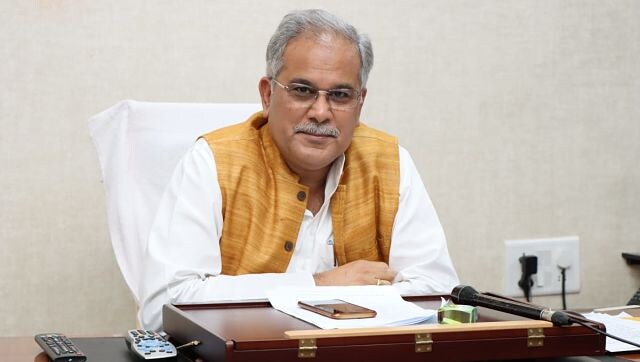 India
In a series of tweets on Friday, Rajashtan chief minister Ashok Gehlot had said that the BJP had "manufactured" the term 'love jihad' "to divide the nation and curb individual rights of citizens"
India
Meanwhile, the Haryana Police booked state BKU chief Gurnam Singh Charuni and several farmers on attempt to murder, rioting, causing obstruction in government duty and other charges for violations during their "Delhi Chalo" march