Opposition parties debate federal front to take on BJP, but Congress too may find itself out in the cold
Recent bypoll results boost the chances of a 'mahagathbandhan' type grand alliance to upset the BJP's applecart, but given the Congress' miserable performance in the bypolls, SP and BSP will wonder if the Congress is an ally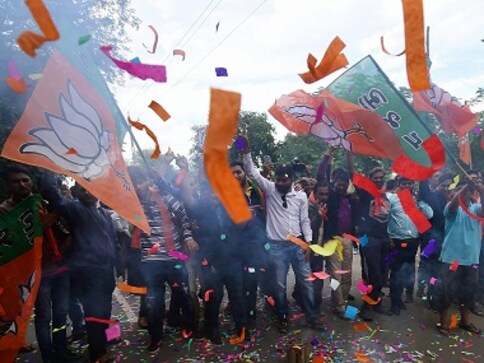 Telenagana chief minister K Chandrasekhar Rao met his West Bengal counterpart Mamata Banerjee in Kolkata on Monday, and the two agreed to work towards a federal front comprising other regional forces. Rao will call on Nationalist Congress Party (NCP) chief Sharad Pawar later this month, and in the weeks that follow, is expected to meet leaders of other regional parties as well, in order to garner more support for his idea.
As the nation approaches 2019, political parties hostile to the Bharatiya Janata Party (BJP) are gearing up to realise their objective of a Narendra Modi-mukt Bharat.
Perhaps knowing fully well that the anti-BJP camp is still amorphous, Banerjee said after meeting KCR that they are not in any hurry and the process of garnering support for the idea will continue.
Sources in the know of things told Firstpost that while Rao and Banerjee discussed the prevailing political situation at length, differences in the approach adopted by the two parties were more than evident. While Banerjee felt that no anti-BJP front is possible without support from the Congress, Rao is totally averse to the idea of aligning with the Congress.
Even though his critics have called him a BJP proxy for this stance, the fact remains that TRS is pitted against the Congress in Telangana. And Rao is keen on ensuring that any anti-BJP consolidation doesn't benefit the Congress, a TRS leader explained. On the other hand, Mamata faces a surging BJP in Bengal and needs support from the Congress to keep the saffron party at bay.
TRS secretary general and parliamentary party leader K Keshava Rao said there is no question of the party holding parleys with Congress in its effort to rally forces against Modi. "We will focus on regional forces who have a federal agenda," he said.
Meanwhile, Sharad Pawar has prime ministerial ambitions of his own. He too would love an anti-BJP front without the Congress. But Pawar is a seasoned politician, and he knows his limitations. He isn't ready to snap ties with Congress just yet, though he is exploring the possibility of emerging as the face of a non-Congress, non-BJP alliance.
The BJP reportedly changed its strategy in Odisha for 2019 Lok Sabha and Assembly elections. Earlier, BJP president Amit Shah said the golden period in the BJP's history will come when the saffron party is able to gain power in states like Odisha, Bengal and Kerala. But with the exit of TDP and discontent coming to the fore among allies like Shiv Sena, PDP, etc., the party is being extra cautious. The party cannot sacrifice its national ambitions for the sake of state-level aspirations. It would have to strike a balance between retaining power in New Delhi and forming governments in individual states.
So while the BJP pursues its objective of winning Assembly elections, the ruling NDA started facing negative political currents. The anti-BJP consolidation in Uttar Pradesh inflicted a severe loss in Gorakhpur and Phulpur by-elections, indicating to the party what is in store if it continues to display political arrogance.
Sources in BJP told Firstpost that the party will not upset Naveen Patnaik in 2019 and would wait for 2024. Given this assurance, the BJD may not be keen on supporting the no-confidence. Especially after the Tamil Nadu fiasco, the BJP wants to be extra cautious in meddling with regional politics.
With the BJP aggressively hunting down its rivals, the resolve to frustrate the saffron brigade's chances in 2019 is gaining momentum. The RJD and AAP, for instance, are both fuming with rage at the treatment meted out to them by the central investigation agencies.
Bihar chief minister Nitish Kumar is visibly annoyed over the alliance's failure to wrest the Parliament seat from RJD despite a change in the electoral arithmetic in the state. More such failures would widen the gap between BJP and JD(U), something that isn't too far-fetched given that a climate of mutual suspicion exists between the two allies even today.
Given the Shiv Sena's stance on the no-confidence motion, it can only be surmised that the party wants to strike at the BJP but not wound it.
Recent bypoll results boost the chances of a 'mahagathbandhan' type grand alliance emerging in Uttar Pradesh, but not without some caveats. An alliance between Samajwadi Party and BSP for the bypolls upset the BJP's applecart, but it isn't good news for the Congress. Given the party's miserable performance in the two bypoll seats, the SP and BSP will wonder if the Congress is an ally or a liability to have around.
Seat-sharing talks would make this dilemma tougher. Any such chinks will make pre-poll arrangements difficult, though a post-poll tie-up between SP, BSP and Congress cannot be ruled out.
Though the electoral arithmetic and political chemistry between SP and BSP are fine, seat-sharing talks will certainly cause many irritants. But the urgency to defeat the BJP may act as incentive enough to make them bury the hatchet.
TRS chief K Chandrasekhar Rao, who first toyed with the idea of a Third Front, is now talking about a federal front. Sources in the TDP, meanwhile interpret this as an acknowledgement of the party's successes in consolidating anti-BJP forces. Whether one calls it a Third Front or a Federal Front remains to be seen, and depends on which parties do end up joining the alliance.
An anti-BJP front at this moment cannot be possible without the Congress in it. However, a lot depends on the Congress' performance in states like Rajasthan, Madhya Pradesh, Chhattisgarh, etc. where it's a direct fight between Congress and BJP. Karnataka too will be critical for the Congress.
Results of this round of Assembly elections will decide whether the Congress will end up leading or supporting other parties in their bid to topple the BJP. It will also decide where the so-called non-Congress, non-BJP fence sitters ultimately find themselves.
World
Kishida will meet Prime Minister Narendra Modi and also deliver a speech on Japan's Indo-Pacific strategy and its new defence posture. Fifteen years ago PM Shinzo Abe first spoke about Indo-Pacific cooperation during his visit to Delhi
World
Rescuers scrambled to reach survivors in Malawi's battered city of Blantyre, after Cyclone Freddy struck southern Africa for a second time, triggering floods and landslides that have killed more than 240 people across two countries
World
Kishida, who is on a two-day trip to India, said he hopes to promote a vision of a free and open Indo-Pacific, a Tokyo-led initiative for greater security and economic cooperation that is geared toward curbing Beijing's growing assertiveness.