Once a non-figure in Kashmir politics, Sajad Lone now most sought-after leader, makes rivals PDP, NC quiver
A few years ago, no one would have taken Sajad Lone seriously, but today, his machinations in Jammu and Kashmir have brought back memories of when New Delhi engineered defections in the National Conference, the only regional party at the time, to divide the Kashmir vote.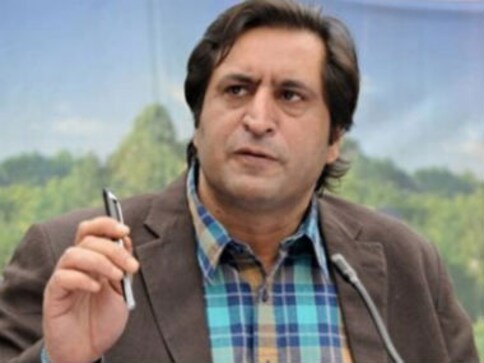 Editor's Note: As another turbulent year comes to an end in Jammu and Kashmir, Firstpost will run a series of reports on how the state changed in 2018 and how these changes will translate on the ground. This series will focus on new-age militancy and the changing political landscape in the Valley, as well as the ever-increasing gap between the three regions of Jammu and Kashmir.
***
Since armed insurgency broke out in Jammu and Kashmir in the early 1990s, mainstream politics has never been as wrought with uncertainties as it is today. This year, a new player, who had won only two seats in the 2014 Assembly elections, has emerged in the field. Sajad Gani Lone's political somersaults sent shivers down the spines of the two main parties in the Valley's mainstream politics — the National Conference and the Peoples Democratic Party (PDP). To scuttle his plans, the two rivals even got together briefly.
A few years ago, no one would have taken Sajad Lone seriously, but today, his machinations have brought back memories of when New Delhi engineered defections in the National Conference, the only regional party at the time, to divide the Kashmir vote.
December in Kashmir is usually identified with the winter chill, as the last week of the year marks the beginning of the 40-day Chilai Kalaan, the harshest period of the season. In contrast, the temperature in state politics this winter has been rising, with the Valley witnessing a political upheaval of sorts.
On Friday, longtime PDP dissident and an influential Shia-leader Abid Ansari joined the Lone-led Peoples Conference. This was not the only PDP defection to Lone's party — former MLA Zanskar, Syed Mohammad Baqir Rizvi, PDP additional spokesperson Abhijeet Jasrotia, lawyers Abrar Ahmad and Irfan Inquilabi from Poonch and Ashish Pandita from Jammu also joined the People's Conference on Sunday.
The list of new entrants in Lone's party is getting longer by the day.
The 51-year-old politician is confident, speaks in his usual, pragmatic voice and often blames the former rulers for all the ills of Kashmir. "We are not going to enter into any pre-poll alliance with any party, be it regional or national. We will fight all 87 seats as people are joining a caravan of change in the making, including those who are new to politics and those who are experienced," Lone, a former MLA from Handwara in North Kashmir, said at a press conference in Srinagar.
The former Hurriyat leader is clear he wants to use electoral politics as a way to make Jammu and Kashmir an economically viable entity not dependent on doles from New Delhi. He doesn't want young boys to engage in stone-pelting while watching his own children study. Lone said Article 370 of the Indian Constitution should not only be protected but its lost glory should be restored. "'Achievable Nationhood' (his party's vision document for Kashmir) inspires me politically," he added.
Lone has often said he was not an acceptable entity in the pro-freedom camp, and his ideas were a total mismatch for separatist leaders.
However, it is certain his clout will remain confined to North Kashmir, at least for the time being. But every press conference he addresses leaves other political players in Kashmir nervous. A tall man with broad shoulders, Lone does appeal to many Kashmiris fed up of the two regional parties that have often used their vote base for their own benefit.
"It is not that Lone will be different or could be different, but his mere presence in the political arena is a breath of fresh air for Kashmir politics," a political analyst said.
Lone became chairperson of the Jammu and Kashmir Peoples Conference, founded by his father Abdul Gani Lone, and contested the 2009 General Elections from Baramulla, which he lost to the National Conference. In 2014, he won the Assembly election from Handwara. He later aligned with the BJP, for which he was taunted on social media, but it didn't appear to have deterred people from joining his party.
On one hand, there is the PDP, which is facing near daily desertions, and on the other, despite publicly announcing its alliance with the BJP, Lone is roaming around with a "waiting list" of people hoping to join his party ahead of the next Jammu and Kashmir Assembly elections.
After a long period of silence during the PDP-BJP coalition government in the state, in which he was a minister, Lone has opened up. His Twitter account, which remained dormant when he was a minister, is now active, hitting left, right and centre at his detractors. In BJP's scheme of things, he is a perfect replacement for both regional parties.
However, Lone is a lonely man, too. Despite tremendous effort, he has failed to split the National Conference and PDP, the idea on which he had staked claim to form the government in Jammu and Kashmir last month. Although he had claimed the support of 18 MLAs in his letter to Governor Satya Pal Malik, those MLAs are nowhere in his party, now that the Assembly is dissolved.
But with the support of the BJP and "big brother" Narendra Modi, his stars seem to be favoring him at the moment, given how his address is the most sought-after political address these days in Kashmir.
First Cricket News
While the sale of bats has increased from 3 lakh to 30 lakh over the last 10 years, a shortage of willow cleft might force factories to close over the next five years.
Opinion
Kashmiri Pandits remain steadfast to the idea of home – which they lost because of being Hindus and Indians. But, a home in Kashmir may not manifest in the years to come, given the prevailing situation, yet it offers a sense of belonging to the exiled community
Opinion
One must admire the audacity of the British establishment which has taken to the most egregious slander against Prime Minister Narendra Modi on the BBC, trying to incite Muslim revolt in India with blatant lies, even as it is negotiating the FTA