On Sushma turf, Digvijaya Singh gets shocker from loyalist
The Congress party is once again fighting itself over how to challenge the leader of the Opposition in Lok Sabha, Sushma Swaraj, in Vidisha, a constituency 35 miles north of Madhya Pradesh capital Bhopal.
Bhopal: The Congress party is once again fighting itself over how to challenge the leader of the Opposition in Lok Sabha, Sushma Swaraj, in Vidisha, a constituency 35 miles north of Madhya Pradesh capital Bhopal.
For the second time, accusing fingers are being pointed at AICC General Secretary Digvijaya Singh as one of his old supporters has entered the fray ahead of his brother Laxman Singh the official nominee of the Congress.
Both Swaraj and Laxman Singh are yet to file their nomination papers. The voters were, however, taken aback to find Rajkumar Patel springing up to file papers couple of days ahead of them. A huge crowd of supporters accompanied him. He filed two sets of papers, one as a Congress candidate and the other as an Independent. Rajkumar Patel, a former minister in Digvijaya Singh ministry and a popular Kirar community leader, is the man whom Congress had nominated to challenge Swaraj in the 2009 elections.
He failed to submit his papers on time and was disqualified from contesting. Following allegations of collusion with BJP, the Congress expelled him for six years. Swaraj went to Parliament almost unchallenged with a victory by 3.89 lakh votes. The score line wouldn't mention it, but the Congress had cried foul over the sabotage as Patel was often mentioned as Digvijaya protégé. No one questioned the latter.
Patel who moved the court over his disqualification and Swaraj's victory has been knocking at the Congress door to re-enter the party.
So why would he contest against his mentor's brother who has been officially nominated by the party? Patel's own version is that he wants to clear his name. He did not betray the party and his adversaries had conspired to malign him. They held back the crucial B form which was to be submitted before the district election officer. He blamed the election authorities for the procedural wrangle. The matter is pending with the Supreme Court. Senior Congress leaders say they have evidence of his connivance with BJP.
Patel wants the party to officially nominate him by replacing Laxman Singh as it singled him out for action while other candidates were been disqualified on technical grounds from time to time.
While some members of the party are accusing him of working at the instance of BJP, there are indications he might withdraw if the Congress takes him back and asks him to work for Laxman Singh. This again is seen as a tactic by Digvijaya Singh. If he is forced to stay out of the party, Patel could harm the Congress' prospects more than the BJP's. Swaraj herself is shaky as she has little to show by way of performance for Vidisha. The crowd response is lukewarm, for whatever reasons.
Chief Minister Shivraj Singh Chouhan who had contested the November assembly elections from Vidisha along with his home constituency of Budni, gave up Vidisha causing a by-election. Chouhan has also represented Vidisha in Parliament. His supporters wanted his wife Sadhna Singh to contest the by-election. The proposal was shot down as the party refused to nominate relatives of the ministers. Swaraj also endorsed Sadhna's candidature apparently to draw moral support from her presence.
Chouhan won Vidisha by just over 16,000 votes and by vacating the seat he has weakened Swaraj's position. The party seniors believe that even Sadhna Singh would not have found the going easy if she had contested for Vidisha assembly seat.
Vidisha has a chequered history in returning candidates from the Congress and BJP - or its previous avatar of Jan Sangh. As part of the Guna parliamentary constituency it had first returned Vishnupant Deshpande of Hindu Mahasabha in the first election in 1952. Interestingly, Vijayaraje Scindia who later went on to be the Jan Sangh and BJP stalwart won as a Congress candidate in 1957 defeating Deshpande. In 1962 her personal physician Ramsahay Pande also contested on the Congress ticket and defeated Deshpande.
Find latest and upcoming tech gadgets online on Tech2 Gadgets. Get technology news, gadgets reviews & ratings. Popular gadgets including laptop, tablet and mobile specifications, features, prices, comparison.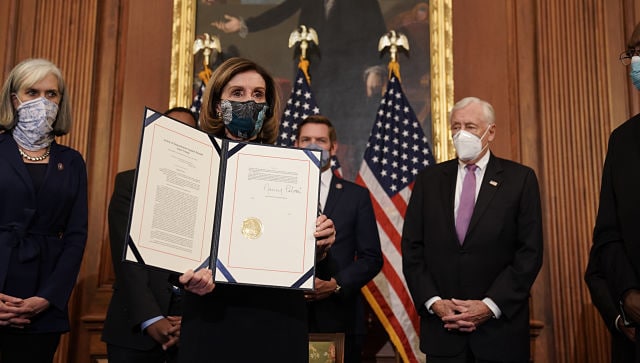 World
While the House moved with remarkable speed to impeach Trump, a Senate trial to determine whether to remove him cannot begin until 19 January, his final full day in office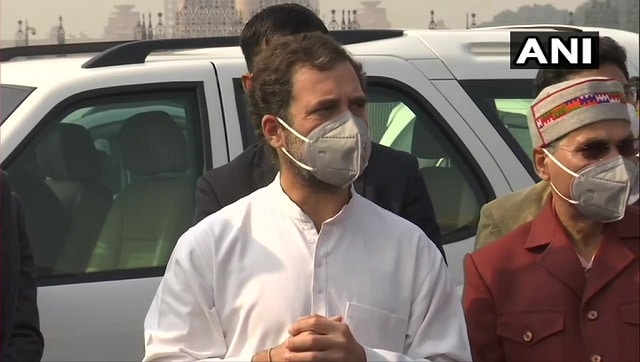 Politics
The BJP chief had earlier posed a series of questions to Rahul while accusing the Congress MP of "provoking and misleading" farmers over the recent farm laws
Politics
The cabinet expansion in the state has been on the cards for over a year now, and the delay has led to some unease in the state unit