Olympic Legends: The greats who set sporting benchmarks in the early era of the Games
As the Rio prepares to host the Olympic Games, we look back at first set of legends that the Games yielded. Here are first five legends from 1920 to 1952
The 31st Summer Olympics starts on 5 August in Rio de Janeiro. For the first time in the Games' history, the Olympics will be held on South American soil.
Over the years, some great athletes have dazzled the Olympic stage, producing several glorious moments. In Rio, athletes like Usain Bolt would be keen to immortalise their name in the history books as he aims to break more records.
As the Rio prepares to host the Olympic Games, we look back at first set of legends that the Games yielded. Here are first five legends from 1920 to 1952
Paavo Nurmi, the 'Flying Finn'
One of the Olympics' first superstars, Finland's Nurmi stole the show at Antwerp 1920, winning three gold medals in the 10000m, individual and team cross country, and silver in the 5000m, in the space of just three days. But he outdid himself four years later in Paris, winning the 1500m and then the 5000m two hours later, before successfully defending his team and individual cross country titles and then taking gold in the 3000m team race, becoming the first athlete to win five gold medals at the same Olympics. But there was controversy when Finnish officials, fearing for his physical condition, refused to allow him to defend his 10000m title. The angry Nurmi responded, after returning to Finland, by setting a new world record in the event. At Amsterdam in 1928, Nurmi reclaimed his 10000m title and took silver in the 5000m and 3000m steeplechase. However this turned out to be Nurmi's last Olympics as by now his fame was such that he was invited to star at athletics meets worldwide, prompting the IAAF to designate him a professional -- ruling him out of the 1932 Games, and a shot at a 10th gold medal.
Johnny Weissmuller, from gold to the silver screen
Long before he swung on to the silver screen as 'Tarzan the Ape Man', America's Weissmuller found fame at the Olympics, where he dominated the swimming events at the Paris and Amsterdam Games in 1924 and 1928. At a time when only six men's gold medals were on offer, the son of German immigrants won the 100m and 400m freestyle, as well as the 4x200m freestyle relay, in Paris, before successfully defending the 100m and relay titles four years later -- a career haul of five Olympic titles. He also took water polo bronze in Paris, for good measure. Weissmuller didn't win as many gold medals as Mark Spitz or Michael Phelps, but he bears comparison owing to his huge margins of victory and the small number of swimming events contested at the time. His superiority owed much to his revolutionary use of the flutter kick and head-turning breathing -- innovations that remain to this day. After his Olympic career, Weissmuller made even more of a splash in Hollywood, where he shot 12 Tarzan films and became synonymous with the character, pioneering his famous jungle yell.
Jesse Owens, first track superstar
Owens exploded the Nazi-propagated myth of Aryan racial superiority when he won four track and field gold medals at the 1936 Berlin Olympics under the nose of Adolf Hitler. The African-American was already a star when he arrived in Berlin, a year after he set five world records and equalled a sixth in the space of 45 minutes in Ann Arbor -- including a long jump mark of 8.13m that would stand for 25 years. He didn't disappoint in Berlin, winning gold in the 100m, 200m, 4x100m relay and long jump, and setting three world records along the way. Hitler was reported to have stormed out of the stadium after Owens, the grandson of slaves, won the 100m, although the "Buckeye Bullet" later said the Nazi leader waved to him in passing. But Owens was snubbed by his own president on his return to the United States when Franklin D. Roosevelt failed to greet him, a customary honour for returning champions. "When I came back to my native country, after all the stories about Hitler, I couldn't ride in the front of the bus," Owens said later. "I had to go to the back door. I couldn't live where I wanted. I wasn't invited to shake hands with Hitler, but I wasn't invited to the White House to shake hands with the president, either." Owens, a pack-a-day smoker for much of his life, died of lung cancer in 1980. In testament to his enduring popularity among the German public, he has a street and a school named after him in Berlin.
Fanny Blankers-Koen, female athlete of the century
Blankers-Koen defied conventions about age, sex and motherhood, and blazed a pathway for women's sport when she swept to four track gold medals at the 1948 Olympics as a 30-year-old mother of two. After making her Games debut in 1936 -- where she approached Jesse Owens for an autograph, one of her most treasured possessions -- the Dutch marvel's Olympic career was put on hold by World War II. By the time the Olympics returned in London in 1948, and despite living for six years under German occupation near Amsterdam, Blankers-Koen held six world records. Nevertheless, many held doubts about the young mother's suitability to compete -- which were quickly erased when she took gold in the 100m, 200m, 80m hurdles and 4x100m relay, topping the podium in every event she entered. "One newspaperman wrote that I was too old to run, that I should stay at home and take care of my children," she told the New York Times in 1982. "When I got to London, I pointed my finger at him and I said: 'I show you.'" In 1999, Blankers-Koen was named female athlete of the century by the IAAF, and she died five years later in 2004.
Emil Zatopek, unique distance treble
Zatopek spoke six languages and "never shut up", according to one miffed rival, and sometimes it seemed that he never stopped running either. The Czech distance great, known for his ungainly running style, claimed an enormous victory in the 10000m at the 1948 Olympics, lapping all but two competitors, despite racing for the first time over the distance only two months earlier. A few days later in the 5000m, an out-of-sorts Zatopek dropped 100m behind Belgian leader Gaston Reiff before stirringly fighting back to miss gold by a whisker, in what would have been one of the great recoveries of all time. Four years later at the Helsinki Olympics in 1952, Zatopek successfully defended his 10000m crown, and then claimed a dramatic 5000m victory when he stormed past his rivals on the final bend. But his most remarkable victory was in the marathon, which he had never run before but won so easily that he chatted with photographers along the route and afterwards declared the event "very boring". Zatopek, the only man to win the 5000m, 10000m and marathon at the same Olympics, later fell out of favour with Czech authorities. He was assigned to collect rubbish in Prague and worked for seven years in a uranium mine.
Sports
Featuring the numbers two and six in a single trace like ice against a white background, the logo won 75 percent of the vote over a second 'Dado' design, a dice featuring the red and green colours of the Italian flag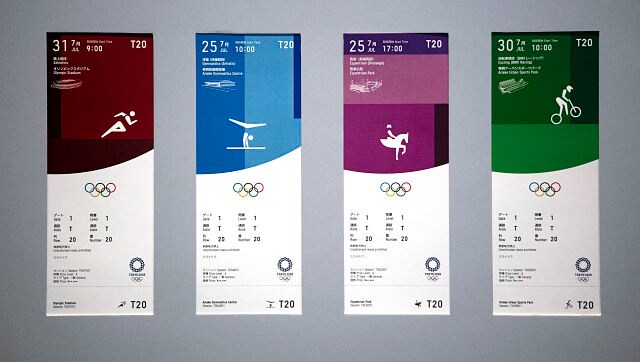 Sports
Tokyo organisers said about 600,000 Olympic tickets have been sold to people outside Japan. Japanese residents bought 4.45 million.
Sports
Rikako Ikee, who only resumed training in March last year after being hospitalised for around 10 months, won the 100-metre butterfly race at Japan's Olympic trials in Tokyo in a time of 57.77 seconds.