NT Rama Rao biopic traverses tricky terrain: Will appeasing too many political stakeholders spoil the plot?
The biopic is being directed by filmmaker Teja, and stars NTR's son Nandamuri Balakrishna — who is also a TDP MLA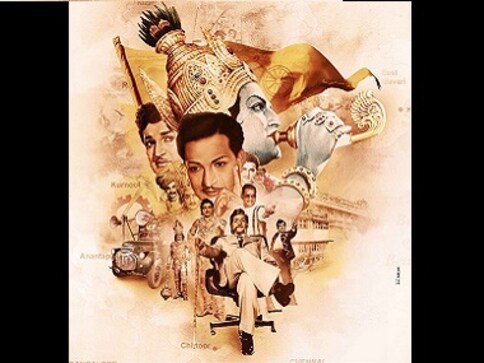 In the news for its launch, is the biopic on late actor-politician NT Rama Rao (popularly known as NTR). The biopic is being directed by filmmaker Teja, and stars NTR's son Nandamuri Balakrishna — who is also an MLA for the Telugu Desam Party (TDP). As Firstpost reported on 29 March 2018, the film's team had gathered at Ramakrishna Studios in Hyderabad to shoot a special teaser. Its release is timed for Vijayadashmi, a few months before the Andhra Pradesh Assembly polls.
The biopic comes even as Andhra Pradesh chief minister Chandrababu Naidu is readying for the 2019 polls with a slogan focused on Telugu pride — something his father-in-law NTR was considered an icon of.
After the TDP's exit from the NDA, Naidu has launched an all-out war on the BJP-led central government for denying the state what has been enacted and promised. In fact, such federal concerns form the ideological plank of TDP since its inception. NT Rama Rao even called the centre 'a myth'. NTR had galvanised the opposition against the (ruling) Congress regime, chanelling the anger of Telugu people at the way then chief minister T Anjaiah had been treated by the Congress leader at the time, Rajeev Gandhi. Similarly, Naidu is now vehemently critical of how the allegedly authoritarian Narendra Modi dispensation has let down the people of Andhra Pradesh. With Naidu going back to the political idiom of NTR, the biopic assumes even greater significance — given the closely entwined relationship between films and politics in South India.
Read on Firstpost — The fading legacy of NTR, Andhra Pradesh's most colourful leader
The biopic itself treads tricky ground. In the latter part of NTR's life, Naidu had revolted against his father-in-law and "overthrown" him. (He portrayed his rebellion as a sacred effort to save the TDP, a narrative that was widely accepted by the electorate.) Furthering the complicated web, Nandamuri Balakrishna's daughter, Brahmani, is married to Naidu's only son — Nara Lokesh, a minister in his cabinet. The consensus in political circles is that this match has only consolidated Naidu's position.
In fact, Naidu previously faced down competitors from within NTR's family, who also wished to take on the mantle of the late leader's legacy: NTR's son N Hari Krishna's attempt to appropriate his father's political standing came to naught. Similarly, NTR's second wife Lakshmi Parvathi's assertion of being his political successor was also summarily rejected by the electorate in united Andhra Pradesh. The political party launched by her, in NTR's name, was rejected at the hustings and later, disappeared. Telugu superstar Junior NTR's plans to position himself as the true heir to his grandfather did not fructify (although he never attempted to do so within the political arena; his father is N Hari Krishna). Junior NTR did not campaign for the TDP in the 2014 elections, which the party won; at the time there were reports of a growing rift between Chandrababu Naidu and him. Thus, Naidu became the unquestionable leader of the party.
How the Teja-directed biopic will depict the controversial aspects of NTR's life is now the subject of intense debate. Lakshmi Parvathi has threatened to move court if Naidu is portrayed as a hero in the film. Meanwhile, TDP legislator Bonda Uma has declared that Lakshmi Parvathi would indeed be the "villain" in the film. "She is a villain in real life and she will be villain in the film too. She distanced NTR from (the) people and everybody knows this," he was quoted as saying.
Critics point to the time of Naidu's revolt against NTR, when even those legislators who had won on the strength of the latter's charisma, abandoned him right when he sought their support. The NTR biopic starring Balakrishna is being produced with the "blessings" of Naidu, which makes it unlikely that NTR's anguish will be adequately portrayed. Questions about whether or not this biopic will be true to history are, therefore, understandable.
To show a complete picture, the NTR biopic will certainly have to chronicle the internal developments within the TDP that led to the revolt. Lakshmi Parvathi's role in NTR's life will also have to be included.
Also read — NTR's story is so vast, it would take six films to encompass it all, says director Teja at launch of upcoming biopic
Meanwhile, filmmaker Ram Gopal Varma has announced his intention of making a biopic on the late leader, called Lakshmi's NTR. RGV will reportedly show Lakshmi Parvathi in a more positive light — again, a difficult endeavour since Naidu attributed his rebellion against his father-in-law to NTR's relationship with Lakshmi Parvathi. NTR's family had sided with Naidu at the time. One must note here that Lakshmi Parvathi is now a leader of the YSR Congress, led by Naidu's arch rival YS Jaganmohan Reddy.
Varma's film is expected to be a counter to the Teja-Nandamuri Balakrishna project. Thus, the TDP and YSR Congress are set to clash over these films too.
NTR's daughter D Purandareswari — a vocal opponent of Naidu — was formerly a minister in the Congress government, but is now part of the BJP. With the BJP also becoming hostile towards Naidu, it may be anticipated that the party will have its own take on the film-related row.
What may be sacrificed amid political compulsions, is a true and impartial assessment of NTR's life and politics, which left an indelible impact on the Telugu people.
The writer is former MLC in Telangana; former editor, The Hans India; and professor — Journalism, in Osmania University
Find latest and upcoming tech gadgets online on Tech2 Gadgets. Get technology news, gadgets reviews & ratings. Popular gadgets including laptop, tablet and mobile specifications, features, prices, comparison.
World
As demoralising as June was for many Republicans, what was less visible were the frenetic attempts by top Republicans to soothe Trump and steer him away from self-sabotage, while also manipulating him to serve their own purposes
India
Prime Minister Narendra Modi greeted his senior Cabinet colleague, saying he is at the forefront of efforts to build a strong and secure India.
World
As the US boils with anger over police brutality and racism, the experience of Russia since the collapse of communism offers a cautionary lesson in the perils and disappointments of toppling monuments