Now, don't strip public for 'benami' properties: Uddhav Thackeray to Narendra Modi
In yet another attack on the Bharatiya Janata Party, ally Shiv Sena on Wednesday asked Prime Minister Narendra Modi not to 'yank off the undergarments (chaddi-banian) of the public' in the name of exposing 'benami' properties in the country
Mumbai: In yet another attack on the Bharatiya Janata Party, ally Shiv Sena on Wednesday asked Prime Minister Narendra Modi not to "yank off the undergarments (chaddi-banian) of the public" in the name of exposing "benami" properties in the country.
"After demonetisation, now the Prime Minister has targeted 'benami' properties and this is an extremely laudable move...But like demonetisation, it should not crush the poor and the middle class under the guise of weaning out 'benami' properties," Sena President Uddhav Thackeray said in a sharp edit in the party mouthpieces, Saamana and Dopahar ka Saamana.
He pointed out that many political leaders, businessmen, NRIs and the mafia have already invested their black monies in properties, but ironically, the common public were labelled "dishonest" after demonetisation.
"Modi had promised to bring back ill-gotten wealth stashed in foreign banks, but the fact is not a dime was recovered, nor did the hoarders suffer a paisa's loss. The common masses bore the brunt of demonetisation and still continue to suffer," rued Thackeray.
He added that post-demonetisation, the peoples' woes have increased, but not a single hoarder of black money or industrialist has been thrown behind the bars.
Drawing comparisons with the "surgical strike" on Pakistan in September, Thackeray said the neighbour (Pakistan) continues to play truant with terror and that has resulted in the deaths of over 50 Indian soldiers so far.
"That 'surgical strike' was trumpeted as a major victory for the government, but they have failed to protect our soldiers...Now, the question is: who is really dishonest?" demanded Thackeray, whose party is an ally of the BJP in Maharashtra and the Centre.
Referring to the plight of displaced Kashmiri Pandits, he said that before thinking of striking "benami" properties, the government should take steps to help the displaced Kashmiris get back their legally-owned estates.
"Will the government carry out a surgical strike for these displaced Kashmiris? We only hope that there is no manipulation in the rights of the Kashmiri Pandits to recover their legally-owned properties," Thackeray said.
He called upon the government to ensure a repeat of inconveniences is prevented in the proposed action against "benami" properties, and the public is not denuded and thrown out on the roads.
"However, we unequivocally appreciate Modi's fight against the dishonest crooks in the country," concluded Thackeray in the edit.
India
Mookerjee, who was the Minister for Industry and Supply in the cabinet of India's first Prime Minister Jawaharlal Nehru, resigned in protest against the Nehru-Liaquat Pact
Politics
Raut's remarks came days after Maharashtra Chief Minister and Shiv Sena president Uddhav Thackeray met Prime Minister Narendra Modi in Delhi separately, setting off political speculations in the state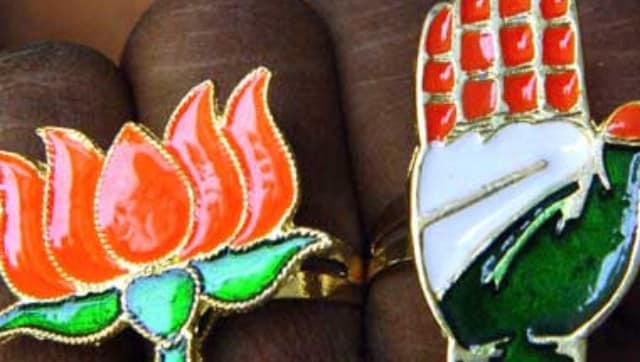 Politics
The Congress received total donations of Rs 58 crore from electoral trusts, which was less than several regional parties