Non-Congress govt likely in Meghalaya as UDP, BJP support NPP; Conrad Sangma to meet governor at 5 pm
Meghalaya is likely to have a non-Congress government in state despite being the single largest party as United Democratic Party (UDP) extended its support for National People's Party (NPP), media reports said.
Meghalaya is likely to have a non-Congress government despite the Grand Old Party securing the most seats in the Assembly elections.
The United Democratic Party (UDP) has extended its support to National People's Party (NPP), which won 19 seats, and with that Congress' hopes to form a government in the state are likely over.
The UDP won six seats, while its alliance partner Hill State People's Democratic Party (HSPDP) won two seats on Saturday. Though HSPDP has not officially announced its support for the NPP-led coalition government, reports claimed otherwise.
With BJP, which won two seats and has garnered support from an Independent candidate Samuel S Sangma, the NPP-UDP-HSPDP-BJP alliance already seems to have 29 MLAs.
BJP Meghalaya in-charge Himanta Biswa Sarma told ANI on Sunday that the anti-Congress bloc has support from 29 MLAs and that they are going to meet the Meghalaya Governor at 5 pm.
In the meanwhile, NPP chief Conrad Sangma, who could be the next chief minister, had also confirmed that he is going to meet the Meghalaya governor at 5 pm on Sunday.
Sangma had earlier said that his party would be able to form the next government with the help of other like-minded parties.
Earlier today, Sarma said that the verdict of the Assembly elections in Meghalaya was against Congress, which ruled the state for a decade, and against Mukul Sangma.
"We want NPP to take the initiative and BJP will provide full cooperation. We are here to help form a non-Congress government," he told ANI. He also said that UDP has extended a support letter to us and they have discussed threadbare.
"It is just a matter of 2 hours, you will come to know everything, who will be the leader. Let it unfold officially in a dignified manner," Sarma added.
You will come to know at 5 pm: Conrad Sangma, NPP on being asked if #Meghalaya would get its first woman chief minister in Agatha Sangma pic.twitter.com/exLnwjeteQ

— ANI (@ANI) March 4, 2018
Mukul Sangma submitted his resignation as Meghalaya Chief Minister to Governor Ganga Prasad in Shillong. pic.twitter.com/rHk4aLuoyh — ANI (@ANI) March 4, 2018
Congress, which won 21 seats in Meghalaya, has also been making efforts to form government in the hill state. On Sunday morning, before tendering his resignation to Governor Ganga Prasad in Shillong, former chief minister Mukul Sangma, had said that the fractured mandate will be clear soon, ANI reported. But Congress efforts have failed to bring any positive results for the party.
Earlier on Saturday after the results were declared, BJP had said that it will "inspire" the regional parties to respect the public mandate and form a non-Congress government in Meghalaya.
Union minister Kiren Rijiju also met with UDP chief Donkupar Roy at his residence on Sunday, said News 18. Roy later told ANI that he is ready to support NPP-coalition with Conrad Sangma as the leader.
BJP's Kiren Rijiju along with Himanta Biswa Sarma and Congress's Mukul Sangma arrived at United Democratic Party headquarters in Shillong. — ANI (@ANI) March 4, 2018
Voters of Meghalaya have elected a hung Assembly, with no single party or alliance securing enough seats to form a stable government in the state and the suspense over who could form the government or be the chief minister continued.
Find latest and upcoming tech gadgets online on Tech2 Gadgets. Get technology news, gadgets reviews & ratings. Popular gadgets including laptop, tablet and mobile specifications, features, prices, comparison.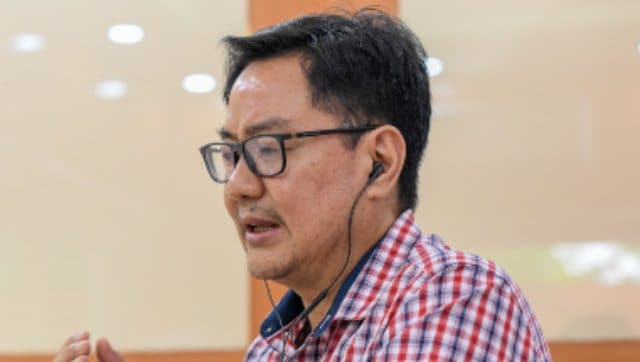 Sports
Rijiju was amazed that his colleagues felt that people like Jyoti Kumari, Kambala jockey Srinivas Gowda and Rameshwar Gurjar -- who became social media sensation -- were Olympic prospects.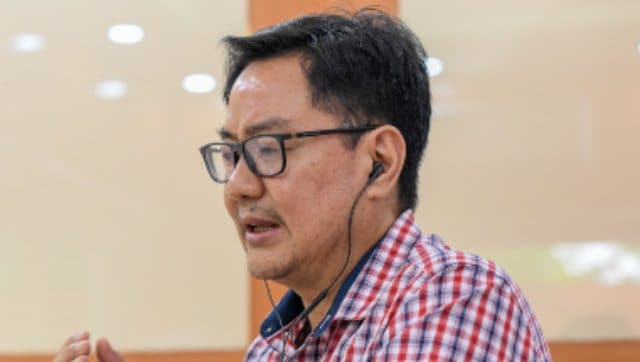 Sports
The sports ministry has extended the contracts of foreign coaches till 30 September, 2021, keeping in mind the postponed Tokyo Olympics, and has committed itself to hiring coaches on a four-year cycle to ensure continuity.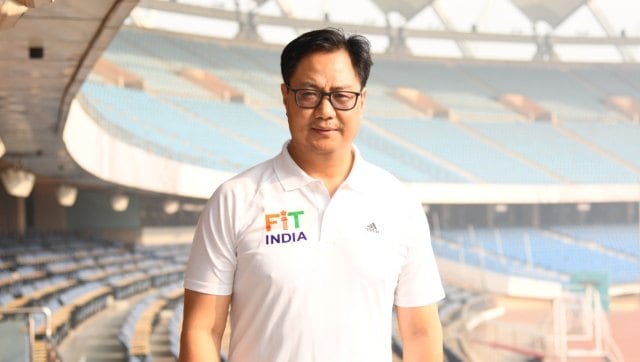 Sports
Union sports minister Kiren Rijiju emphasised on resuming non-contact sports as and when the COVID-19 situation in India, currently the third-worst-affected globally, improves.