Nobel confusion: MP leaders celebrate BJP 'colleague' Kailash's achievement
Who is Kailash Satyarthi? If you go by the BJP leaders in Madhya Pradesh, Satyarthi's home state, he is a senior party leader who has been awarded the coveted Nobel prize for social work.
Bhopal:  Who is Kailash Satyarthi? If you go by the BJP leaders in Madhya Pradesh, Satyarthi's home state, he is a senior party leader who has been awarded the coveted Nobel prize for social work. As the child rights activist from was being feted on the world stage a couple of days ago, over 7000 km from the venue of Oslo, the leaders of his state were celebrating the wrong Kailash: Kailash Vijayavargiya, a minister in the Shivraj Singh Chouhan cabinet.
After the state assembly passed a resolution expressing happiness and pride over Satyarthi and his co-awardee from Pakistan, Malala Yousufzai, the MLAs displayed how little they knew or cared for the award or the laureate. Their bytes were a source of amusement for quite some time.
"It is a proud moment to see our colleague receiving the Nobel Prize. He has considerable social work to his credit," said veteran politician and Public Health Engineering Minister Kusum Mahdele, obviously mixing up Kailash Satyarthi's name with that of state Urban Development Minister Kailash Vijayvargiya.
Mahdele, a lawyer from Rewa, was not alone in her display of ignorance. Tribal Welfare Minister Gyan Singh said his party could boast of many members who like Vijayvargiya deserved such honour. Gyan Singh, who has completed his school education, claims to be keen follower of culture and pursues spiritual music as his hobby.
Two other MLAs of his party Dilip Singh Parihar and Ranjeet Singh also proudly commended Vijayvargiya and insisted that the Nobel committee found his contribution to social work in Indore fit for the award.
An Opposition leader went a step further and cynically found a nexus between the Centre and the state governments behind the selection of Vijayvargiya for the award. Bahujan Samaj Party MLA Satya Prakash said Vijyavariya did not deserve the award. He said the minister had benefited from the fact that BJP is ruling both at the Centre and in the state.
Sanjay Pathak, who switched from the Congress to the BJP before the election, holds a master's degree in political science. He was confused on whom to congratulate,  Kailash Vijayvargiya or Kailash Chawla, another BJP leader.
Transport Mnister Bhupendra Singh, however, defended his colleagues.
"The embarrassing situation could be because of lack of information. It can happen to some people," he said.
Vijayvargiya was enjoying his moment of glory. He said the comedy of errors kept him amused for two days. But it also reflected on the mindset of some members of an Opposition party, he said.
Most leaders whose awareness level was exposed on Wednesday avoided the media on Thursday. Firstpost had earlier exposed the state government's indifference to the Satyarthi for long years two months ago. Vidisha carved out an important place on the world map through the great achievement of its proud but humble son, Kailash Satyarthi.
Satyarthi is not media savvy. He doesn't hanker after publicity and wasn't expected to acquire the stardom usually associated with a Nobel Laureate. Two months after the announcement of the award the media in the state has not come to terms with the overnight transformation of the man next door into an international child rights icon.
Even in Vidisha Satyarthi's name evokes a lukewarm response perhaps because he has moved base to New Delhi. Many who have benefited from his efforts show little care for his support. Successive governments in Madhya Pradesh hardly recognised his work. He has several awards to his credit. None from the state though.
Vidisha has often been in the news as the constituency of former Prime Minister Atal Behari Vajpayee, present Madhya Pradesh Chief Minister Shivraj Singh Chouhan and now as that of the country's new Foreign Minister, Sushma Swaraj.
In Vidisha one is struck by the sight of children still working at street-side eateries and eking out living by cleaning the coaches in the trains passing through the town. Though Satyarthi hopes to end the social malaise during his life-time, it shows that his task remains daunting.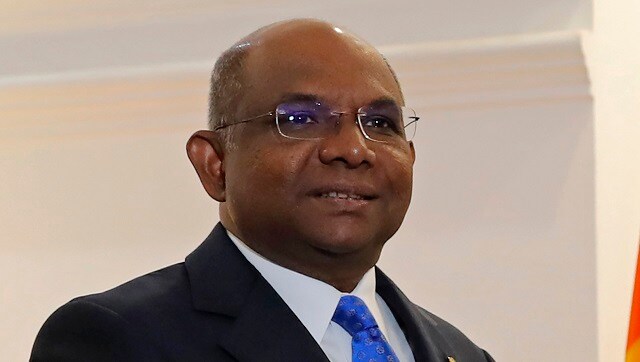 World
The Maldivian minister said his 'immediate priority' will be recovery from the COVID-19 pandemic and working to ensure 'vaccine equity'
Politics
Rajender was shunted out of the Telangana cabinet last month following complaints that firms owned by his family members grabbed assigned lands in the state
India
The four-time Sironj MLA was embroiled in the Vyapam scam before he was given a clean chit by the CBI in 2019