No State For Dalits: Caste tensions are boiling over in Tamil Nadu's western districts over a whodunnit
As Tamil Nadu heads to polls, analysts say there is visible caste consolidation in the western and southern districts of the state. Simmering caste tensions between OBCs like Gounders, Thevars and MBCs like Vanniyars against the Dalits, have taken a murderous turn of late.
A strange sight met the eyes of villagers in Nallampatty near Perunthurai in Erode in March this year. A notice was pasted on the door of the house of Chinnasamy, a farm labourer, whose body had been found floating in the village well two days earlier, on March 19. The notice was signed by the police inspector of Gaundampatty circle and stated the following in Tamil.
Police Department Notice
Mrs C Subbulakshmi w/o Chinnasamy, no. 104, Rice Mill, Pudur, Nallampatty, Perunthurai Taluk, Erode district which is you, on the basis of the written complaint given by you on 20/03/16 at 2.30 in the morning Police Dept No 58/2016 CrPC 174 (suspicious death) a case has been registered and according to it your husband's Mr Chinnasamy's body on 20/03/16 evening has been sent to the Coimbatore Government Medical College Hospital and post mortem was performed by medical officers. Inspite of the agreements you have not taken the corpse for burial from the hospital, hence the body is stored in the hospital morgue.
The abovementioned corpse has to be retrieved by you within 24 hours, say the medical officers. So, as soon as you see this notice you are informed to take the body of your husband Chinnasamy for burial from the morgue. Failing this suitable action will be initiated.
Police Inspector
Gavundampatty Circle
Erode District"
A furore had begun by then though over the suspicious death of farm labourer Chinnasamy.
The Background
The issue began on 10 March in Kizhakkupudur village near Peruntharai. A 19-year-old Dalit boy named Krishnan was attending the temple festival in the village. A villager belonging to the Gounder caste (OBC), named Marappa Gounder is alleged to have denigrated Krishnan by using his caste name.
When Krishnan retorted, Marappa Gounder allegedly pulled out his belt and whipped the boy. "After beating my son and abusing him with his caste name, Marappa Gounder then called two more people," alleged Nallakutty, Krishnan's father. "They tried to push him under a passing truck but luckily he escaped. Otherwise my son would have perished that same day. He has told the authorities all this," he said.
Krishnan was admitted in Perunthurai hospital with wounds and a case was registered in Thingalur police station under the Prevention of Atrocities Against SCs/STs Act, charging Marappa Gounder and some others for violence against a Dalit. This issue was then picked up by Chinnasamy, a 45-year-old farm worker, who was also the Branch Secretary of a fringe Dalit outfit called the Dalit Freedom Party. A quarrel ensued between Chinnasamy and Marappa Gounder, according to police sources.
The Erode district authorities then went into high gear, creating a Peace committee of 14 members and discussions were held between both the Dalit and Gounder sides. The Committee met seven times but there was no progress. Locals in the area, along with Dalit activists in neighbouring districts began protests, downing shutters of shops and sitting on fast, demanding that Marappa Gounder and others be arrested.
On 19 March, Chinnasamy informed his wife that the Committee had called for a meeting again, which he would attend, then head to work straight from there. That same evening, around 7pm, villagers of Nallampatty found Chinnasamy's corpse floating in a well in the centre of their village. This well was used by both the Gounder and Dalit communities.
The already tense area flared up. Around 300 Dalit activists from other areas along with villagers sat in protest, not allowing Chinnasamy's body to be taken for postmortem. District police sent a 100-strong force to control the situation from deteriorating further. Six hours later, the protesters relented and allowed Chinnasamy's body to be taken for postmortem to the Coimbatore Government Medical College Hospital.
Following the postmortem, police allegedly began to spread the word that Chinnasamy died due to drowning as he had been inebriated. However, the postmortem report has still not been furnished to Chinnasamy's family. When the family heard of this, protests began in earnest once again, and Chinnsamy's wife refused to take the body back home for cremation in protest. This was when the police stuck the notice on the door.
Court Steps In
Chinnasamy's wife moved the Madras High Court through counsel Rajini Kumar demanding a re-postmortem with a team of forensic experts from Chennai. On March 28, this plea was granted and a team of doctors from Chennai's Ramachandra Medical College arrived at Coimbatore to conduct the postmortem once again on April 01. Following this, Chinnasamy's corpse was finally laid to rest at Nallampatty.
"We have still not received any word on the postmortem report from the police," said Rajini Kumar, counsel for Chinnasamy. "We have filed a petition in the Madras High Court, asking for a CB-CID (special unit of Tamil Nadu police) investigation into Chinnasamy's death. We have not even received the first postmortem report," he stated.
Police sources told Firstpost that the key accused, Marappa Gounder, was absconding. When Firstpost tried to contact him over phone, he was not reachable.
Dalit activists are livid at what they claim is a deliberate attempt by the police and "upper caste Gounders" in the area to subvert justice in Chinnasamy's case. "Gounders in this area have been causing problems for a long time," said A Sengottaiyan, Founder, Dalit Freedom Party. "Earlier they used to simply beat Dalits but now they have gone a step further by committing murder. Police is not taking necessary action against them. We had been giving petitions to the police regarding threats to both Chinnasamy and Krishnan since the issue began, but police did not take any action," he stated.
As Tamil Nadu heads to polls, analysts say there is visible caste consolidation in the western and southern districts of the state. Simmering caste tensions between OBCs like Gounders, Thevars and MBCs like Vanniyars against the Dalits, have taken a murderous turn of late. On March 13, Dalit youth Sankar was hacked to death in broad daylight in a busy market square in Udumalaipet, Tirupur district, part of the western belt of the state. This murder was an honour killing, according to police sources, carried out by the family of Sankar's Thevar wife Kausalya who had eloped with and married Sankar against her family's wishes.
In 2015 another young Dalit engineer Gokulraj was murdered by a caste fanatic belonging to the Gounder caste for the crime of speaking to an "upper caste" classmate and this too created a furore in the state. In 2014, an alleged suicide of Ilavarasan, a Dalit youth in Dharmapuri district, caused tensions between Vanniyars and Dalits.
Find latest and upcoming tech gadgets online on Tech2 Gadgets. Get technology news, gadgets reviews & ratings. Popular gadgets including laptop, tablet and mobile specifications, features, prices, comparison.
World
Biden, 78, who would be the oldest sitting president if elected, has leads ranging from five to eight points in battleground states of Pennsylvania, Wisconsin and Michigan
India
Despite subsidies offered by state government, the capital cost requirement involved in alternatives to crop burning remains high, say experts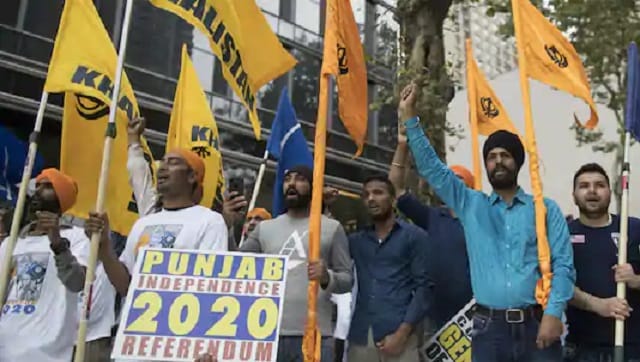 India
The paper, titled 'Khalistan: A Project of Pakistan', supports the longstanding belief that support for a separate Sikh State is part of the Pakistani strategy to 'bleed' India