No more crony capitalism, Modi govt a thrust towards liberalisation and reforms: FM Jaitley
Finance Minister Arun Jaitley on Tuesday said corruption has been removed from India's political dictionary under Prime Minister Narendra Modi and that there is a thrust towards reforms and liberalisation without crony capitalism and harassment.
New Delhi: Finance Minister Arun Jaitley on Tuesday said corruption has been removed from India's political dictionary under Prime Minister Narendra Modi and that there is a thrust towards reforms and liberalisation without crony capitalism and harassment.
Marking a year in office of the BJP-led NDA government at the Centre, he launched an all-round attack on UPA government and said, "Herein lies the difference between UPA's crony capitalism and institutional destruction and NDA's liberalisation and anti-corruption, combined with an emphasis on both strengthening institution building and social security for the poor and vulnerable."
"The 'scam and scandal, corruption and retribution' Raj is behind us," he said in a Facebook post titled 'The Fall of UPA's Crony Capitalism - A Year of Reform'.
Recalling the situation that existed a year ago, Jaitley said the UPA government wanted to centralise power in its own hands rather than promote non-discretionary and rule-based governance.
"'For Sale' signs hung over all ministries. Spectrum was allocated at throw away prices to the favoured few. Investors lost their investment. Ministers, civil servants, investors were jailed and prosecuted.
"Coal blocks were allocated at virtually no price. Environmental clearances were up for sale. The Congress Party leaders had become rent seekers and name lenders. They were partners in a large number of companies which got coal blocks allocated," he said.
The Finance Minister said discretionary and arbitrary allotment "motivated by collateral considerations" led to prosecutions of many and a virtual paralysis of the coal mines sector.
"It had an adverse impact on user industries such as the power sector. Even the former Prime Minister Dr Manmohan Singh was not spared on account of the self-destruct policies of the UPA. The courts had to intervene and cancel the allocations," he said.
Raising the question where do we stand one year later, Jaitley answered himself saying, "The whole parade of industrialists lining up outside South Block and North Block is now over. The corridors are empty, the silence cheery."
Jaitley said FDI increased from $20.8 billion in 2013-14 (13 Apr – 14 Feb) to $28.8 billion in 2014-15 (14 Apr – 15 Feb).
"The others are in advance stages of the approval process," he said adding the environment Ministry has set up institutional mechanisms for objective clearances.
Stating that the "regime of an unlegislated tax on environmental clearances is over," he said spectrum auction fetched over Rs 1 lakh crore while the auction of few coal blocks got over Rs 2 lakh crore.
"There is no role of ministers except in laying down policy. Prices are determined by a market mechanism and the successful bidder is determined by auction," he said. "The word 'corruption' is being removed from India's political dictionary."
The Minister said the environment of "prosecute the investors" has been completely reversed.
With fiscal deficit contained and Government's revenues improving, the emphasis is now on strengthening social security and social sector schemes, he said.
While over 15 crore Jan Dhan accounts have been opened, the LPG subsidy is now being transferred directly to over 12.6 crore beneficiary households.
The insurance scheme, providing an accidental death cover of Rs 2 lakh on a premium of Rs 12 a year, was launched on May 9 has 5.57 crore policy holders in first nine days. Life insurance scheme at a premium of Rs 330 per year has got 1.74 crore subscribers in the first 18 days.
Jaitley said the distressed farmer has been given relief under the liberalised norms and additional money has been allocated for MGNREGA.
The enhanced resources of the State will be increasingly used towards infrastructure creation, irrigation and social sector schemes.
Under the UPA regime, Jaitley said the mining sector provided for a statutory mechanism of allocation based on the obsolete principle of 'first come first served'.
The State Governments – some of the poorest in the country – were taken for a ride. They got very little out of valuable resources such as mines in their States. Even gold imports were controlled by a few.
"This was crony capitalism at its very worst. Businessmen and industrialists lined up to ministers and party functionaries to seek favours. Chits were regularly issued from party functionaries to ministers indicating the name of the allottee to be favoured with State largesse," he said.
Nepotism, he said, reached its climax when investigative agencies such as the CBI and the Enforcement Directorate were directly controlled by political individuals.
"Dubious appointments were made to these agencies. Political opponents and inconvenient business persons were harassed. The agencies whose primary job was to unearth corruption had themselves been corrupted," he said adding courts had to regularly intervene to seek action against the possible guilty.
The Minister said investing in India inherently included the risk of prosecution. "Was it any wonder that investors fled the country? This had disrupted the business environment in the country."
The fall of UPA's crony capitalism – A year of reformLook back at the situation that existed a year ago before the NDA...

Posted by Arun Jaitley on Tuesday, 19 May 2015
PTI
Subscribe to Moneycontrol Pro at ₹499 for the first year. Use code PRO499. Limited period offer. *T&C apply
India
Senior journalist Namita Bhandare spoke to Priya Ramani and Rebecca John about the challenges of the recently-concluded trial and the implications of the court verdict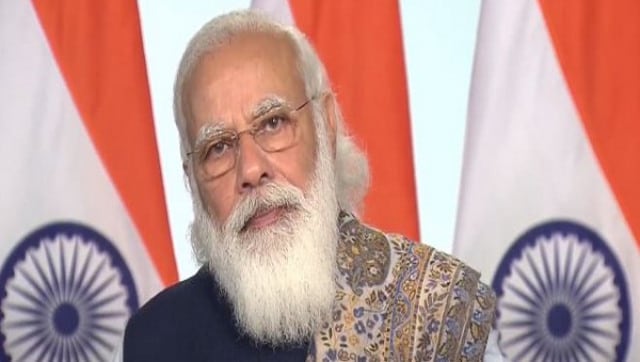 India
The prime minister told the students that with knowledge comes responsibility, and the knowledge attained was not theirs alone but a legacy for future generations
India
Leaders across several political parties denounced the arrest of 21-year-old climate activist Disha Ravi by the Delhi Police on Sunday