Nitish vs Modi: How everyone ignores the original miracle man
Nitish Kumar should be called the original miracle man of Indian politics. He has got a state in ruins up and running.
by Manoj Kumar
Patna: Not many in the media love Nitish Kumar. Probably he does not fit into the pan-Indian political context well. Probably he is not an unabashed attention-seeker like a few of his contemporaries are. But not being the high profile newsmaker does not diminish the Bihar chief minister or his achievements in any way. The media can wait.
When he took over the reins in 2005, Bihar was India's basket case, the leader of the BIMARU pack. Its economy was in a state of collapse. The state lacked infrastructure to support development. The agriculture sector was in a shambles, industries simply had no hope, criminals of all hues called the shots and its political leadership was a pathetic joke. From the most progressive state in the country in the early decades of Independence, the state had hurtled to being the worst, thanks mainly to the 15-year misrule of the Rashtriya Janata Dal.
In his eight years in power, Nitish has worked a miracle – he has scripted the most amazing turnaround story in the country. With Gujarat Chief Minister Narendra Modi weighing heavy on the mind, not many would acknowledge that Bihar has changed, but facts speak for themselves. Despite global economic slowdown and sagging domestic demand, the economy of Bihar has grown at an annual rate of 11.95 per cent during the 11th five-year plan (2007-2012). Compare this to the 3.5 per cent average annual growth rate during 1990- 2000 when the RJD government was in power.Critics would argue that Modi's achievements are much more significant since he started from a larger base. This argument is specious and it reflects a narrow, unidimensional interpretation of growth. It conveniently ignores the fact Modi had a ready-made base to build on – Gujarat has always been a progressive state with a development blueprint, good infrastructure and plenty of entrepreneurial energy. It also ignores the fact that growth is not just about numbers; it is more about the social context and utility of the numbers. To his credit, he has kept the momentum going. Nitish Kumar's achievement is much more spectacular since he inherited a rundown state and has got it up and running. If Modi deserves praise for his performance, Nitish deserves at least as much appreciation.
Let's come back to the Bihar story. If the government figures are any indication, construction and auto sectors have recorded a boom, the agriculture sector is experiencing a tremendous improvement - Bihari farmers have created a record in producing rice and potato per hectare- and businessmen are making a beeline for Bihar with investment proposals. The State Investment Promotion Board has approved as many as 939 business proposals worth Rs 3.19 lakh crore so far. It is not huge but one must understand Bihar is still a work in progress. There is appreciable growth in the communication (38.41), construction (21.19), manufacturing (18.15) and the hospitality sectors too. According to official data, Bihar has built over 15,052 km of roads in the last eight years and now one can travel from any district headquarters to the state capital within six hours except for far-flung Kishanganj district. According to Rural Works Minister Dr Bhim Singh, an average 41 km of roads are being constructed daily in Bihar.
"The reason why Bihar economy is left unaffected by the global recession is that the state is primarily a consumer state, and not a manufacturing state. Also, the common people are in the habit of saving," explained Bihar's Deputy Chief Minister Sushil Kumar Modi, of the BJP, adding the fiscal discipline maintained by the government had made the task easier.
Modi, who also happens to be finance minister of the state, said the robust economy has not only pushed up the per capita income of the people but also helped improve quality of life. As per the Economic Survey, the per capita income of Bihar has now gone up to Rs 25,653 from Rs 11,615, recorded in the year 2007-08. It further says Munger and Bhagalpur, apart from Patna, have emerged as the three fastest growing cities in Bihar. The report states that the production of cereals and rice has gone up significantly.
In a state once notorious for crime and criminals, Nitish has established the rule of the law. Thanks to fast-track courts and improved policing more than 75,000 criminals, some of them dreaded politicians, have been behind the bars. Cases of kidnapping for ransom are down, as are street crimes. This has improved the investor confidence in the state. Cases of corruption are down too, thanks to Nitish's good governance.
So when Prime Minister Manmohan Singh heaped lavish praises on the Bihar government last week for emerging as the fastest-growing state in the country, even ahead of Gujarat, the appreciation was not misplaced.
"The so-called BIMARU states have done much better…Bihar was the fastest growing state in the country," the PM had tweeted on March 6. Economists around the world are acknowledging the Bihar turnaround story. It is not without its flaws but the story is a compelling one given its gloomy backdrop.
Some economists feel the economic turnaround has been "weakened" by Nitish's demand for a special category status to Bihar. "Bihar has come a long way under Nitish Kumar… There is no point calling Bihar a failing state requiring stimulus. You don't give steroids to a champion state," opined prominent economist Swaminathan S Anklesaria Aiyar who was in Patna on Tuesday to participate in a debate on `Revisiting Bihar: Development Journey so far'. He added that Bihar having embarked on high-growth path could no longer claim to be a "backward state" and thus, according to him, does not qualify for the special category status.
He advised the state policy makers to shift focus from agriculture to manufacturing and service sectors. "Service sector has the biggest avenue. This has to grow. Bihar also needs to develop more and more towns by developing villages. It should, in fact, strive for 1,000 small towns," he said.
Shaibal Gupta, another economic expert and secretary of the Patna-based Asian Development Research Institute (ADRI), an NGO, said "the economic turnaround has been possible mainly because of better governance, fiscal discipline and increase in investments". He claimed Bihar had undergone a huge change under Nitish.
But another expert and professor of Economics at Patna University, Nawal Kishore Chaudhary, begs to differ. He argues that the growth story is primarily "construction-centric" whereas agriculture, the main livelihood option for around 90 per cent of the state's population, is showing negative growth. ``To maintain sustainable growth, the government will have to focus on agriculture,'' he opined.
The Bihar growth story is by no means perfect – in fact, no growth story, including Modi's, is - but that makes the turnaround man - Nitish Kumar – no smaller. Why cannot the media give the credit due to him?
Find latest and upcoming tech gadgets online on Tech2 Gadgets. Get technology news, gadgets reviews & ratings. Popular gadgets including laptop, tablet and mobile specifications, features, prices, comparison.
Entertainment
Amul celebrated the COVID-19 recovery of actor Amitabh Bachchan with a customised poster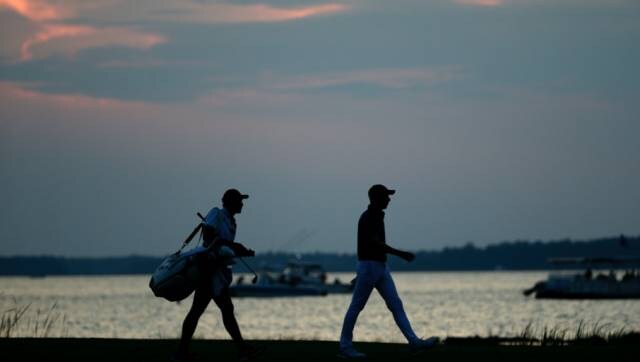 Sports
Based on the new guidelines, the PGA Tour is doing away with what became known as the "COVID-19 groups."
India
Coronavirus LIVE Updates: BMC on Monday eased restrictions for the phased lifting of the lockdown in Mumbai under the Maharashtra government's 'Mission Begin Again' initiative