Nitish Kumar's tough tightrope walk: Keeping Bihar free of communal polarisation while balancing alliance with BJP
Bihar chief minister Nitish Kumar has broken his silence. The JD(U) chief has sent out a strong statement to ministers from party ally BJP — that communal politics won't be tolerated.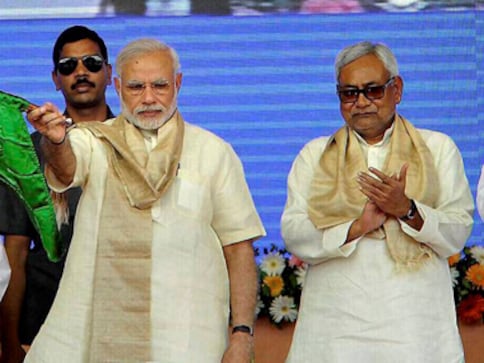 Bihar chief minister Nitish Kumar has broken his silence. The JD(U) chief has sent out a strong statement to ministers from party ally BJP — that communal politics won't be tolerated.
This is the first flashpoint between allies BJP and JD(U) since the two joined hands in July last year after Nitish's return to the NDA fold. But even before their break-up in 2013, Nitish had never allowed politics of polarisation to flourish in Bihar, in the 17 years they had been in an alliance.
In September 2013, just two months after ending the BJP-JD(U) alliance, Nitish Kumar, while addressing a programme hosted by the National Commission for Minorities, had famously said, "Hamein kabhi topi lagani padegi toh kabhi tilak bhi lagana padega. (We might have to wear cap on some occasions and wear a tilak on others.)"
His political machinations then saw him return to form the government in alliance with old foe Lalu Prasad Yadav before last year's sudden reversal saw him return to the BJP-led NDA camp. In these four years, he witnessed the JD(U) being decimated in the 2014 general election, before returning to power in the state the very next year, in a grand alliance with the RJD and Congress.
All along, Nitish always insisted on wanting to create such a social combination or to blur the caste fault lines which can help his party irrespective of what his alliance partner thought. This compulsion made him caution the BJP and support concerns raised by Ram Vilas Paswan, leader of the Lok Janshakti Party, another ally of the NDA. "I will not compromise with corruption nor side with divisive politics of any party," Nitish said.
He was referring to recent comments made by BJP leaders following incidents of communal violence. While campaigning in Araria, state BJP president Nityanand Rai had allegedly said the district will become a den of the Inter-Services Intelligence if the RJD is to win the bypoll. The RJD did sail through comfortably, winning Araria and Jehanabad Assembly seats. However, the bypoll results failed to indicate any wave.
A BJP worker and tea-seller was beheaded after the bypolls in Darbhanga, allegedly for refusing to remove a board that said 'Narendra Modi Chowk'. Following this, Union ministers Giriraj Singh and Ashwini Chaube joined the chorus, with the former accusing the administrative machinery of concealing facts. Rai warned of "serious consequences". As communal tensions were reported from Bhagalpur on the eve of the Hindu New Year, the police named Arjit Shashwat, son of Chaube, in an FIR for allegedly inciting the mob.
After results were announced, a purported video of RJD supporters emerged from Araria, in which youths could be seen chanting anti-national slogans. Along with Giriraj and Chaube, state ministers Nand Kishore Yadav and Mangal Pandey also clarified that anti-national activities would not be tolerated.
Meanwhile, the JD(U) remained silent on the issue till Nitish himself opened up and categorically denounced divisive politics. Rebuffing the BJP ministers, Nitish said, "A leader should not comment without verifying information. This is a publicity stunt. Viral was used to be a disease earlier."
He termed the Darbhanga incident as a "land dispute" and assured the rule of law will prevail in the state without any prejudice. He reminded the BJP that his party would not budge from the principle of "justice with equity". In doing so, Nitish is perhaps trying to start the process of social mobility which many feel was moving in the right direction during his second term as chief minister.
Nitish 'Vikas Purush' Kumar, riding on the plank of good governance, successfully made inroads into the hearts and minds of almost every section of the society. The 2010 Assembly election results made it clear that the caste polarisation was giving way to issue-based politics. JD(U) successfully made inroads into Muslim votes, hitherto considered an RJD bastion.
From 2005 to 2013, Nitish, with the BJP as an ally, tried to ensure his party's base spread to all sections of society. However, when he joined hands with Lalu Prasad Yadav, this process came to a halt and the state was polarised once again on caste lines. It ensured Nitish got yet another term as chief minister, but his endeavour of boosting the JD(U)'s social base took a hit.
Now, Nitish will again be eager to resume the process. He needs to ensure communal polarisation has no role to play in Bihar. He doesn't forget to mention schemes launched for welfare of minorities, and claims to have done for them what no government has in the history of Bihar.
So, in his scheme of things, remarks by BJP leaders clearly don't fit in. He chooses to rebuff them by saying, "We are coalition partners, but I am heading the government."
By doing so, he tried to instill confidence among the vulnerable sections of society. However, this time around, the BJP seems to be in no mood to play second fiddle. To accomplish 'Mission 2019', Bihar is key and BJP knows the importance of Nitish Kumar.
At the same time, Nitish too would want to to leverage this in favour of his party.
also read
India
On the day of the inauguration of the new Parliament building (28 May), Modi will be presented with the 'Sengol' by the 293rd head priest of Madurai Sri Harihara Desika Swamigal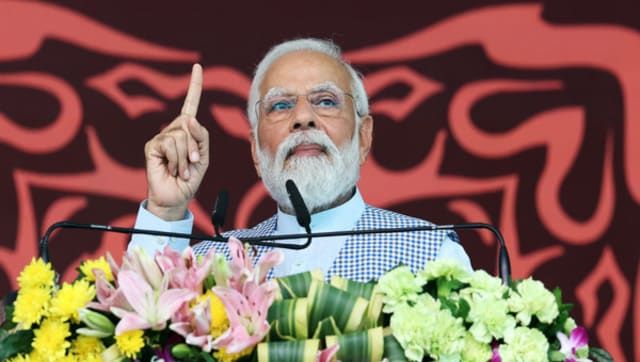 Politics
The rallies will be aimed at winning the 2024 general assembly elections from Uttarakhand by 51 per cent of votes
Politics
Krishnappa, a BJP worker who was allegedly hacked to death, while his wife and son were grievously injured in the attack after they protested against bursting of crackers outside their house in Bengaluru Rural district's Hoskote on Sunday