Nitish Kumar's resignation and swearing-in: A timeline of who said what on Bihar's political drama
From being part of the NDA to resigning over PM Modi's elevation, to joining hands with Lalu Prasad Yadav, to quitting the mahagathbandhan over corruption charges against Lalu, to joining hands with BJP again, Nitish Kumar has come a long way
On Nitish Kumar's 66th birthday on 1 March this year, the Bihar chief minister received wishes from an unlikely source — Prime Minister Narendra Modi. And with this came about speculation that relations between the BJP and JD(U), which had been strained ever since Nitish split from NDA in 2014, could be mended once again.
That got closer to reality after the CBI raided properties owned by Lalu Prasad Yadav and his relatives earlier this year. Although Nitish Kumar was cautious to react, initially maintaining a prolonged silence and only later demanding Lalu come clean on the corruption allegations raised against him, just the mere association of having a scam-tainted Lalu Prasad in his administration was enough to get tongues wagging about the future of the Mahagathbandhan in Bihar.
In fact, though Nitish Kumar chose to stay away from the controversy, the third party in the Grand Alliance, Congress, vociferously defended Lalu, calling the raids part of BJP's "vendetta politics". Congress spokesperson Randeep Surjewala told the press that the Opposition will not be "cowed down by BJP's vendetta politics". "The truth is that revenge has become the DNA of the BJP government. We want to reiterate that neither Chidambaram, nor any Congress leader or any other leader of the opposition, would be deterred or cowed down by fear of the politics of revenge and vendetta," he said.
Mamata Banerjee also backed Lalu in the debate, targeting the Centre on the issue. "If you do not like someone, then you send CBI, then put him in jail.... Some political vendetta is going on. Whatever is happening today, sometimes with (Samajwadi Party leader) Akhilesh Yadav, sometimes with (Odisha chief minister) Naveen Patnaik, sometimes with Laluji, Chidamabaram, (Delhi chief minister Arvind) Kejriwal," Mamata had said.
In an apparent message to the Modi government, the TMC chief asked, "If you fight with everybody then who is left out?"
Without naming anyone, she said political fight should be fought politically. "It does not behove anyone. Political fight, ideological fight should be fought politically," she said.
Despite all of this, however, Nitish Kumar remained silent. Congress president Sonia Gandhi, in a bid to save the alliance, called for a lunch meeting, but the Bihar chief minister skipped that as well. But more importantly, the day after he skipped the lunch, he met Modi.
BJP leaders sought to downplay speculations linking their party with JD(U), instead hurled grave accusations against the Nitish government. Rajeev Pratap Rudy said he is playing "caste politics", and the saffron party would never join hands with a man who does so. "Bihar's politics is an antithesis of the BJP's political philosophy which is opposed to casteism, dynastic and appeasement politics. Both (Kumar and RJD chief Lalu Prasad Yadav) practise politics of casteism and appeasement. I do not have a simple analysis of Bihar's politics. It will be hard for me to analyse the politics of Kumar."
At the same time, the party also demanded Nitish resign over the topper scam, which had hit Bihar. Nitish too hit back at the BJP, saying the party was doing nothing concrete for cows despite claiming to care for the animal, and later saying the Centre has reneged on its promise on minimum support price for farmers.
But none of this was remembered when Nitish supported NDA candidate Ram Nath Kovind for the presidential election. He cited his amicable relations with Kovind when the latter was Bihar governor, "In my capacity as the Bihar chief minister, it is a matter of happiness that our governor has been declared as the candidate for the next president of India," he had said. Even when the Congress-led Opposition announced 'Bihar ki beti' Meira Kumar as its candidate, Nitish didn't relent.
This started off a series of comments signifying mutual admiration between Nitish and Modi, including praise for the Centre's Goods and Services Tax (GST), while Modi himself praised Nitish for enacting total liquor prohibition in Bihar.
But while the Congress firmly backed Lalu and decried Nitish for appearing to move away from the Grand Alliance, Nitish just stopped short of demanding Lalu's son, Bihar's deputy chief minister Tejashwi Yadav, offer his resignation. And he didn't go back on his word, even when BJP's Sushil Modi said the saffron party will not offer its support to a Nitish Kumar-led JD(U) if it were to back out of the Grand Alliance.
Rahul Gandhi then stepped in to save the alliance, meeting an increasingly defiant and belligerent Nitish in New Delhi last week. But the meeting didn't go well, and Nitish asked the Congress vice-president to clarify the party's stand on RJD, which had clearly decided to back Tejashwi Yadav to the hilt.
On Tuesday evening, Lalu put the ball in Nitish's court, and asked the chief minister to take a call on whether or not he wanted to save the alliance. "There is no question of Tejashwi's resignation. All of this is BJP's propaganda and everyone knows this," Lalu said, adding that Nitish may pull out of the alliance if he wants to.
At this point on, there could have been only one way the story would ultimately pan out.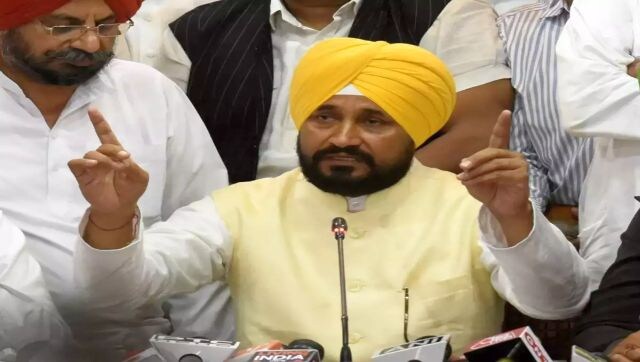 Politics
The Union home ministry has sought a report from the Punjab Government on the security breach during the Prime Minister's visit to Punjab on 5 January, 2022
Business
Union Budget 2022-23: According to Article 112, the annual financial statement or Union Budget of a year is the statement of estimated receipts and expenditure of the Government of India for that particular year
Politics
BJP national president JP Nadda has formed teams who will ensure maximum voters are reached out and top leadership conducts meetings at the booth level in five poll-bound states