Nitish Kumar's absence turns Akrosh Divas into frustration divas for Opposition
The Jan Akrosh Divas, called by a fractured Opposition driven by its fear of Narendra Modi's ever increasing political capital, resembled more a 'Frustration Divas' due to the lack of jan (people's) support behind the akrosh (rage).
The Jan Akrosh Divas, called by a fractured Opposition driven by its fear of Narendra Modi's ever increasing political capital, resembled more a 'Frustration Divas' due to the lack of jan (people's) support behind the akrosh (rage).
If the rage was rendered futile by the lack of consensus among the motley crew on how best to express their akrosh at being sidelined by the prime minister's powerful political narrative, Nitish Kumar's abstention decidedly robbed the 'nationwide protests' of its moral strength.
As is inevitable in a multi-party democratic set-up, any big bang economic reform has an equally significant political fallout. If anything, the politics of reform sometimes overtakes even the economic objective. By now it is fairly clear to the Opposition that demonetisation has set free a game-changing political narrative that may override all known calculations — regional or national.
To counter that narrative, NDA's rivals must quickly mobilise the masses who, much to the frustration of Modi's detractors, still appear to be taken in by the appeal for a larger corruption-free society and see themselves as equal partners in that fight.
Their task has been made even more daunting by internal bickering and the barely concealed game of one-upmanship that has seen 18 parties including the Left and Lalu Yadav's RJD calling for a 12-hour Bharat bandh and the Congress, AAP, SP, BSP and the Trinamool Congress at pains to distance themselves from the bandh in favour of a 'nationwide' itinerary of agitations, obstructions, rail rokos, protest rallies, public meetings and demonstrations outside Parliament.
One wonders how deeply this akrosh will discomfiture Modi given the fact that the increasingly irrelevant Left seems to be regretting even its own call. Addressing a news conference at the party's Alimuddin Street headquarters in Kolkata on Sunday, Bengal CPM state secretary Surjya Kanta Mishra said: "Our target is not to make the strike a success. We might be a lone voice but it is important to raise it at this juncture", according to a report in The Telegraph.
The comrades must have belatedly figured out the absurdity of a hartal while protesting against the loss of livelihood of the marginalised whom it claims to represent. This self-defeating move accurately captures the crisis of traditional Left.
The situation among the conglomerate of socialist and neo-Left parties is no better. With Modi fashioning his drive as a war against black money and exhorting the youth to join him in the yajna (subtly creating an ownership of the 'movement'), the anti-demonetisation mass-mobilisation programme must necessarily tell an equally gripping political story.
It is not enough to tell the people that they are inconvenienced. Majority of Indians who still appear to be in favour of the drive are backing it despite the hardships. They see the benevolent disruption as a sort of necessary purge to cleanse the system. Therefore, the Opposition needed a far more credible moral force than just crying about people's inconvenience.
And it is here that the Congress-TMC-SP-BSP conglomerate ran into trouble. The Congress is synonymous with corruption, Saradha and Narada scandals have made TMC vulnerable, the UP twins are similarly tainted by charges of graft. None among Rahul Gandhi, Mamata Banerjee, Akhilesh Yadav and Mayawati possesses the moral strength to convince the plebeians that their call against demonetisation is truer than the drive launched by Modi.
The script of the entire Akrosh Divas was changed the moment Nitish Kumar decided to stay out of it. The Bihar chief minister's presence could have lent Opposition the credibility it lacks. The JD(U) chief was uniquely placed to deliver multiple messages. He may not have Modi's pan-Indian appeal but Kumar is a mass leader in his own right. His clean corruption-free image rivals that of Modi and in implementing a strict liquor ban in Bihar, he has shown himself to be cast in Modi's mould of a strong leader driven by own convictions.
However, Nitish did not only choose to distance himself from the bandh or stay away from participating in opposition aakrosh, he even went a step further and called for more stricter measures against black money, revealing a mind more sensitive to the pulse of the people and sharper than most of his peers.
As a report in The Times of India points out, while the entire spectrum of Opposition was busy creating ruckus in Parliament and derailing House proceedings, appearing at a public rally in Bihar's Madhubani, the JD(U) chief made it clear that Modi and he were on the same page. "I fully support the move... The Centre now also needs to act against people who have amassed 'benami' properties," he said during a meeting which was also attended by his alliance partners RJD and Congress.
A few days later, during a meeting with lawmakers of the state's grand alliance (JD-U, RJD and Congress), Kumar repeated his statement. In direct contradiction with leaders of his own party such as Sharad Yadav who has not lost an opportunity to slam Modi, Kumar said last Friday that "demonetisation is not a wrong thing". "The Centre's notebandi is not a wrong move. You can raise questions on issues pertaining to its execution. But opposing the demonetisation move as a whole will not be proper," said the Bihar chief minister, according to another The Times of India report.
In absence of the moral legitimacy that Nitish's presence could have ensured, not surprisingly the bandh or akrosh failed to capture public imagination. Early reports indicate that its business as usual in big cities and in different parts of the country.
Unless the Opposition manages to address its fault lines (Mamata ensured huge numbers in Kolkata but struggled to explain the differing agendas), the futile rage is unlikely to rob Modi of his sleep.
India
The prime minister shared an image of Maa Shailputri, who is worshipped on the first day of Navratri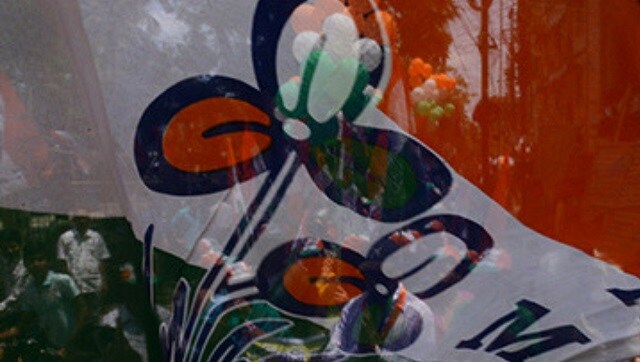 Politics
A delegation of Trinamool Congress MPs had dodged the police and visited the affected families in UP a day ago after being initially stopped by the state administration
Politics
Banerjee, who won the Bhabanipur by-poll by a margin of 58,835 votes, a record for the seat, took the oath in Bengali