Nitish Kumar sworn-in as Bihar CM: Rahul Gandhi says JD(U) chief cheated mandate for selfish reasons
Rahul Gandhi launched an attack on Nitish Kumar. In a tell-all press conference, Gandhi said that the JD(U) cheated the people of Bihar
Congress vice-president Rahul Gandhi launched an attack on chief minister Nitish Kumar on Thursday after the latter was sworn in for the sixth time in the last 12 years. Speaking to reporters on Thursday, Rahul said that the JD(U) cheated Congress and the people of Bihar. Rahul said that, "Nitish Kumar's mandate was anti-communal. He promised the people of Bihar that he will not join hands with the communal, divisive powers in the country. Nitish Kumar has cheated us."
बिहार ने नितीशजी को anti communal लड़ाई लड़ने के लिए mandate दी, लेकिन नितीशजी अपनी personal politics के लिए उन्हीं लोगों से गले लग गए

— Office of RG (@OfficeOfRG) July 27, 2017
Gandhi added that the decision was not a surprise to him of the congress party. He said that the decision was expected and he knew Nitish would jump ships for the past three-fourt months. He questioned motives and called the move a selfish one. "I knew this will happen. There is no credibility in politics, people will do anything for selfish reasons," Rahul added.
अपने स्वार्थ के लिए आदमी कुछ भी कर जाता है- कोई नियम नहीं है, कोई credibility नहीं है, सत्ता के लिए कुछ भी कर देते हैं — Office of RG (@OfficeOfRG) July 27, 2017

Nitish, after being sworn-in as chief minister, said that his decision was in Bihar's interest and development. Speaking to reporters outside the Raj Bhavan in Patna, Nitish said that whatever was happening in Bihar was not good for the state's development.  Responding to Rahul's comments about the move and his claims that Nitish 'cheated' the people, Nitish said, "I will respond to Rahul Gandhi in a proper way."
You can find a live coverage of the developments in Bihar, here.
India
The prime minister said that he paid homage to all those who were a part of the events of 1857 for their outstanding courage
India
Nirmala Sitharaman said Prime Minister Narendra Modi was also encouraging the party workers, leaders and legislators to work for the welfare of the people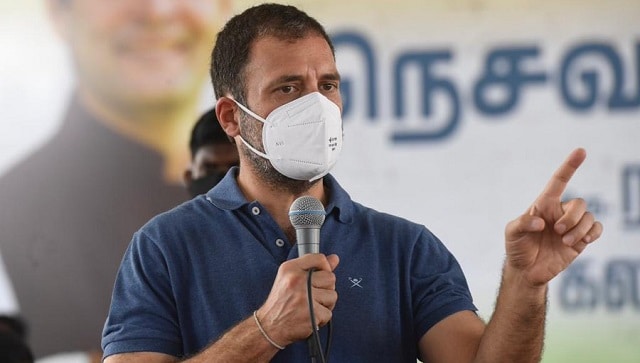 India
Congress leader Rahul Gandhi said there is a fight between two ideologies in the country